Friday, January 24, 2020
---
Human Rights Workshop: Azadeh Moaveni on the Women of ISIS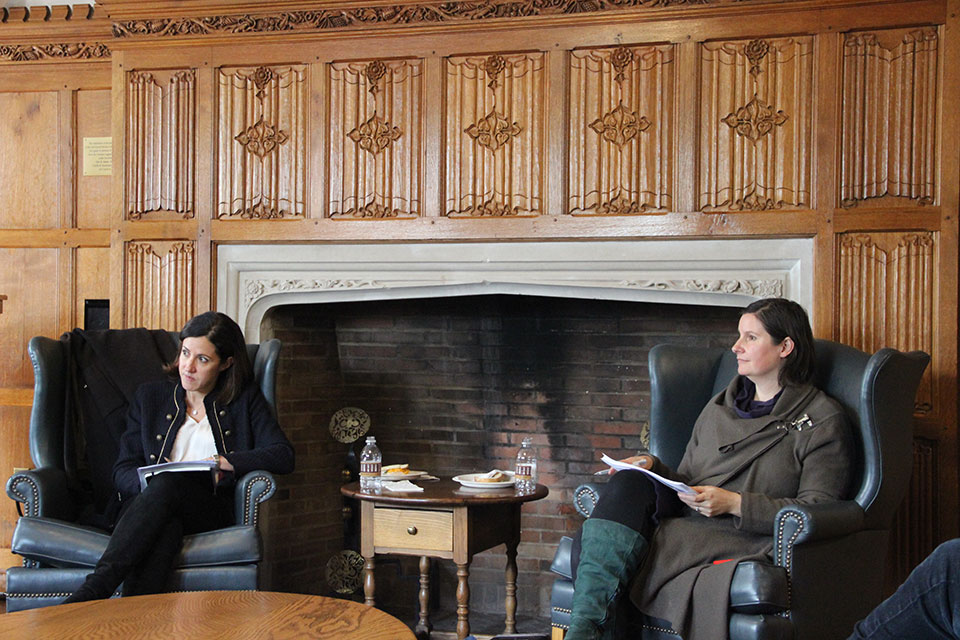 Azadeh Moaveni, left, has sought to understand how women and girls are affected by conflict and what attracts them to terrorist groups like ISIS.
At the January 23, 2020 Human Rights Workshop, Azadeh Moaveni discussed the disproportionate impact of political instability on women and girls, focusing on the Middle East prior to and after the Arab Spring. Moaveni, who is the Director of the Gender Project at the International Crisis Group and a Lecturer in Journalism at NYU London, focused on the relationships between militarism, Islamism, and women's social status and rights.
In the late 1990s, Moaveni began reporting on Egypt and Iran and focused on "how women and girls are disproportionately affected by conflict." As an Iranian-American, Moaveni said she had "watched political conflict impact the women in her life." As a young American correspondent in the Middle East, it felt "personal and intimate" for her "to understand how women would be impacted by war and invasions." For instance, she said, girls would often be barred from attending school during times of conflict.
As she started reporting on women in the region in the early 2000s, Moaveni began to see the distinct ways in which women experienced war, invasion, and instability as a "story of victimhood." In addition to women and girls being barred from public life, including school, Moaveni said, women's movements are often suspended when the country is considered to be "under threat." She added, "There are stories of horizons shortening, opportunities for [engaging in] public life inhibited."
In 2013 and 2014 Moaveni was living in London and covering the Middle East from abroad. As she saw ISIS emerge from the aftermath of the Arab Spring, she was "stunned" to see women streaming to join the Islamic State militant group.
According to Moaveni, women from all around the world have traveled to join the terrorist organization. She struggled to understand the inner motivations of these women and girls and began asking herself: "What could a violent, militant, brutal group offer the girls in neighborhoods where she had taught? How could it appeal to them? What did it mean that these girls thought this group could address grievances? What was ISIS promising girls in France, Germany, Indonesia, and the U.K.?"
Meanwhile, Moaveni became frustrated with the media coverage of ISIS that depicted it as an "evil group so unfathomable that we couldn't even understand it." The coverage in the U.K. of women joining ISIS also began to upset her. Many of the girls, Moaveni explained, were recruited online with neighborhood and city networks "encircling" them.
"It was clear [to me] that they had been groomed and recruited," Moaveni said. However, the media wrote about these girls as "adult women making these choices," as well as "concubines packing...to go to the caliphate." Many people in the U.K., Moaveni said, questioned why the police were searching for these girls. In their perspective, these girls "stopped being British girls" when they were recruited into ISIS. Indeed, Moaveni explained, they were "excommunicated," their British citizenship "annulled."
In the wake of this coverage, Moaveni launched a four-year project that originated in the search for three British girls who were photographed walking through Gatwick Airport security on their way to join ISIS in Syria. This project later became her book, Guest House for Young Widows: Among the Women of ISIS. She wanted to locate girls who had left their lives behind to join ISIS in order to understand their motivations.
Moaveni found herself in southern Turkey trying to trace their path. On her journey, she encountered Syrian families who had been unable to flee their towns, which were now overrun by ISIS militants. ISIS, Moaveni explained, had become some towns' authority, so families were forced to comply with orders. Women, for instance, became "enforcers." They donned all-black clothing and began involuntarily "policing their neighbors." Many so-called enforcers, Moaveni said, "became vulnerable young women living alone, adrift in southern Turkey."
"It's a complex story of complicity and coercion, narratives that I stitched together," Moaveni said.
On her quest to find these women, Moaveni ended up speaking to about twenty-five women that had attempted joining ISIS, including some who succeeded. In her conversations, she took note of recurring themes in the womens' experiences. She found that while jihadist groups are often "conservative" — "women aren't [usually] considered full-fledged members" — "ISIS moved beyond this and tapped into the energy, hope, and inspiration of the Arab Spring movement."
ISIS "tapped into female power," according to Moaveni, and noticed that women were at the forefront of the Arab Spring "pushing for all the things women demanded — freedom, economic freedom — but the Arab Spring movements failed or collapsed into civil war." An entire generation of women wanted more opportunities to participate in public life and politics, opportunities which ISIS could offer them.
For Moaveni, this is a key reason why women were ultimately drawn to a terror organization. She said she avoids applying the argument to the European context because "the number [of European women] is tiny by comparison." Still, she noted that Muslim women in European countries often talked about "Islamophobia" and "lack of opportunity" on social media, demonstrating a "linked Muslim suffering."
Since Moaveni began writing about the women of ISIS, many policy conversations have centered around their rights, citizenship status, and the legal ramifications of their actions. Moaveni highlighted a number of questions raised in the policy debate, including: "Is it politically palatable to let people who joined ISIS come back? Should they be tried where they potentially committed crimes? Are they displaced? Are they refugees? Should members' children — European citizens — be treated as such? Should the children be separated from their parents? Will these questions be determined by the politics of western governments?"
Moaveni fears that by holding Iraqis and Syrians who joined ISIS in detention and displacement camps, these people will be drawn to joining yet another group that offers false promises of "inclusion and empowerment."