Friday, September 28, 2018
---
Jason File '04 Links Art and Human Rights Law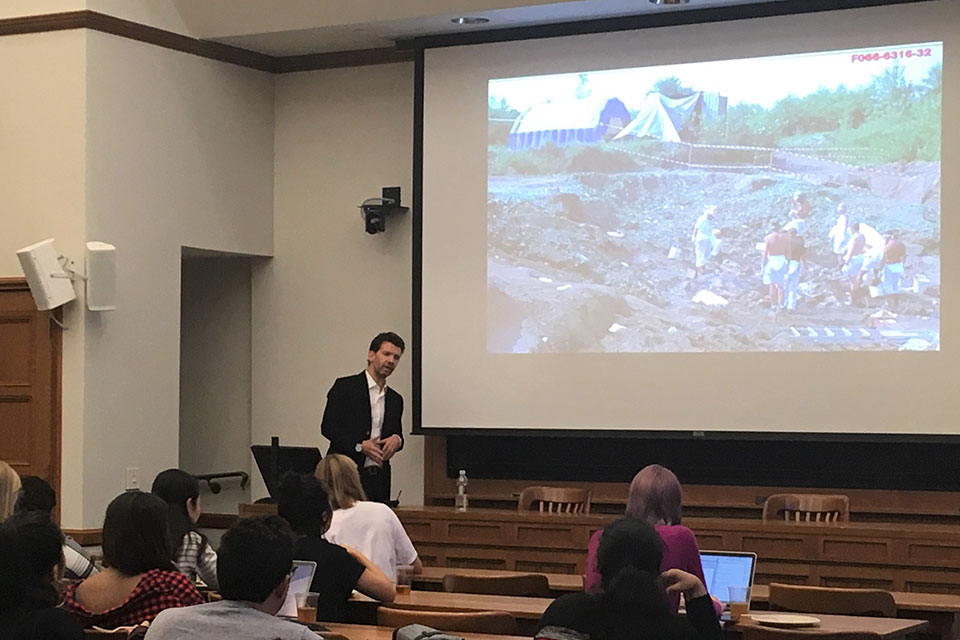 On September 26, former Lowenstein Clinic student Jason File '04 returned to Yale Law School to speak about international criminal law—not just as a lawyer, but also as an artist.
File splits his time between the fields of art and human rights law, working as an artist, university lecturer in fine art, and U.N. war crimes prosecutor. At the International Criminal Tribunal for the former Yugoslavia (ICTY), File served on trial teams that obtained convictions of Radovan Karadžić and Ratko Mladić for genocide, war crimes, and crimes against humanity. He is also currently an artist-in-residence at the NARS Foundation in Brooklyn and has taught fine art in the Royal Academy of Art in The Hague. He has exhibited widely throughout Europe and North America, including at the Stedelijk Museum Amsterdam, Stroom Den Haag, the International Print Biennale, and SPACE (London).
Entering the art world was an unexpected turn in File's career. A longtime gallery-goer, File eventually began to feel frustrated with art that engaged with politics and law. "I felt like there was something missing," he said. He decided to try and fill that gap.
File's work in international criminal law provided extensive sources of inspiration for his art. "I saw that there was a rich overlap of materials in the mediums that are used," he said, explaining that drawing, video, photography, and performance are all elements of international criminal law that have found a new life in his art.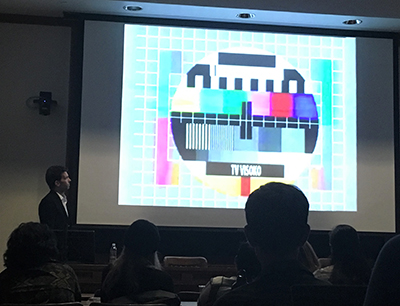 In a work called Forking Paths, File utilized VHS tapes from the ICTY's archive that encompassed both original footage taken through car windshields of conditions during the genocide in the former Yugoslavia and recordings of American news broadcasts about the events. The news broadcasts included commercials, which often advertised the same cars featured in the original footage, a connection that interested File. He created a work that juxtaposed the two sources by playing audio from one set of recordings over the video of another.
Another work, ICTYTV, highlights peculiarities of the VHS tapes themselves. Much of the footage in the archives had been recorded on previously used tapes; File's team of prosecutors was referencing videos that also included scenes from cartoons or other recordings. ICTYTV highlighted these clips to demonstrate that, in File's words, "war crimes footage doesn't get inscribed onto neutral ground but onto a preexisting cultural product."
File's work addresses other materials used by the ICTY – for example, drawings used to depict bodies found in mass graves, which File replicated as charcoal wall drawings. This series, The Earth and the Stars, individualized drawings that lawyers treated as valuable only in the collective, in which form they could function as evidence.
For File, the courtroom itself also constitutes a material that can be used in his art. In Exactitude, a work of performance art, File invites members of the art world to sit in on his cross-examination of defense witnesses in the ICTY courtroom.
File believes that art and law, despite their differences, are complementary pursuits. "They go together really well," he said, emphasizing the "oscillation between objective and subjective" perspectives that is possible when one is both an artist and a lawyer. "The entire premise of a legal system is that there is an objective truth," File pointed out. On the other hand, he added, "In the art world, there is a lot more emphasis on validating different subjective perspectives." Participating in art and law allows File to engage with both modes of understanding the world.
File also believes that art is a valuable way of responding to war crimes, an approach that can achieve things that international criminal law cannot. He mentioned that in parts of the former Yugoslavia, the ICTY is viewed as biased and untrustworthy. He posited that art might have a better chance of reaching these communities with information about the atrocities that occurred. "There are ways to share this information," he concluded, "that might have a longer-term chance of establishing connections between people."