Thursday, October 24, 2019
---
Jonathan Lovvorn on Animal Law and the Climate Crisis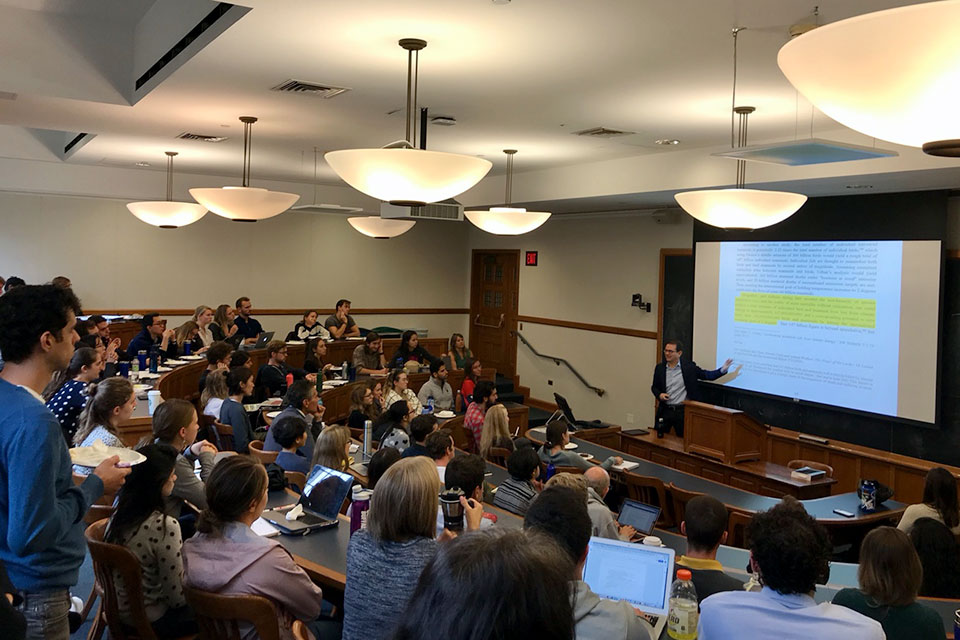 Jonathan Lovvorn, Faculty Co-Director of the Law, Ethics & Animals Program (LEAP) at the Law School, gave a talk as part of the Animal Law Speaker Series.
The Law, Ethics & Animals Program (LEAP) at Yale Law School hosted a lecture by Jonathan Lovvorn, LEAP Faculty Co-Director, Senior Research Scholar and Lecturer in Law, on October 8, 2019. His talk, "Canaries in the Coal Mine: Animals, the Climate Crisis, and the Future of Public Interest Law," was part of the Animal Law Speaker Series.
Lovvorn's talk addressed the relationship between climate change, animals, food production and the law. Global protests and a flurry of scientific reports have highlighted the existential threat climate change poses to both people and animals, including the predicted loss of one million species. But how do these dire statistics translate into on the ground suffering of animals? And what does the impact of climate change on animals tell us about our own fate?
Lovvorn argued that in order to address climate change, the environmental, animal welfare, human rights and social justice movements must work together as a coalition. "Climate change is profoundly discriminatory," Lovvorn said. "The most vulnerable communities who have contributed the least to the problem are the most impacted."
Scientists and journalists tend to focus on the impact of climate change on animals at the macro level of species loss and biodiversity, but climate change also has a profound and often overlooked impact on the individual lives and well-being of animals, Lovvorn said.
As a result of climate change, animals are experiencing deadly starvation due to shifting food sources, mass morality events, and dramatic sex ratio changes. Captive, companion, and farm animals are also experiencing the impacts of high temperatures and extreme weather events. Over 3 million farm animals, for example, drowned during Hurricane Florence in North Carolina. And other facilities such as animal shelters, animal research labs, and zoos will need rescue plans and more resources to respond to more frequent and severe weather events, according to Lovvorn. 
Lovvorn also discussed how climate change raises new legal and practical questions for animal protection advocates, such as how and when, if ever, humans should engage in "assisted migration" for some animal species whose current territories will become inhospitable. "The canon of conservation is to not introduce animals to habitats where they weren't previously, but as climate change comes some animals will need to migrate or be moved in order to survive," Lovvorn said. "So we could move wild animals to protect them, but which animals and when and where?"
Farm animals play an important role as both contributors to and victims of climate change, according to Lovvorn, who pointed out that most of the large meat and dairy companies do not currently report their greenhouse gas emissions or have targets to reduce their overall emissions. Plant-based meat alternatives could be an important part of the solution, but Lovvorn cautioned that Silicon Valley-funded alternatives alone will not be enough to address the externalized costs of industrial animal agriculture. "Some people assume that these new products will replace animal agriculture, but not if animal protein demand and supply continue on their current trajectories," he said. Thinking creatively about strategies to force the externalized costs of industrial animal agriculture back on to meat and dairy corporations is critical, he argued.
For over a decade, Jonathan Lovvorn has served as the Chief Counsel and Senior Vice President for Animal Protection Litigation for the Humane Society of the United States (HSUS), where he built and leads the nation's largest animal protection litigation program. In addition to his role at HSUS, Lovvorn is the Faculty Co-Director of Yale's Law, Ethics, & Animals Program. In Spring 2020, Lovvorn and Joseph M. Field '55 Professor of Law Doug Kysar will co-teach the Climate, Animal, Food, and Environmental Law and Policy Lab to develop innovative legal and policy strategies to address the externalized costs of industrial animal agriculture.
The Law, Ethics & Animals Program (LEAP) is a new initiative at Yale Law School that leads and coordinates a diverse program of activities. It seeks to contribute to defining, expanding, and advancing the field of animal law. Among recent and upcoming speakers are Justin Marceau, Jennifer Jacquet, Becca Franks, and Charles Siebert.
By Hope Bigda-Peyton