Wednesday, November 14, 2018
---
Law School Unveils Pauli Murray '65 JSD Portrait
Dean Heather Gerken and University President Peter Salovey with distinguished guests at the portrait unveiling.
Speaking about the remarkable life of Anna Pauline "Pauli" Murray '65 JSD, Dean Heather Gerken described the struggles and discrimination Murray faced with grace, reminding those in the audience that Murray's legacy is more powerful than ever during a portrait unveiling ceremony on November 12, 2018.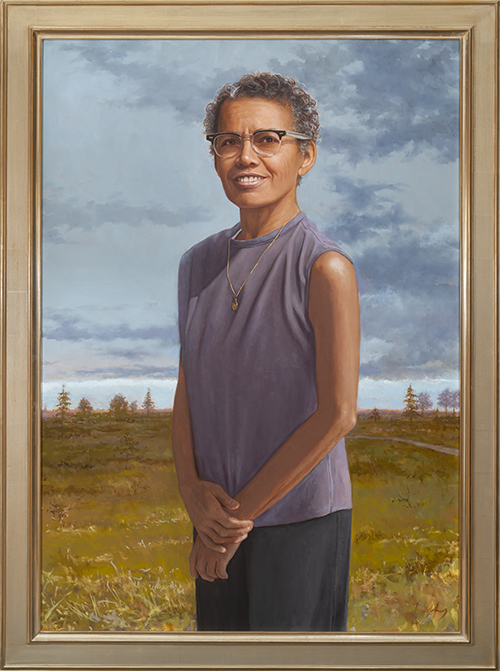 "When it feels as if our society stands at the edge of a precipice; when our faith in humanity is flagging; when we are exhausted from our efforts; when the mere existence of members of our community is challenged — we must remember Pauli," said Gerken.
"We all would do well to follow Pauli Murray's model — to be so fierce a warrior, yet so decent a human," she said.
A large gathering convened for Murray's portrait unveiling, featuring distinguished speakers like the Honorable Inez Smith Reid '62 LLB, Former D.C. Corporation Counsel and Judge of the D.C. Court of Appeals, and University of Pennsylvania Law School Professor Serena Mayeri '01. Murray's niece and nephew, Angelique Island and Bob Murray, were also in attendance.
"We all would do well to follow Pauli Murray's model — to be so fierce a warrior, yet so decent a human." — Dean Heather Gerken
The ceremony paid tribute to Murray's incredible record as a trailblazer in civil rights and women's rights who contributed immensely to the dismantling of segregation and discrimination. In 1965, Murray became the first African-American to receive a J.S.D. degree from Yale Law School.
"Pauli Murray was truly a gift to America, and I salute Yale Law School for recognizing Pauli's enormous achievements," said Judge Reid.
Professor Mayeri, who has studied and written about Murray's life, noted how Murray never quite fit in, but always felt destined to transcend boundaries.
"Pauli Murray's powerful voice as a legal theorist and strategist had often spoken before others were ready to listen," said Mayeri.
Murray wrote scholarly works such as "Jane Crow and the Law: Sex Discrimination and Title VII" and "Roots of the Racial Crisis: Prologue to Policy," both of which provided insight into the pressing civil rights issues of the time. Following law school, Murray served as counsel for civil rights cases, working to challenge discrimination via the court system. Murray co-founded the National Organization for Women, served as a vice president of Benedict College in South Carolina, and became the first person to teach African-American Studies and Women's Studies at Brandeis University. Later in life, Murray became the first African American woman ordained as an Episcopal priest, and received an honorary degree from the Yale Divinity School in 1979.
Murray's time at Yale Law School has been chronicled in a Yale Law Library exhibit that debuted in 2017.
Gerken said the unveiling marked an occasion where the Law School could "proudly claim Pauli as our own…because Pauli Murray epitomizes who we want our students to be." She hoped the portrait would inspire generations of law students to come.
The portrait was made possible thanks to the generosity of Michael Varet '65 and his wife Elizabeth. The painting's artist is Daniel Mark Duffy.