Friday, December 9, 2022
---
LEAP Student Fellows Kristy Ferraro and Diego Ellis Soto Win the Sidnie Manton Award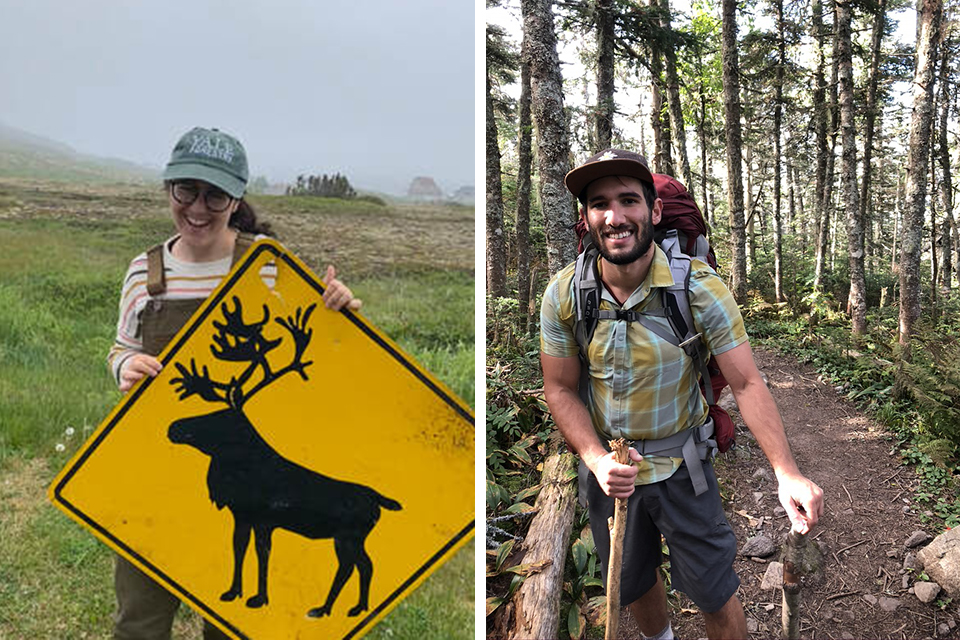 LEAP student fellows Kristy Ferraro, left, Diego Ellis Soto have won an award for their paper on how wildlife shape and connect ecosystems through their movements.
The Law, Ethics & Animals Program (LEAP) congratulates LEAP Student Fellows and Ph.D. candidates Kristy Ferraro and Diego Ellis Soto on winning the Sidnie Manton Award for their paper "A methodological roadmap to quantify animal-vectored spatial ecosystem subsidies." The award recognizes the best animal ecology review or long-term study published in Journal of Animal Ecology by an early career researcher. 
In their award-winning paper, Ellis Soto and Ferraro highlight the ways in which wildlife shape and connect ecosystems through their movements and the nutrients they bring alongside their voyages, from the food they eat and defecate as free fertilizer up to seeds dispersed by animals acting as tree planters. They further identify ecological theory, cutting-edge technologies, and computational methods that allow measuring such flows of energy and nutrients by animals on the move. 
Their collaboration began while the two Ph.D. candidates were working at the Yale School of the Environment's Oswald J. Schmitz Lab, which studies the dynamics of food webs and ecosystems, including animals' roles in carbon and nutrient cycling. 
"Current projections of human carbon emissions and future climate change scenarios mostly ignore the fact that there are trillions of animals on Earth walking, swimming, and flying around," Ellis Soto said. "It's an unrealistic view of the world. When I started my rotation in the Schmitz Lab, we had weekly meetings where we realized that few scientists were investigating how to add animals into environmental models of the carbon cycle and ecosystems in general. There are single case studies that do this — but it seemed to be difficult to replicate on a large scale. So we started brainstorming together and soon began work to create a methodological roadmap which could help to explain and understand the effects of animal-vectored spatial ecosystem subsidies." 
Their roadmap is rooted in meta-ecosystem theory, which examines the properties and movements of energy, nutrients, and organisms as they connect ecosystems across space and time. Ellis Soto and Ferraro argue that this theory paired with developments in tracking and modeling animal movements will allow ecologists to better understand animal-mediated nutrient translocation. The editors of Journal of Animal Ecology called Ellis Soto's and Ferraro's research "an important guide for future research on how animals influence the structure and dynamics of ecosystems."
"One main strength of our paper is the way it shows how theory can really inform science in a productive way," Ferraro said. "This isn't always the case — sometimes theory isn't always as tied to the science we actually do as it should be. We also spent a lot of time thinking about the framing and writing of the paper. Most of us were early career scientists, so we cared very deeply about making sure that the science was readable and understandable." 
"Kristy and Diego are whip-smart, exceptionally creative, and highly productive thinkers and doers," LEAP Executive Director Viveca Morris said. "Their work to understand how wild animals impact ecosystem structure and functioning across time and space is important and urgently needed."
In addition to their award-winning paper, Ellis Soto and Ferraro are both recipients of LEAP Student Grants. Ellis Soto's LEAP-funded research explores creating music using machine learning technology, biological and musical theory to map animals and motions into sound. Ferraro's three projects with LEAP Student Fellow Nathalie Sommer interrogate traditional ethical principles regarding nonhuman animals used in conservation science.
Ferraro is a fifth-year Ph.D. candidate at the Yale School of the Environment and a National Science Graduate Research Fellow exploring all the ways in which animals matter — from their roles in ecosystem function to how we ought to consider them in conservation ethics. 
Ellis Soto is a fifth-year Ph.D candidate in the Department of Ecology and Evolutionary Biology at Yale University and a NASA FINESST fellow studying where, how, when and why animals move across time and space. 
By Alessia Degraeve and Laurie Sellars