Monday, July 24, 2023
---
Learning to Lead
Yale Law School students, including fellows from the Chae Initiative in Private Sector Leadership, meet with high-level executives during a January trip to New York City as part of The Tsai Leadership Program.
In January, dozens of Yale Law School students interested in using their legal education in non-traditional ways went west. 
And east. 
As part of the growing Tsai Leadership Program, 15 students, including fellows from the Ludwig Program in Public Sector Leadership, traveled to Sacramento, California, to meet with people who have built their careers in nonprofits and government, including state Attorney General Rob Bonta '98 and Los Angeles County Supervisor Holly J. Mitchell. At the same time, 21 students, including fellows from the Chae Initiative in Private Sector Leadership, made their way to New York City, where they met high-level executives from the financial sector, including Blackstone's Chairman, Chief Executive Officer, and Co-Founder Stephen A. Schwarzman '69 YC and Chief Financial Officer Michael Chae '97, one of The Tsai Leadership Program's founders. 
The annual trips are just one highlight of the leadership program, which launched in 2021 with the aim of reimaging what legal education looks like. The program broadens the curriculum with innovative courses and creates additional opportunities for professional development and mentorship. It also includes speaker series featuring prominent leaders across public and private life; workshops and trainings on financial literacy and negotiation, among other topics; and intensive student-led reading groups on cutting-edge issues. 
"The reality is a substantial number of Yale Law School students wind up in non-traditional leadership roles when they leave law school — leading companies, states, countries, nonprofits," said Don Carlson, the former Senior Executive Director of The Tsai Leadership Program. "What we try to do is give people the skills, practice, and theory that they need to be really capable leaders in the long run in any career path."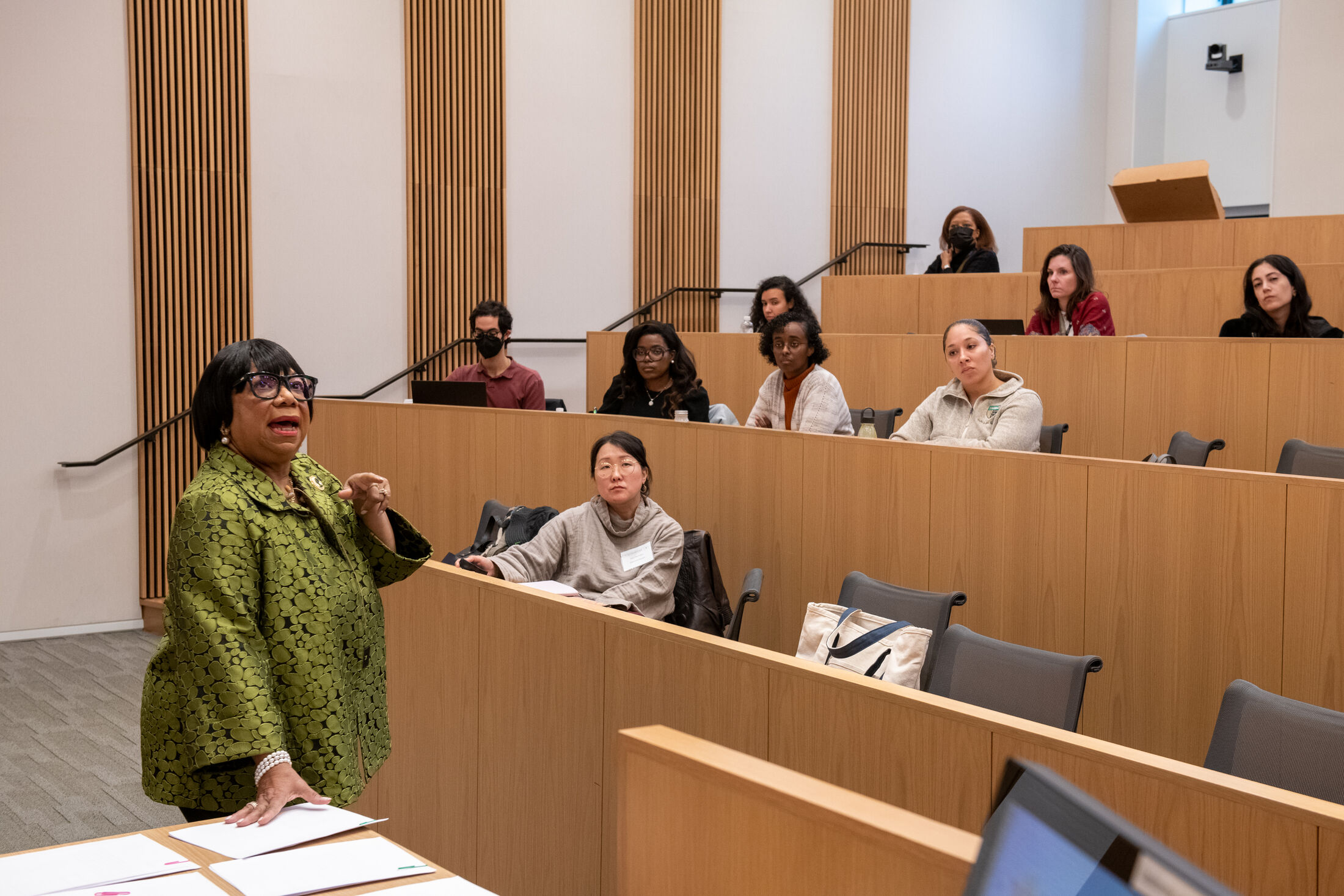 The Tsai Leadership Program's extensive offerings are open to all members of the Yale Law School community. In the past year, student engagement has increased significantly.
And for good reason.
"What we're providing is available to and useful for everyone, whether they want to practice law or follow a less traditional path," said Margie Adler, Executive Director of the Ludwig Program in Public Sector Leadership. "It's been amazing to watch the program grow and have the opportunity to work with our remarkable students."
Training Steeped in Academic Rigor
Over the last four semesters, The Tsai Leadership Program has offered a wide-ranging set of courses — including ethical decision-making, numeracy, technology, business, and public policy — taught by leading instructors from around the country. Some of the courses have paired Law School faculty with visitors, further enhancing the community's intellectual life. Last year, courses delved into business sector topics, such as Thomas Lehrman '04's "Networks, Law, and Entrepreneurship Strategy," Jonathan Knee '08's "Media and Technology Industries: Public Policy and Business Strategy," a course on the digital economy "Blockchain and Digital Assets: A New Birth for Trust?" taught by Kevin Werbach from Wharton, and "The Business of Law Firms," a course co-taught by faculty director John Morley '06 and David Zornow, former global head of litigation at Skadden, Arps, Slate, Meagher & Flom. 
The curriculum also included deep engagement on complex issues affecting public policy, including "Leadership in Government" taught by Sally Katzen of NYU Law, "American Global Power since the Cold War" taught by Stephen Wertheim of Carnegie Endowment for International Peace, and "Decentralized Resistance" taught by James Scott, Sterling Professor at Yale University. 
Embracing the core belief that leadership is a skill as vital to the practice of law as it is to non-legal careers, The Tsai Leadership Program offered a course exploring the role of the in-house counsel, co-taught by Benjamin Heineman '71, former general counsel of General Electric, and Harold Koh, Sterling Professor of International Law, called "The Lawyer as Leader."  
"The leadership program has enabled us to bring in an incredible range of new courses taught by leading experts in their respective fields," said Dean Heather K. Gerken. "We have always had an extraordinary curriculum at Yale Law School, and this has taken it to the next level." 
Teaching Students How to Lead
As a complement to the courses, students are also provided with holistic programming to put the ideas and theories they learn in class to practice — with hands-on trainings and workshops that focus on key professional development skills. The goal is to teach students how to tackle any job with skills that translate across industries.  
"Yale Law School is a unique school — many of its students have historically gone on to enjoy fascinating careers decidedly not along a cookie-cutter track, and the school prepares students to be agile thinkers who can lead across a vast array of challenges," said Mary J. L. Herrington, who serves as Executive Director of the Chae Initiative in Private Sector Leadership. "The school emphasizes the J.D. as a thinking degree — and The Tsai Leadership Program embraces that philosophy. We're preparing students so that they will thrive in any industry."
This past year, the program offered multiday workshops on public speaking; negotiation; working across differences; and how to find meaning, success, and satisfaction in life and work. The program also brought in Training the Street — an education company that trains junior professionals in finance — for five intensive sessions on financial statements analysis, corporate valuation methodologies, and financial modeling. The negotiation, public speaking, and financial literacy workshops proved so popular — with students and, in the case of public speaking, faculty — that they will be expanded in the coming year: Negotiations will be offered as a workshop and a semester-long course; the public speaking course will include content on interpersonal communications and communication within the workplace; and the Training the Street workshops will grow from five to 12 sessions, providing additional deeper instruction on the capital markets industry, valuation methodologies, and financial modeling. 
 
Declan Kunkel '24, a Chae Fellow who worked as an investor before law school and had previously taken courses with Training the Street, took them again through The Tsai Leadership Program.
"It's the same very high-quality training you would get on Wall Street," he said. Courses like that "allow you to add value on day one" of employment. 
Building Community
A major component of The Tsai Leadership Program is creating a sense of community, and the Chae and Ludwig Fellows Programs are designed to do just that. There were 25 Chae and 29 Ludwig fellows in the inaugural cohort in 2022–2023. In addition to being paired with a mentor, fellows take part in many of the program's offerings, including workshops, special events, and one-on-one career counseling sessions with visiting alumni. The January trips also provided a chance for fellows — and other Yale Law School students — to build connections outside of the rigors and routines of law school.
"Traveling across the country with my classmates was such a unique opportunity to bond over things that weren't class-related or explicitly professional," said Sydney Daniels '24, a Ludwig Fellow who went to Sacramento. "So many conversations we had were about values and the kind of people we are and hope to become. That sort of reflection is hard to come by in law school."
Negin Shahiar '24, a Chae Fellow who went to New York, said she applied for the fellows program in part to meet other people who are exploring unique careers.
"I came into law school interested in areas related to law — international relations, international development," she said. "The Tsai Leadership Program appealed to me because it was for students who aren't necessarily interested in traditional legal paths."
Shahiar said the New York trip was an "incredible" way to get to know her classmates.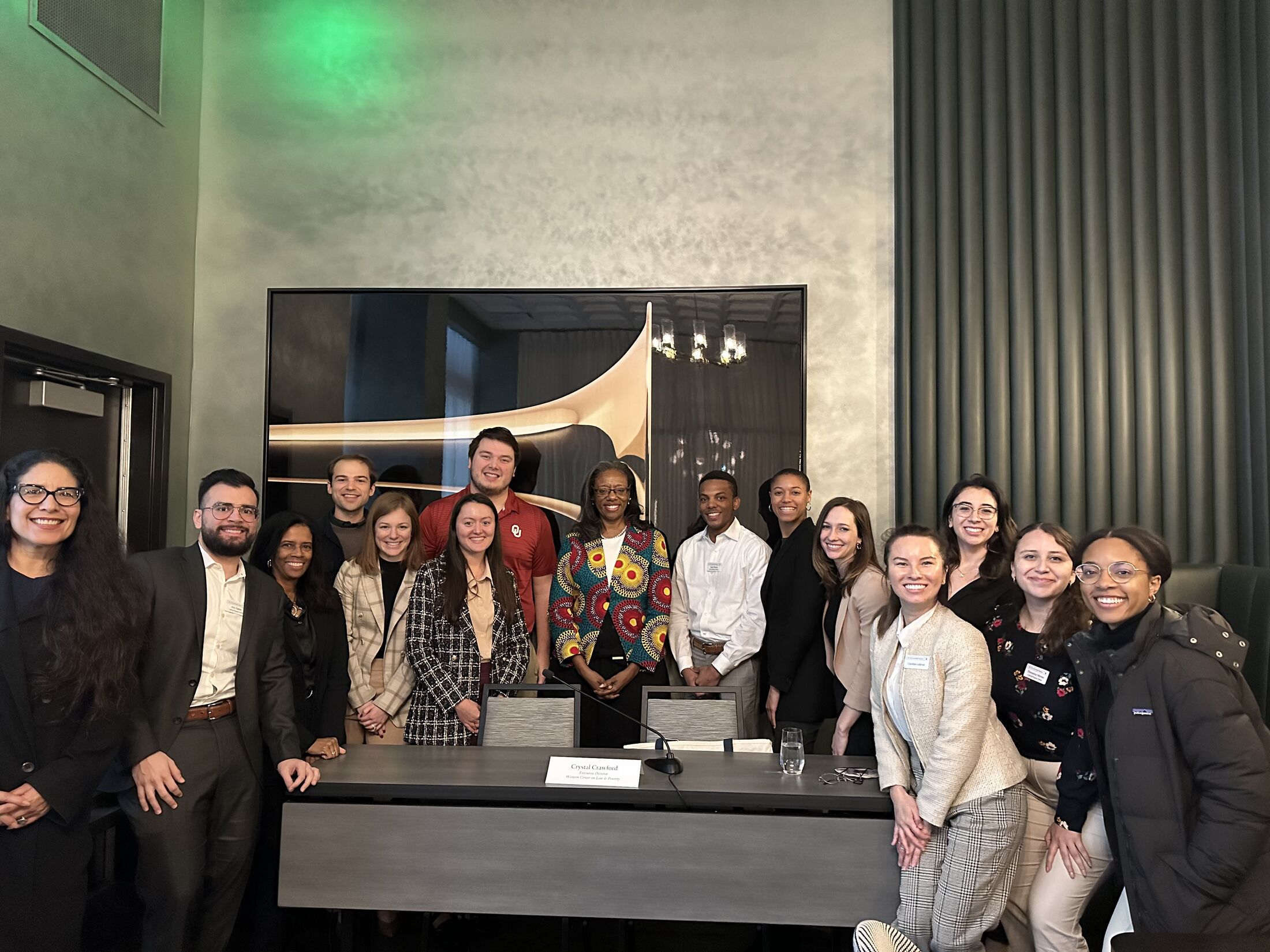 Sage Arik Mason '24, a Ludwig Fellow who traveled to Sacramento, said he sees The Tsai Leadership Program, and especially the fellows program, as an opportunity for students to "interact, get to know one another, and use each other as resources, even after we leave YLS."
He enjoyed the Sacramento trip so much that he decided to create a reading group for the spring semester called Navigating Public Sector Careers and Leadership. 
"My primary motivation was to create a community of people interested in the same thing so that, in the years to come, we will have this shared experience," he said. 
Alumni Engagement
The Tsai Leadership Program also aims to connect current Yale Law School students with alumni, including those who pursued non-traditional careers after earning their law degrees. 
Some of those connections happen during special events on campus. Last year, prominent alumni speakers included former White House counsel Dana Remus '02, Hartford Mayor Luke Bronin '06, National Women's Law Center President and CEO Fatima Goss Graves '01, former Secretary of State Hillary Rodham Clinton '73, former World Bank U.S. executive director Ian Solomon '02, former Apple executive Peter Stern '97, Evercore senior advisor Jonathan Knee '88, Managing Director of HPS Investment Partners, former global head of ESG & Institutional Client Strategy at Goldman Sachs Hugh Lawson '96, and ACLU President Deborah Archer '96, among others. 
Six alumni judges — and two non-alumni — who were appointed to the federal bench by Democratic and Republican presidents also appeared as part of a series called "Crossing Divides," which brings in speakers to talk about the importance of working through disagreements and leading with the best values of the profession during polarized times.
"Everything is so political and so polarized right now," said Davis Parker '24, a Chae Fellow. "Dean Gerken has a vision for what she wants the Law School to be and what it can be, and she and her administration are showing us the way. We might disagree, but let's just think about what we can build for these three years."
Parker added that he was impressed with how engaged alumni have been with the program.
"You get the sense that they are really excited to help us," he said. "I hope I can pay it forward someday."
Another way Chae and Ludwig fellows interact with alumni is through the formal mentorship process that matches students with professionals who have experience in their areas of interest.
The results can be powerful.
Kunkel, who wants to work in private credit, was paired with Jonathan Lewinsohn '06, the founding managing partner of Diameter Capital Partners, a multibillion-dollar hedge fund.
"He's terrific," Kunkel said, adding that Lewinsohn was responsive to his inquiries and "has provided candid feedback."
In preparation for her clerkship applications, Daniels asked to discuss her writing sample with her mentor, Cecillia Wang '95.
Daniels had written about U.S. v. Moore-Bush, a case in which the defendant brought a Fourth Amendment challenge to evidence from a surveillance camera aimed at the house where she was living. 
Wang was more than happy to discuss the case. In fact, she had written a brief in support of the defendant in her role as deputy legal director at the American Civil Liberties Union. 
"I've learned so much from her," said Daniels, who is interested in working in criminal justice or racial justice reform.
Word of the program's impact is spreading. Parker says a number of rising 2Ls reached out to him during the year about how to apply for the fellows program. During the Admitted Students Program in April, 70 prospective students showed up to the program's open house and 200 attended a reception later that night.
Expanding Opportunities
Students said seeing the different ways alumni have charted their varied careers has been beneficial and inspiring. 
Adler said that is a major goal of the program.
"We're highlighting the paths that people have taken and giving students tools to help them chart their own paths," she said.
Parker said the program has "expanded the scope of what we consider to be possible" after law school. "Yale can say, 'Come have this incredible academic experience, and if you want to go off and do something other than law, we have a path for you,'" he said.
Kunkel said the program has "taken some of the anxiety off the idea of having to make the precise right moves." 
Daniels agreed. 
"Paths are not linear," she said. "Some of the most exciting, most interesting jobs are not jobs that I could even imagine or dream of right now. But I should be open and flexible and nimble to the possibility of them in the future."
That philosophy, Herrington said, is exactly what they hope students take away from engaging with the program. 
"In any field, whether it is law, business, or public service, our students will eventually face ever growing responsibilities, including that of managing teams and leading through global challenges," she said. "Leadership education and training is vital to all careers. When it comes to supporting students in becoming leaders in any professional world, that's what we're here to do," she said.