Tuesday, February 16, 2021
---
Liman Center Looks Back: Mary Clark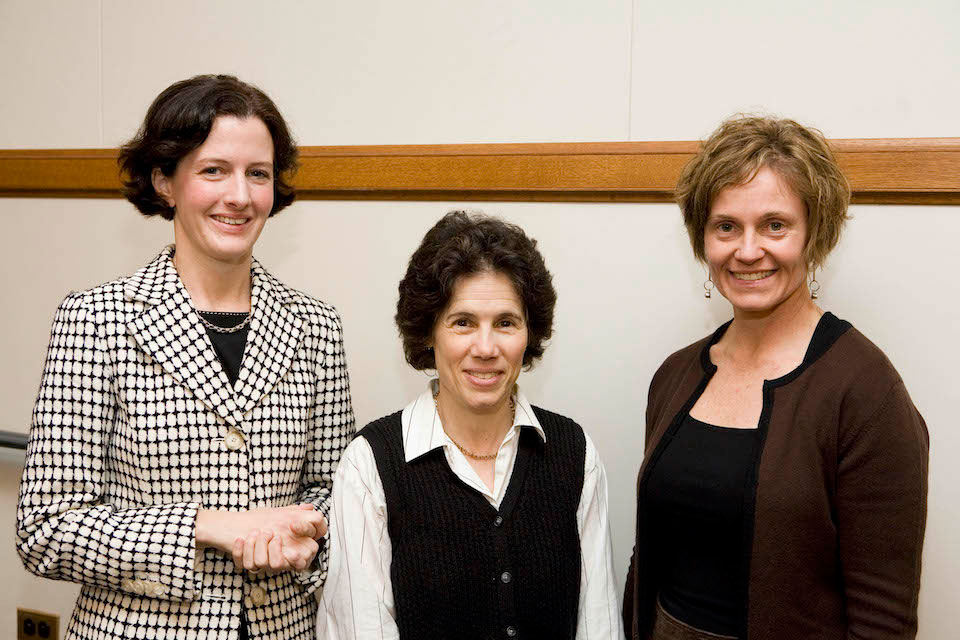 Mary Clark (left), Liman Director 1999–2001, with Liman Founding Director Judith Resnik and Deborah J. Cantrell, Liman Director 2001–2007, in 2007.
This is one in a series of profiles of former directors of the Arthur Liman Center for Public Interest Law published in the 2020 Liman Center Reports.
---
Mary Clark
Provost and Executive Vice Chancellor, University of Denver
Liman Director 1999–2001
Mary Clark sees a common thread through her career, which has included time as a law professor, a dean, and now a provost: "A through line in my work is a commitment to the idea of a public good."
Prior to Liman, Clark taught at Georgetown University Law Center and served as an appellate attorney with the U.S. Equal Employment Opportunity Commission.
As the inaugural director of what was then known as the Liman Program, Clark helped the first fellows develop their projects, legacies of which can be seen today. One of those early projects — a proposal by former Fellow Jessica Sager '99 for a program that would function as both job training and child care — became the organization All Our Kin. Liman annually sends a summer Fellow to the organization, which is nationally recognized for its approach to training family child care educators.
Clark finds that her work at Liman and later as a law professor involved "encouraging students to be social entrepreneurs." With both fellows and students, Clark learned how critical it is for people to discover and pursue work that is meaningful to them.
"I think it's important that people determine for themselves what they're most passionate about and focus on that," she said. "If you're able to do that in life, it's most fortunate."
In addition to working with the first Liman Fellows, Clark taught workshops and reading groups. Her other projects at Yale Law School included helping Dennis Curtis (now Clinical Professor Emeritus) create a clinical program to provide assistance to clients turning to Connecticut's grievance procedures to protest lawyer misbehavior. That clinic won an award from the American Bar Association. Clark, whose research and teaching has long included a focus on women's legal history, also documented the history of women at Yale Law School. She developed a database of oral histories and archival materials and produced a monograph on the topic.
After Liman, Clark taught law at and became a Professor of Law at American University Washington College of Law. Her focus was on women's legal history, legal ethics, judicial politics, and property. In her 17 years at American, she also served as Deputy Provost, Dean of Faculty, and Interim Provost. She is now Provost at the University of Denver, where she also has an appointment as a professor of law at Sturm College of Law.
"The work of a provost is very creative work," Clark said. "You're pursuing the mission of providing top-rate academic programming to faculty and students and giving life to the values and principles of its pursuit of the commitment to the public good."