Monday, December 21, 2020
---
The Liman Center Publishes its Annual Reports
The 2020 edition of The Liman Center Reports, the annual publication of the Arthur Liman Center for Public Interest Law at Yale Law School, has been published in print and online.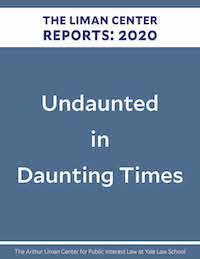 This year's publication, Undaunted in Daunting Times, highlights the Center's research and impact in an extraordinary year. For decades, the Liman Center has worked to end mistreatment of people in prisons. Once COVID-19 hit, the Center refocused on mitigating the threat coronavirus poses to people in detention. Projects detailed in the report include the Center's involvement in a class-action lawsuit on behalf of medically vulnerable prisoners and an effort to help prisoners claim federal COVID relief payments. The Center's ongoing research to document the use of solitary confinement and to build an understanding of fines and fees in the criminal justice system are also described.
To feature the work of Liman Fellows, the 2020 Reports includes essays from the 2019–2020 Yale Law School Fellows on their year in public interest law. Fellows this year tackled immigration, housing, workers' rights and criminal defense and reform at public interest organizations around the country. They write about taking on these issues, which have become more pressing during the pandemic, while facing challenges ranging from closed courts to representing clients remotely. The Center's Summer Fellows — undergraduates from eight colleges and universities — also reflect on their internships, most of which also took place remotely.
In advance of the Center's 25th anniversary in the 2021–2022 academic year, the 2020 Reports includes  "Looking Back, Looking Forward"  a section of profiles of former Liman Directors and Senior Fellows.
The Liman Center promotes access to justice and the fair treatment of individuals and groups seeking to use the legal system. Through research projects, teaching, fellowships, and colloquia, the Liman Center supports efforts to bring about a more just legal system.