Wednesday, November 29, 2017
---
Lisa Qian YC '20 writes from Indonesia about her gap year experience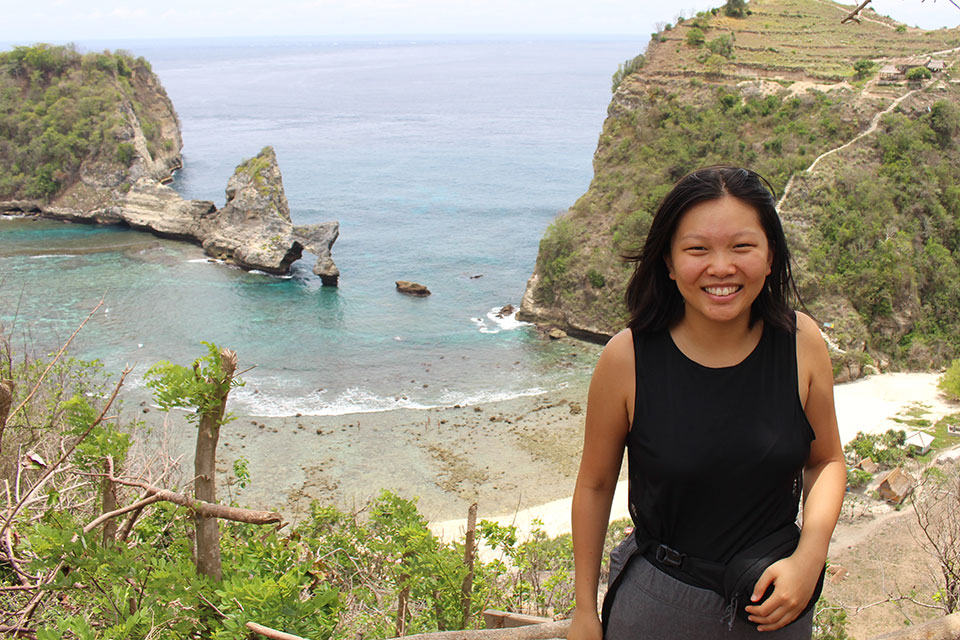 Lisa Qian YC '20 exploring Nusa Penida, an island off the coast of Bali.
Lisa Qian YC '20 is a member of the Multidisciplinary Academic Program in Human Rights. She has taken the year off to pursue low-scale economic development work in Indonesia, and she is currently living and working in Ubud, a small town that many consider to be the cultural center of Bali. Lisa described her experience thus far.
Every year, millions of visitors come to Bali. Many see this prime vacation destination as a paradise. But there are also many tourists and native Balinese who ask the same question: has tourism ruined Bali?
There are a lot of ways to examine the sustainability of Bali's tourism industry, because environmental, economic, cultural, and colonial issues are all deeply entrenched in tourism. I wrote about the colonial and neo-colonial issues embedded in touting tourism's ruin of Bali in the Jakarta Post. But through my work with Friends of the National Parks Foundation (FNPF), I am primarily looking at sustainability through land use and maintaining agricultural lifestyles in Pejeng Village, which is just a few kilometers outside of Ubud. Pejeng is the ancient capital of a Balinese kingdom that ruled the island before the invasion of the Javanese Majapahit Empire, but it is still relatively unknown to most visitors, despite its important temples and archaeological history.
The tourism industry has made it extremely lucrative for local farmers to sell their rice fields to developers, but essentially all of Balinese culture (whose rituals, dances, and ceremonies are also major tourist attractions and have been preserved in part for tourist eyes) is built around rice farming and asking the gods for good harvests. This naturally raises questions about the tradeoffs between economic benefits and cultural authenticity. It also makes us consider environmental sustainability, because the rice fields are developed into hotels and resorts, and this leads to the exploitation of local natural resources. There still are farmers in Pejeng who haven't given into the tourism boom and want to continue their traditional way of life, but many live in poverty because rice prices are extremely low and tourism has raised the cost of living throughout the island.
To support these farmers, FNPF is partnering with the local banjar head (community leaders) to create an agro-tourism apparatus, similar to World Wide Opportunities on Organic Farms (WWOOF), which facilitates homestays on organic farms. This new apparatus will bring visitors to Pejeng Village in a way that alleviates poverty while simultaneously protecting the environment from unsustainable land use and honoring the origins of Balinese culture. This is FNPF's philosophy—developing environmentally sustainable economic opportunities for local communities so that they have a stake in conservation and can reject the lucrative offers of developers and other destructive alternatives, such as illegal logging or palm oil plantations (in Kalimantan, where FNPF also has an office).

As the first person FNPF has had working on the project in Pejeng, I've spent the past two months understanding the complexities I outlined above to then develop the infrastructure needed for agro-tourism. So far, this has meant studying the microeconomics of the local tourism industry to determine how FNPF can help differentiate and market this agro-tourism opportunity in an already oversaturated tourism economy so that Pejeng can begin welcoming agricultural volunteers soon.
With this agro-tourism venture, the people in Pejeng are creating their own tourism narratives that alleviate poverty, educate their children, and protect their environment. It may be true that tourism has its roots in colonial violence, orientalism, and the Dutch policy of forcible "traditionalization." But working in this community has showed me that many well-intentioned critiques of tourism are too simplistic: they only cast tourism as a hegemonic institution bearing down on the Balinese instead of crediting the Balinese for their agency, innovation, and creativity in adapting to the reality that tourism is a vital industry in Bali.
What I've described are just a few of the many complex human rights issues embedded in tourism. My work has taught me that there does not have to be a tradeoff between economic rights, such as poverty alleviation, and environmental and cultural rights. But at the same time, organizations such as FNPF cannot act unilaterally—investors who build resorts that extract water at rates as much as fifty times higher than locals must also cooperate. Although fewer Balinese live in poverty than ever before, migrant workers from Java, Lombok, and other Indonesian islands who work on construction projects continue to suffer from poverty and racism. All of these questions of social, economic, environmental, and cultural rights must be delicately balanced for the future of Bali.
Beyond this work, I have been enjoying the cultural richness that Ubud has to offer. I've been learning about Balinese arts and a few weeks ago, I attended the Ubud Writers' and Readers' Festival, where I listened to some fascinating discussions about women's rights in Bali and the ways that Indonesian society is being religiously polarized for political means.
Thus far, this time away from Yale has been a wonderfully reflective and immersive experience—a chance to apply what I've learned in class to real situations but also to learn in ways that no class could teach. I am grateful to Mr. Thomas Barry and the Barry Fellowship for providing me with this opportunity and to the Schell Center for its continued advice and support of my work.