Wednesday, November 2, 2022
---
New Paradigms in Legal Thought
Rethinking Law, the spring 2022 volume published by the Boston Review, collects prominent thinkers exploring new paradigms in legal thought that ask how to better confront and undo the law's complicity with injustice. It addresses themes of law and political economy across a range of topics including constitutional law, antitrust law, labor law, and human rights law. Edited by Amy Kapczynski '03, Professor of Law and Faculty Director of the Global Health Justice Partnership at Yale Law School, Rethinking Law includes the work of 18 contributors, including a dozen Yale Law School alumni, in academia and public service.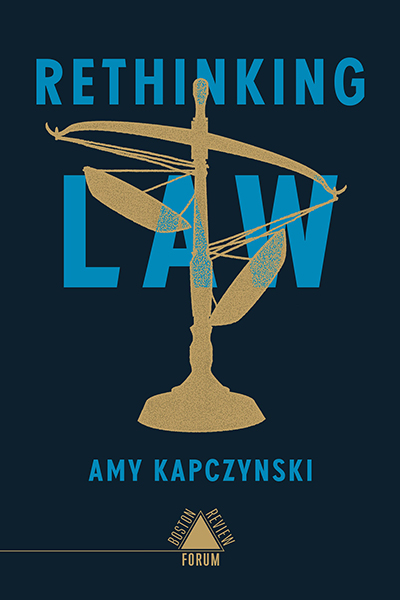 The forum begins with "Make Progressive Politics Constitutional Again," an essay by Joseph Fishkin '07, Professor of Law at UCLA School of Law, and William E. Forbath '83, Lloyd M. Bentsen Chair in Law and Associate Dean for Research at The University of Texas at Austin School of Law. Fishkin and Forbath urge progressive communities to revitalize and reimagine the U.S. tradition that seeks a "democracy of opportunity." By affirming the inextricable relationship between the judiciary and politics, they call for the public to hold constitutional law accountable to justice.
Contributors engage with Fishkin and Forbath's work in a range of responses and essays. In "Up from Originalism," Andrea Scoseria Katz '16, Associate Professor of Law at Washington University in St. Louis School of Law, traces the historical construction of legal philosophies taken for granted today. Aziz Rana '06, Richard and Lois Cole Professor of Law at Cornell Law School, examines why the pursuit of domestic prosperity has so often coincided with U.S. imperial expansion in "The Imperial Roots of the Democracy of Opportunity."
Other contributions include "Not Only Looking Backward" by Mark Tushnet '71, William Nelson Cromwell Professor of Law, Emeritus, at Harvard Law School; "Beyond Neoclassical Antitrust" by Sanjukta Paul '03, Professor of Law at University of Michigan Law School; and "The Hard Questions" by Kate Andrias '04, Patricia D. and R. Paul Yetter Professor of Law at Columbia Law School. Fishkin and Forbath pen their own response to reflect on the nuances each contributor brings to their argument.
The volume's second half comprises essays that explore the relationship between law, social change, and justice. Kapczynski joins David Singh Grewal '02, Professor of Law at UC Berkeley School of Law, and Jedediah Britton-Purdy '01, Professor of Law at Duke Law School, as a co-author of "How Law Made Neoliberalism." In "What Makes Laws Unjust?," Randall Kennedy '82, Michael R. Klein Professor of Law at Harvard Law School, engages with Martin Luther King Jr.'s moral interpretation of law in "Letter from Birmingham Jail." Zachary Manfredi '17, Litigation and Advocacy Director at the Asylum Seeker Advocacy Project, closes the volume with "Rethinking Human Rights."
In addition to the print book, the articles are available on Boston Review's website. Click here to see the issue.