Thursday, August 1, 2019
---
Nikolas Guggenberger Named Executive Director of Information Society Project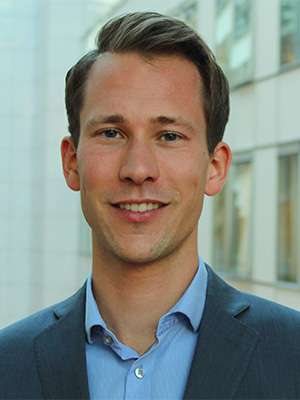 The Information Society Project (ISP) at Yale Law School has announced the appointment of Nikolas Guggenberger as its new Executive Director. Guggenberger will assume his new position following the departure of Rebecca Crootof '11 JD, '16 PhD, who has served as executive director since 2016.
"We are very excited to have Nik joining us as Executive Director, said ISP Faculty Director Jack Balkin, Knight Professor of Constitutional Law and the First Amendment. "His intellectual leadership will be important as we move forward in our research on artificial intelligence, the Internet of things, and the digital public sphere."
Guggenberger was most recently a Resident Fellow at the ISP as well as the RWTÜV Foundation Assistant Professor at the Institute for Information, Telecommunication, and Media Law (ITM) at the University of Münster School of Law, Germany. He is also an Affiliate with the Berkman Klein Center for Internet & Society at Harvard University. His research focuses on the intersection of law and technology, specifically antitrust law, platform regulation, privacy, and the future of private law. He is especially interested in emerging technologies, including artificial intelligence, algorithmic governance, and the automation of law. Guggenberger frequently advises government entities, serves as an expert witness, and participates on advisory committees, mainly on matters relating to financial technology, financial markets regulation, antitrust law, digital policy, and media law. Guggenberger has taught contract, information, consumer protection, copyright, EU law, as well as platform regulation, privacy, and data protection at the University of Münster School of Law, the University of Virginia School of Law, the University of São Paulo Law School, and the University of Freiburg School of Law.
Prior to his current appointments, Guggenberger served as a policy advisor to Jakob von Weizsäcker at the European Parliament in Brussels, working on banking and financial markets regulation as well as monetary and economic policy. From 2010 to 2012, Guggenberger clerked at the district court of Freiburg, Germany. In parallel to his doctoral research, he worked as a teaching assistant and research associate to Professor Boris P. Paal at the Institute for Media and Information Law at the University of Freiburg School of Law. Guggenberger holds degrees from Stanford Law School (LL.M., 2014) and the University of Freiburg, School of Law (Ph.D., 2014, J.D. equivalent, 2010).
"The ISP is where technology meets critical thinking and rigorous scholarship," said Guggenberger. "I am honored and beyond excited to lead this inspiring and creative community and build on Rebecca's accomplishments."
At the ISP, Guggenberger will oversee the recently announced Digital Public Sphere Project, funded by the Knight Foundation, and continue his research on platform regulation, privacy, and antitrust law, with a focus on the business models, economic incentives, and market structures of online platforms.
Crootof will leave her post as Executive Director of ISP to become an Assistant Professor at the University of Richmond School of Law, starting in September 2019.
The Information Society Project at Yale Law School was founded in 1997 to study the impact of the Internet and other information technologies on law and society.