Monday, December 17, 2018
---
Post Delivers Inaugural Thurgood Marshall Lecture at the Second Circuit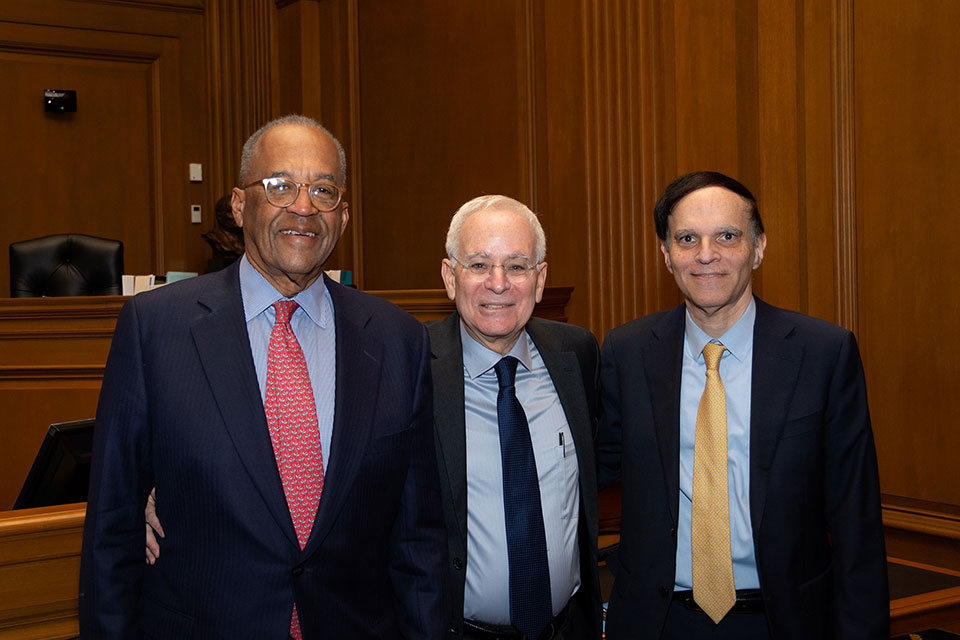 Judge Barrington D. Parker '69 L.L.B., Sterling Professor of Law Robert C. Post '77, Chief Judge Robert A. Katzmann '80. Photo by Matvey Zabbi.
Sterling Professor of Law Robert C. Post '77 delivered the inaugural Thurgood Marshall Lecture at the Second Circuit Court of Appeals in New York City on December 12, 2018.
Post's lecture, titled "Marshall as a Judge" explored the contemporary significance of Marshall's legacy and his time as a judge on the Second Circuit from 1961 to 1965.
Post delivered his remarks after a welcome by Chief Judge for the Second Circuit Robert A. Katzmann '80 and an introduction by Judge Barrington D. Parker '69 L.L.B. In the talk, Post spoke not only about Marshall's career as a judge but about his accomplishments that led him to the bench and influenced him for the rest of his career.
According to Post, "Marshall's unique style of judging directly was affected by his experience as a preeminent civil rights activist." Prior to becoming a judge, Marshall worked as a lawyer for the NAACP and the Legal Defense and Education Fund.
"The range and impact of Marshall's work beggars description. It made him arguably the greatest lawyer of the 20th century," Post said.
At the rededication of the Thurgood Marshall United States Courthouse in 2003, where Post's lecture was held, Chief Judge John Walker characterized Marshall as "the conscience of the Second Circuit."
Marshall left the Second Circuit after President Lyndon Johnson appointed him to be Solicitor General of the United States in 1965. Marshall was then nominated by Johnson to the Supreme Court in 1967.
Post served as the Dean of Yale Law School from 2009 until 2017. He specializes in issues surrounding constitutional law, the First Amendment, legal history, and equal protection.