Friday, November 30, 2018
---
Professor Carter '79 Publishes Biography of His Remarkable Grandmother
In his latest book, Professor Stephen L. Carter '79 tells the moving story of the life and work of his grandmother, Eunice Hunton Carter (1899–1970), the mastermind behind the operation that successfully captured and prosecuted mobster Lucky Luciano.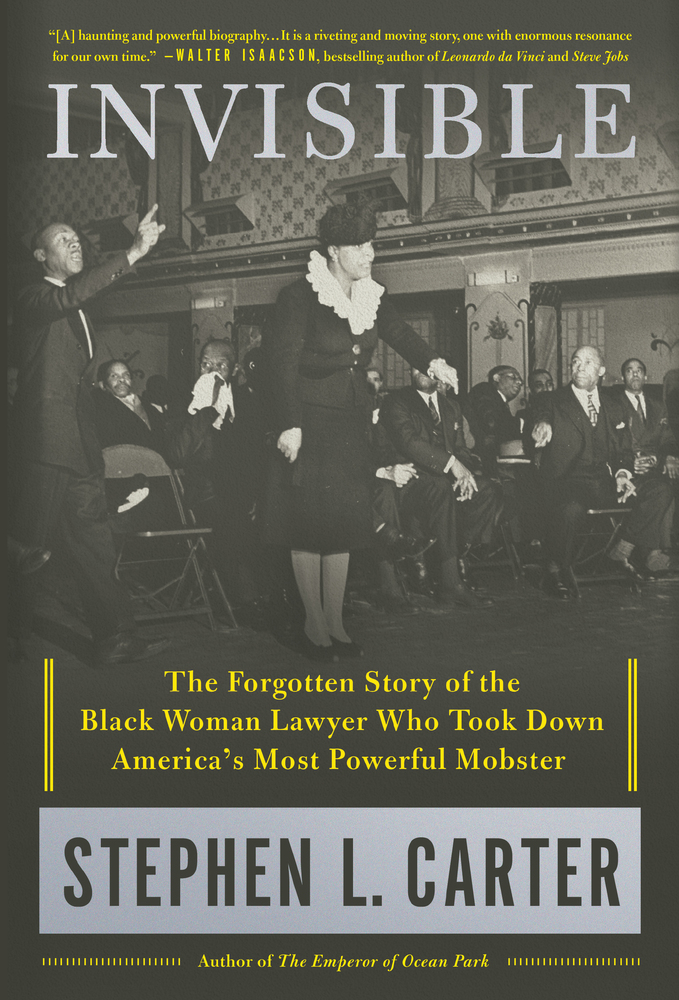 Invisible: The Forgotten Story of the Black Woman Lawyer Who Took Down America's Most Powerful Mobster opens with the 1906 race riots in Atlanta, GA. A seven-year-old Eunice and her family huddled in their house listening to white mobs inch closer, as they smelled the smoke from the fires from burning homes. This scene sets the stage for the reader to see that despite African-Americans struggles "to build lives and families in the whitest and harshest days of segregation...within that segregated world emerged remarkable stories of triumph."
Carter's narrative underscores Eunice's ambitious leanings, which emerged at an early age. At age eight she announced that she would become a lawyer, a promise she fulfilled two decades later. Despite the myriad racial barriers she faced as a black woman, Eunice graduated from Smith with both a bachelor's and master's degree in just four years, graduated from Fordham Law School, became the first black woman lawyer in New York, and the first black woman federal prosecutor in the country.
Eunice eventually landed the most desired legal job in New York at the time: working with Thomas Dewey on his Organized Crime Task Force. In this capacity Eunice pioneered the investigation that proved the mob was running New York City's brothels and helped identify the witnesses that confirmed Luciano's involvement.
As a result of her work taking down Luciano, Carter notes that Eunice became "one of the best-known Negro women in America." This feat was only the beginning, however, as  "She would receive honorary degrees, be featured in Life magazine, lecture around the world, be handed medals and plaques from civic organization everywhere…[and] become a prominent and influential figure in the Republican party." She later turned her attention to international activities as president of the Conference of International Organization, consultant for UNESCO, and influential member of the International Board of the YWCA.
The list of her accomplishments and activities is impressive, as was her ability to overcome racial barriers. "As ambition drove her ever upward," Carter reminds, "she would find her path blocked — now by race, now by gender, now by politics."
Carter's portrait of his grandmother reveals a complex picture that included not only her accomplishments but her struggles: from her tense relationship with her brother, whose Communist ties probably hindered her success, to her difficult marriage.
Bestselling author Walter Isaacson called Invisible "a riveting and moving story, one with enormous resonance for our own time."
Stephen Carter is a prolific writer, having published 15 books, six novels, and, in addition to his scholarship, hundreds of opinion pieces. He was also the former clerk for Supreme Court Justice Thurgood Marshall.