Thursday, June 20, 2019
---
Professor Fiss Receives Honorary Doctorate from the University of Chile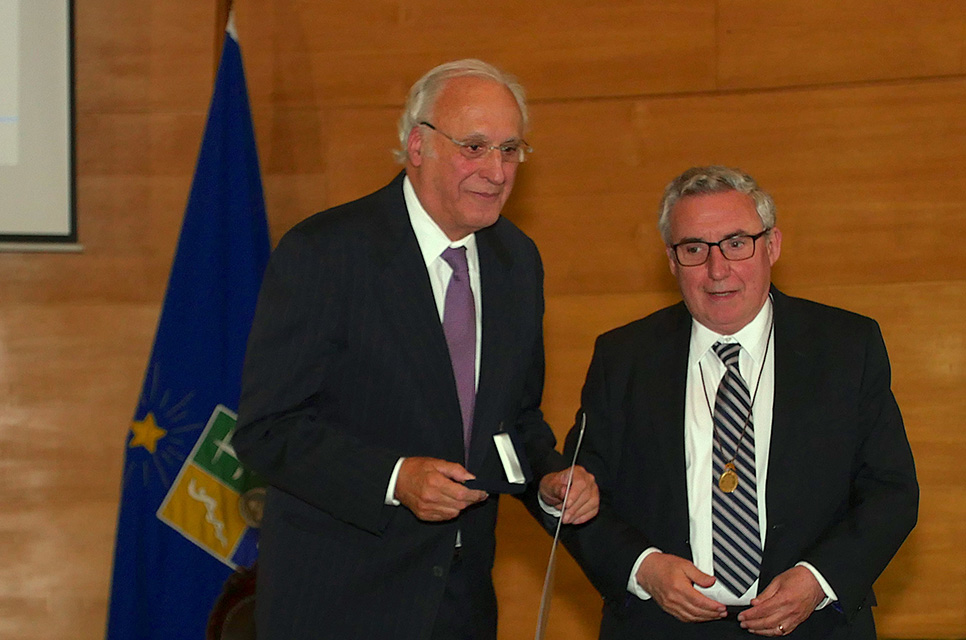 Sterling Professor Emeritus of Law Owen M. Fiss and University of Chile Rector Ennio Vivaldi at a ceremony honoring Fiss with an honorary doctorate
The University of Chile awarded an honorary doctorate to Sterling Professor Emeritus of Law Owen M. Fiss, recognizing his contributions to human rights in Latin America and to legal scholarship in general. Fiss received the Honoris Causa on June 13, 2019, at the University's Santiago campus in a ceremony attended by students, faculty, and university officials.
READ: Spanish-language press release of the event
WATCH: Video of the ceremony
WATCH: Video of Owen M. Fiss's keynote address
University Rector Ennio Vivaldi praised Fiss's work to advance human rights in the aftermath of dictatorships, calling this work invaluable for building democracy in the region. He emphasized Fiss's work on free speech, adding that its protection is most important when it is not under threat. Vivaldi praised Fiss for leading the effort to ensure that the law promotes an open society and maintained that everyone has a moral duty to fight for and preserve freedom of expression.
In his introductory comments, University of Chile Law School Dean Pablo Ruiz-Tagle noted the long history of collaboration between Yale Law School and the University of Chile that was spearheaded by Fiss. This collaboration includes the Latin American Linkages student exchange program and SELA (Seminario en Latinoamérica de Teoría Constitucional y Política). Since 1995, SELA has annually brought together a large number of scholars from Latin America, the Caribbean, Europe, and the United States. Fiss and Robert Burt founded SELA, which this year took place in Buenos Aires with 20 partner institutions. Fiss's impact on Chilean legal education generally and on the University of Chile in particular has been immense, Ruiz-Tagle said, adding that this impact will continue because of the solid foundations that Fiss helped to build.
At the conclusion of the ceremony, Fiss delivered the keynote address, "Mill on Free Speech," an examination of John Stuart Mill's 1859 essay "On Liberty." In his talk, Fiss described how Mill defended free speech not simply because it does not cause harm to others — key to the formulation of Mill's principle of individual liberty — but because free speech is necessary to test the worth of one's beliefs.
"Only through free and open discussion can we learn whether our views are true or false," Fiss said. "No one is infallible, and if even after free and open discussion an individual adheres to the same beliefs, that individual will do so with a new appreciation and even firmer conviction of their truth."