Professor John Langbein Receives Comparative Law Society's Top Honor
Sterling Professor Emeritus of Law and Legal History John Langbein has received the American Society of Comparative Law's Lifetime Achievement Award. The organization announced the award, its highest honor, at its annual meeting in October.
Established in 2003, the award honors living senior comparativists whose writings have changed the shape or direction of American comparative or private international law. Langbein joins a distinguished list of scholars who have won the award, including Sterling Professor of Law Emeritus Mirjan Damaška, the 2009 honoree.
Langbein is a leading authority on fiduciary law and a distinguished scholar of legal history. He teaches and writes in four fields: probate and trust law, pension and employee benefit law, Anglo-American and European legal history, and modern comparative law. His work on comparative law has advanced the position that European-style nonadversarial justice is fairer, more accurate, and more economical than Anglo-American procedures.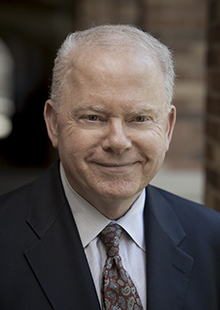 Before moving to Yale in 1989, Langbein was the Max Pam Professor of American and Foreign Law at the University of Chicago. In the 1997–98 academic year he served as the Goodhart Professor of Legal Science at Cambridge University. From 1990 to 2001 he was Chancellor Kent Professor of Law and Legal History at Yale.
Among his work in law reform, Langbein has served continuously as a Uniform Law Commissioner under gubernatorial appointments from Illinois and Connecticut since 1984. He was the reporter and principal drafter for the Uniform Prudent Investor Act  of 1994, which governs fiduciary investing in most U.S. states.
Langbein has written extensively in the leading law reviews about investment, trust, pension, and probate law. Following enactment of Employee Retirement Income Security Act of 1974, Langbein has also had a shaping role on the development of pension and employee benefit law as a scholarly field. He has served as a consultant and expert witness in pension and trust litigation, and has testified in Congressional hearings on issues of policy facing the private pension system.
Among Langbein's published works are a series of articles and books on the history of Anglo-American criminal procedure, as well as books and articles contrasting modern Anglo-American civil and criminal procedure with Continental practice. His 2003 book The Origins of Adversary Criminal Trial received the 2006 Coif Biennial Book Award. His 1977 book Torture and the Law of Proof: Europe and England in the Ancient Regime was republished with a new preface in 2006. In 2000, the American Society for Legal History awarded him the Sutherland Prize for his pioneering work.
The American Society of Comparative Law is an organization of institutional and individual members devoted to research and writing on foreign and comparative law as well as private international law. It publishes The American Journal of Comparative Law and a comparative law book series.