Wednesday, November 17, 2021
---
Professor Parrillo Argues for the Constitutionality of Agency Rulemaking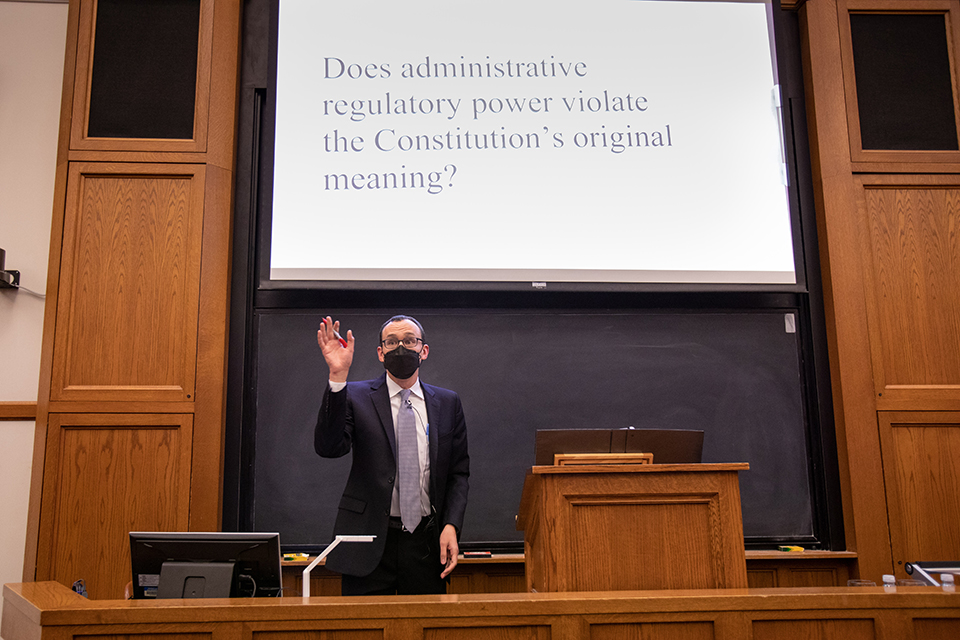 Professor Nicholas R. Parrillo '04 delivers the inaugural William K. Townsend lecture on Nov. 8, 2021.
In his first lecture as the William K. Townsend Professor of Law, Nicholas R. Parrillo '04 explored a question of administrative law that, until recently, had a straightforward answer.
Speaking on Nov. 8, 2021 at an event recognizing his new appointment, Parrillo asked whether administrative regulatory power — the power that Congress gives to agencies to make rules — is constitutional. Delegating power to agencies to put laws into effect has long been routine, Parrillo noted. For example, the Environmental Protection Agency puts the Clean Air Act into effect and makes regulations to that end.
"As of 10 years ago, the general assumption was that this power was constitutional," Parrillo said. "But recently, more and more people have been suggesting that it's not constitutional. And some of those people are on the Supreme Court."
To start his talk, Parrillo outlined the emergent idea that regulatory power violates the Constitution's original meaning. The idea gained widespread attention in 2014 with the publication of Is Administrative Law Unlawful? by Philip Hamburger '82, the Maurice & Hilda Friedman Professor of Law at Columbia Law School. Since then, several judges and five Supreme Court justices have expressed at least some interest in the idea, starting with Justice Clarence Thomas '74 in 2015.
To find evidence for or against regulatory power's constitutionality, Parrillo turned to three standard originalist sources: the text of the Constitution itself, pre-ratification discourse of the founders, and early acts of Congress. These acts have played an especially large role in the debate.
Parrillo, who has a secondary appointment as a Professor of History at Yale University, devoted much of his argument to the findings of his recent paper, which provides an early example of Congress delegating rulemaking authority to agencies. The paper focused on Congress giving power to federal boards covering each state to make mass determinations of real estate values under a federal property tax in 1798.
At Yale Law School, faculty customarily deliver a lecture when they are appointed to a named professorship. Introducing Parrillo, Dean Heather K. Gerken called the appointment "an extraordinary achievement," adding, "It is a special moment in the life of any academic to be recognized for one's scholarship and the promise of great things to come."
The chair held by Parrillo was established in 1925 in memory of William K. Townsend 1874 LL.B., a member of the faculty from 1881 to 1907 and a federal judge on Court of Appeals for the Second Circuit. Townsend also practiced privately in New Haven, where he served at different times as the city's corporation counsel and on the Board of Aldermen. Gerken said Townsend and Parrillo share what one writer has called "an interest in public affairs and a civic spirit."
"As a scholar, Nick grapples honestly with history and eagerly with the real world," she said. "He identifies understudied topics and makes them central to ongoing conversations."
Gerken said that Parrillo, who has also received the Law School's annual teaching award, is a popular and respected teacher. She quoted from the course evaluation of a student who wrote that others should take Parrillo's class "to learn the material from a wonderful teacher and get to know a very decent man."
Parrillo joined the faculty of Yale Law School as an Associate Professor of Law in 2008, becoming a Professor of Law in 2014. His research and teaching focus on administrative law and government bureaucracy and extend to legal history, remedies, and legislation. He was the recipient of the American Bar Association's 2014 award for the year's best scholarship in administrative law. He also received the Law and Society Association's Hurst 2013 prize for the year's best book in legal history for Against the Profit Motive: The Salary Revolution in American Government, 1780–1940.