Monday, January 25, 2021
---
Professor Schultz Launches Workplace Theory and Policy Workshop
This spring, Yale Law School will host the Workplace Theory and Policy Workshop, Reimagining Work After 2020, chaired by Ford Foundation Professor of Law and Social Sciences Vicki Schultz.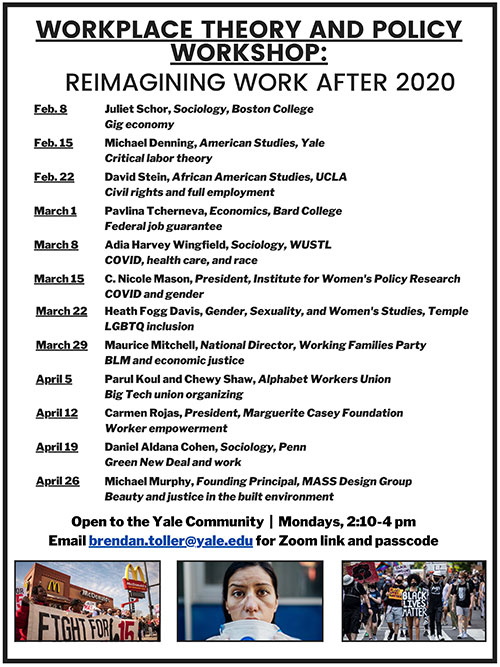 This timely seminar will bring in prominent scholars, policymakers, and activists from a variety of disciplines to analyze and discuss recent transformations in society — most notably, the COVID-19 pandemic and the uprising against structural racism — in relation to work. Together, participants will examine how COVID-19 and racial injustice have affected and are affected by employment and other forms of work, and how the current crises present opportunities for change that promise greater social and economic justice, equality, and humanity for all.
"The pandemic exposed and exacerbated the profound race, class, and gender inequalities in our society in a way that's impossible to ignore," said Schultz. "The higher rates of death and disease among Black and Latino people, together with the shocking police killings of George Floyd and Breonna Taylor, revealed to everyone how far we still have to go to overcome the legacy of slavery."
COVID-19 and race/gender injustice remain deeply connected to labor and work issues, a legacy of the forced labor of slavery, in which wealthy whites benefitted from exploiting the unpaid work of enslaved people. Today, Schultz said, the pandemic has put Black and other people of color at greater risk, for example, partly because they still work in lower-paid, but essential jobs that do not afford them the luxury of working from home. Women of color suffer among the highest unemployment rates, statistics show, because the jobs they hold in a still-segregated labor market leave them more vulnerable to displacement. And, with the rise of the gig economy with its insecure jobs and lack of benefits, many Americans still lack the health care that other wealthy nations treat as a right, not a privilege, according to Schultz.
"With 2020 behind us," Schultz said, "I wanted to create a space where people can come together and think big thoughts about how we can move forward, together. We have a chance, now, to recreate work in ways that empower everyone and leave no one behind."
"I'm excited for this seminar, which promises some deep discussions with an interesting, diverse lineup of speakers," said Alex Boudreau '21, a teaching assistant for the seminar. "It's especially welcome at YLS, where we have fewer course offerings related to labor and employment issues."
Reimagining Work After 2020 is open to the Yale community. The seminar will meet Mondays 2:10-4:00 p.m. via Zoom. If you are a member of the Yale community interested in joining, please email Senior Administrative Assistant Brendan Toller to receive the credentials.
Confirmed speakers are:
February 8: Juliet Schor, Professor of Sociology, Boston College (the gig economy)
February 15: Michael Denning, William R. Kenan, Jr. Professor of American Studies, Yale University (critical labor theory)
February 22: David Stein, UC President's Postdoctoral Fellow, Department of African American Studies, UCLA (civil rights and full employment)
March 1: Pavlina Tcherneva, Associate Professor of Economics, Bard College (federal job guarantee)
March 8: Adia Harvey Wingfield, Mary Tileston Hemenway Professor of Arts & Sciences, Washington University in St. Louis (COVID, health care, and race)
March 15: C. Nicole Mason, President and CEO, Institute for Women's Policy Research (COVID's gender effects)
March 22: Heath Fogg Davis, Professor of Political Science and Director of Gender, Sexuality, and Women's Studies, Temple University (LGBTQ inclusion)
March 29: Maurice Mitchell, National Director, Working Families Party (BLM and  economic justice)
April 5: Parul Koul & Chewy Shaw, Executive Chair and Executive Vice Chair of Alphabet Workers Union (Big Tech union organizing)
April 12: Carmen Rojas, President and CEO, Marguerite Casey Foundation (worker empowerment)
April 19: Daniel Aldana Cohen, Professor of Sociology, Director, Socio-Spatial Climate Collaborative, University of Pennsylvania (Green New Deal and work)
April 26: Michael Murphy, Founding Principal and Executive Director, MASS Design Group (beauty and justice in the built environment)