Tuesday, October 18, 2022
---
Q&A: Liman Fellow Forrest Dunbar '12 on Entering Politics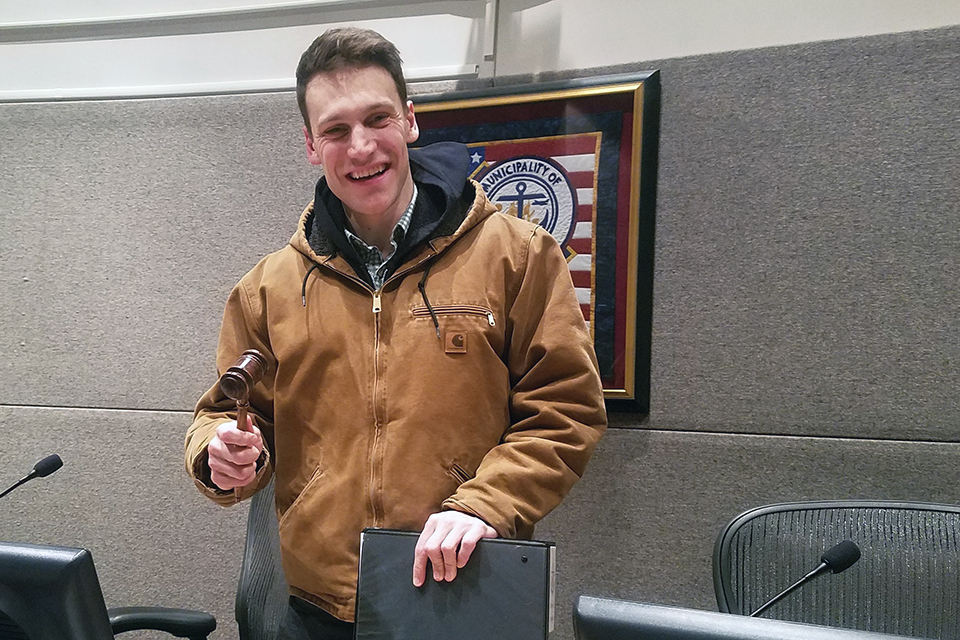 Forrest Dunbar '12 holds the gavel during his first of two stints as Chair of the Anchorage Assembly.
Forrest Dunbar '12 was a 2012 Liman Fellow at the Alaska Office of Public Advocacy. Originally from Eagle and Cordova, Alaska, Dunbar worked as a commercial fishing deckhand, cannery worker, and wildland firefighter before earning a law degree and a master's in public policy. A member of the Anchorage Assembly since 2016, Dunbar is currently running for the Alaska State Senate.
---
How did your Liman Fellowship influence your decision to enter politics?
I knew heading back to Alaska after law school that I was likely to get involved in politics in some capacity. The Liman Fellowship provided an excellent way to spend my first year after YLS doing policy research and advocacy while building relationships that helped make possible my first run for office the following year. 
Now, as I prepare to perhaps head back to our capital as a state senator, I think of the months I spent there 10 years ago, sleeping on couches, eating ramen noodles, and walking the capitol building halls, working on the drug reform bill from my Liman proposal. There's no question that the Liman Fellowship helped open doors and gave me an opportunity to work on something I was passionate about.
"As I prepare to perhaps head back to our capital as a state senator, I think of the months I spent there 10 years ago, sleeping on couches, eating ramen noodles, and walking the capitol building halls, working on the drug reform bill from my Liman proposal." — Forrest Dunbar '12
Tell us more about your work on the Anchorage Assembly. What issues are most important to you?
It's been an incredibly rewarding and impactful six and a half years, though the last two and a half have been marked by controversy and the rise of the far-right, anti-mask/anti-vax movement. Nevertheless, the Assembly has made real gains, including establishing a Mental Health First Responder Program, passing Anchorage's first substantial investment in early childhood education, and making progress towards expanded affordable housing. I have also worked on enacting Anchorage's first Indigenous naming ordinance, championed a number of park and trail projects, and chaired the Assembly as we sold our power utility to the local nonprofit energy co-op and then invested the returns in a trust that will generate sustainable revenue for the municipality. 
I enjoy the immediacy with which a policy proposal can become a reality in the Assembly, and the constant feeling of being "in the thick of it" with my colleagues.
What inspired you to run for the Alaska State Senate?
A month or so before the filing deadline, a redistricting lawsuit created a new seat in my part of Anchorage, with no incumbent. However, most of the folks in progressive politics up here assumed that a particular state house representative, in whose district I live, was going to run. I was literally packing for a trip to Mexico to go to a wedding when she announced that she was not going to run for any seat this year. Once I returned from the wedding, it was a whirlwind: a number of current and former legislators, as well as other activists and a former lieutenant governor reached out to me, encouraging me to run. One of the primary motivators was the prospect for a bipartisan coalition in the State Senate. They saw my candidacy as an important piece to making that coalition a reality. 
In addition, of course, the State Senate will allow me to keep working on some of the issues I care about — affordable housing, improved mental and behavioral healthcare, multimodal transportation, parks, trails, and the outdoor economy — and add some new ones as well, including some of the diversionary programs and efforts to reduce collateral consequences and recidivism, which I worked on during my Liman Fellowship, but that are not within the purview of the Municipal Assembly.
What advice would you give to other Liman Fellows who are considering a career in politics?
I'm hesitant to give advice because I know that politics is so different in every place. But if you are or have been a Liman Fellow, then policy is probably going to come easily to you. The challenge is translating it in a way that is clear to all kinds of people and understanding that policy alone is unlikely to get you elected. If our best policymakers and legal thinkers were the ones who always got elected, our city council, legislatures, Congress, and executive offices would look much different. 
You have to learn to balance the work of representing voters' current, immediate desires and demonstrating leadership by, on occasion, taking unpopular stands when you know it's the right thing to do. 
If you see yourself pushing for radical change that you know is deeply unpopular with the electorate, other paths — from litigation and grassroots, educational work — may be a better way to win people over to your position. 
Ah, and one other small thing: if you do decide to hop in — as a professor at the Kennedy School once told me — you cannot win a political debate, you can only lose one.