Wednesday, December 12, 2018
---
Remarks by Professor Fiss at the University of Buenos Aires
On December 11, 2018, the law faculty of the Universidad de Buenos Aires inaugurated a new academic program to honor Raúl Alfonsín (1927–2009), former president of Argentina from 1983 to 1989.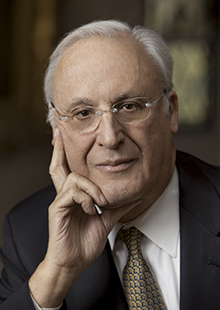 Remarks by Sterling Professor Emeritus of Law Owen Fiss were read at the public event launching the program, la Cátedra Libre Raúl Alfonsín. Among the program's aims is to build "a space of plural and tolerant reflection within the public university and around the legacy of Dr. Raúl Alfonsín," according to its website.
Professor Fiss participates in extensive Law School programs in Latin America and the Middle East. He has received honorary doctorates from the University of Toronto, Universidad de Buenos Aires, and Universidad de Palermo (Buenos Aires).
READ: Professor Owen Fiss's remarks (PDF in Spanish).
WATCH: Video of the event.