Tuesday, November 10, 2020
---
Schell Center Postgraduate Fellow Spotlight: Talya Lockman-Fine '20
Talya Lockman-Fine '20 is spending her Bernstein Fellowship in New York City, working at the International Senior Lawyers Project (ISLP). A former member of the Allard K. Lowenstein International Human Rights Clinic, Lockman-Fine has been focusing on building governments' capacity for promoting sustainable development and socioeconomic rights. In her first five months, she says she has learned a lot about the role of lawyers in transactions with implications for sustainable development and hopes to "both contribute to ensuring projects achieve the client's hoped for objectives and to ensuring that legal assistance is delivered in a way consistent with a commitment to socioeconomic rights."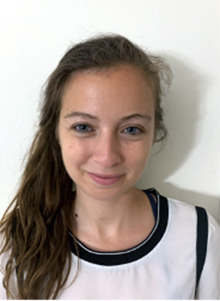 Prior to law school, Lockman-Fine worked with Dalberg Advisors in Dakar, Senegal, a consulting firm similarly committed to sustainable development, whose clients included United Nations agencies and the World Bank. Her decision to apply to law school was driven by a desire to understand how legal frameworks — including those governing tax, trade, and investment — shape development outcomes. ISLP, to Lockman-Fine, is one of very few organizations operating exactly at the intersection of law and development.
ISLP has three primary categories of clients: governments in the Global South, civil society organizations in the Global South, and social enterprises. Lockman-Fine focuses on government clients. Lockman-Fine's work entails building and maintaining relationships with clients; supporting the identification of each client's legal needs; conducting relevant background research; and supporting the entire project management process until the project is completed. ISLP's support looks different for each client; for instance, current work in Afghanistan focuses on supporting the Government of Afghanistan in the preparation for the tender of a large hydropower plant, which involves coordinating legal experts alongside consultants with expertise in resettlement and environmental issues.
Lockman-Fine is sensitive to the dangers of a "fly-in, fly-out" approach when working to support clients' long-term goals: if outside consultants fail to stick around long enough to ensure their interventions helped, their work might not be truly useful. ISLP works with clients for extended periods of time to strengthen the positive impact of their work, and invests in capacity-building work alongside transactional assistance. They are also prepared for their work to evolve as their clients do, with the organization continually working to deepen relationships and find additional partners, Lockman-Fine notes.
Usually, Lockman-Fine's work would require possibly traveling to the client government's country, but in light of the COVID-19 pandemic, she is based in New York. For some projects, the team and its clients work across up to five time zones at a time; with travel for ISLP's lawyers on pause, her team has shifted to new ways of working with their international clientele through Zoom. Despite the logistical challenges, Lockman-Fine says, "all of us across the world are figuring this out together."
The uncertainty created by the pandemic and its economic repercussions has created new challenges and opportunities. As one example, the impending threat of worsening sovereign debt crises has driven a need for governments to identify and secure new sources of revenue, with ISLP working with clients, through specific projects, to do so equitably and sustainably.
In providing support to governments to advance sustainable development, Lockman-Fine keeps the "achievement of [socioeconomic] rights" front and center. Capacity building — now "a buzzword in human rights and development spaces" — "too often gets reduced to specific programs" when it should be understood as motivating all kinds of work, she says. When Lockman-Fine discusses sustainable development — another buzzword — she also means it "in the deepest sense." For development to be truly sustainable, she reflects, it must be "environmentally sound" and address inequality, "including income inequality and inequality among different minority populations."
In her Fellowship year with ISLP, Lockman-Fine aims to have a strong personal impact and learn more about the issues encompassed in her specific projects. She works with a small staff, so she often strategizes about how and where she can have the greatest impact, as well as how she can support ISLP's overall mission, with her reflections focused on the "core question" of "what tools can be employed — including legal tools used in specific ways — to move the needle on the issues I care about?" Through her Fellowship, Lockman-Fine hopes to reach a clearer understanding of how law can "lead us to sustainable development and socioeconomic rights."