Wednesday, January 4, 2023
---
Schools Team Up to Work for Affordable, Vibrant Neighborhoods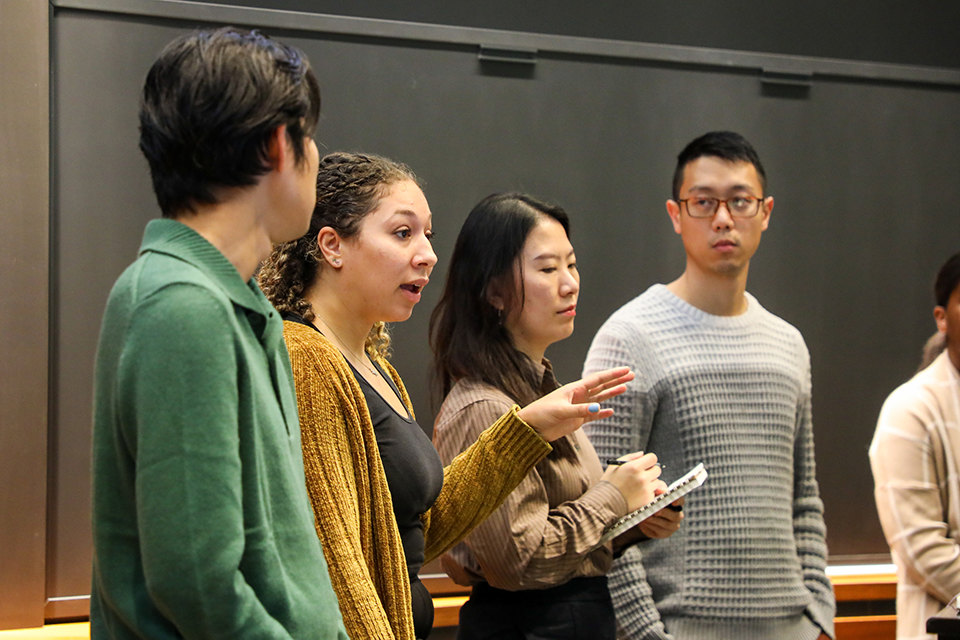 Yale Law School student Dominique James '24, second from left, presents her team's proposal in a class that brings together law students and faculty with their counterparts from Yale's School of Management and School of Architecture to find solutions to Connecticut's affordable housing shortage. Joining her are, from left, architecture students Calvin Liang and Zishi Li and law student Raymond Fang '23. (Classroom photos: Ben Mattison)
A new course brings together three Yale professional schools with community partners to find real-world solutions to the state's affordable housing crisis.
In Housing Connecticut: Developing Healthy and Sustainable Neighborhoods, Yale Law School students and faculty join counterparts from the Yale School of Architecture and the Yale School of Management to create proposals for adding homes to New Haven. Their assignment is to create building projects anchored in affordable housing that more broadly consider additional community needs.
What helps set the course apart is a commitment from the state of Connecticut for up to $3 million in funding for projects deemed feasible. That means the students' efforts, ranging from a cluster of houses to a mixed-used development, have the potential to exist not just on paper but in two New Haven neighborhoods — Newhallville and Fair Haven — and on a faster timetable than typically possible. 
"We know that we are not only engaged in a learning experience but are also actually putting together an affordable housing development that could someday provide real shelter, community, and resources for Newhallville," said Raymond Fang '23, a law student in the class. "It's been a great motivation for us."
The course came about after a conversation between Andrei Harwell, Senior Critic in Architecture at Yale School of Architecture, and Connecticut Commissioner of Housing Seila Mosquera-Bruno, herself a former nonprofit housing developer. Harwell learned that the state was looking for "faster, better, and more interesting ideas" to the state's affordable housing shortage.
Harwell partnered with Clinical Professor of Law Anika Singh Lemar, who teaches the Law School's Community and Economic Development Clinic and the Housing Clinic, and Kate Cooney, Senior Lecturer in Social Enterprise and Management at the Yale School of Management.
Singh Lemar was particularly interested in showing future lawyers how to work with people from other disciplines.
"When you graduate from law school and you go off into practice, you've got to be able to interact with people whose field is different than law," Singh Lemar said. "And when they start explaining that the financials dictate a certain kind of legal decision, that's a train of thought and a conversation that you've got to be able to follow."
The course was designed as a three-year pilot with funding from the Law School's SNF Fund for the Integration of Theory and Practice. The state provided three New Haven nonprofit housing developers as clients: Neighborhood Housing Services, Beulah Land Development Corporation, and NeighborWorks New Horizons.
Pairing students with organizations that have worked in the city for decades "connects them to the expertise and community networks of those developers and a point of entry into New Haven neighborhoods," said Professor of Architecture and Urbanism Alan Plattus, who co-teaches the course.
The state's involvement also means the projects could have shorter development and financing processes. The possibility that students could have their work funded and built "helps to ensure that their efforts have real stakes," Cooney said. 
"We know that we are not only engaged in a learning experience but are also actually putting together an affordable housing development that could someday provide real shelter, community, and resources."
— Raymond Fang '23
Before students met with their community partners, they got a five-week crash course in affordable housing development, covering New Haven urban and architectural history, site development, zoning law, law of public participation, code compliance, finance, and more. They were also introduced to technical skills like GIS mapping.
"In practice, affordable housing projects iterate between design considerations, zoning constraints, and financial feasibility," Cooney said. "This course is unique in that it offers students the ability to actually experience those iterative steps in project development in real time as they work together on interdisciplinary teams with the guidance of interdisciplinary team of faculty."  
Students consider not only the conditions of specific building sites but also the history of the places where they work. Newhallville and Fair Haven are among the state's most economically distressed neighborhoods, both largely home to people of color with low incomes. The two neighborhoods have experienced decades of disinvestment and bear the scars of redlining in the 1930s, urban renewal in the 1960s, and de-industrialization in the 1970s and 1980s.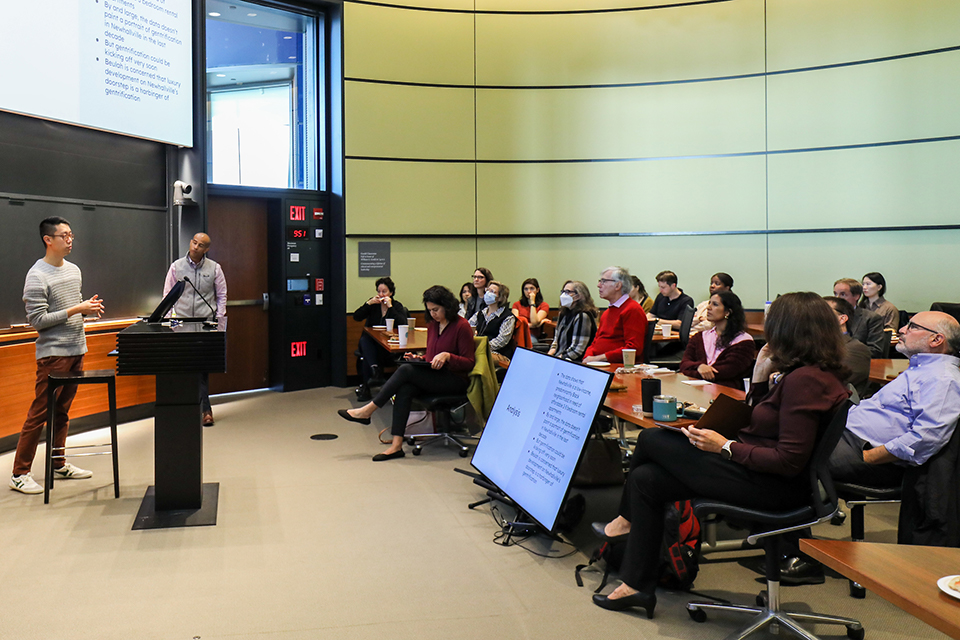 But both communities still have much to offer, said James Paley, Executive Director of Neighborhood Housing Services, which emphasizes homeownership as a way to stabilize neighborhoods.
"Newhallville has a strong history, and there are a lot of families that have stuck it out for generations." Paley said. "Fair Haven is similar. These are areas that can be a target for people who want to purchase their own homes."
The teams' work takes place against the backdrop of New Haven's hot real estate market. At one point in 2022, the U.S. Census Bureau calculated the city's rental vacancy rate as 1.4% — the third lowest in the country. Those pressures are keenly felt by New Haven's nonprofit housing developers. While in years past, they could more easily acquire foreclosed or abandoned property, they are now often forced to compete with private interests to buy it. 
Fang learned that Newhallville, where his team is working with Beulah Land Development Corporation, has more than 800 luxury units recently built or in progress and that more than 90% of these apartments are market rate.  
"We know that these types of developments are not meant for existing residents," Fang said.
Throughout the semester, Beulah's Chief of Operations, Darrell Brooks, encouraged students to think about affordable housing development as part of a broader movement for racial and economic justice.
It was not the only guidance Fang and his team received. Midway through the semester, students pitched their proposals to a room full of experts that included state officials, community members, Yale architects, a New York architect/affordable housing developer, local nonprofit leaders, finance specialists, and others.
The Beulah team's proposal would transform a vacant lot into a building of 36 to 50 rental apartments. The long and narrow site, hemmed in by other buildings, presented some design challenges, like a less-than-obvious place to face the street. The team proposed three different design schemes each featuring mass timber construction, a green alternative to concrete and steel building structure.
The questions came fast and were friendly but pointed. Had the team considered other sites? Is there room for a car-sharing service or a bus shelter? Were there dedicated parking spots so that disabled people could unload their groceries — and enough of them? What did people in the neighborhood do for work — could they benefit from a job training program onsite, like a kitchen? Has anyone consulted with the residents of the neighborhood?
The last question especially stuck with Fang.
"Far too often, low-income communities of color are ignored in the development process," he said. "We would really like to make sure we don't repeat the mistakes of the past with our project."
As the semester wound down, students prepared to hand off their projects. Proposals ready for more detailed architectural designs could be referred to the Yale Urban Design Workshop, a community design center affiliated with Yale School of Architecture. Students can also continue working on their projects by applying for fellowships there. Projects with business questions might go to the School of Management for consultation with a student group, while those with legal needs could approach a clinic at the Law School. 
Fang said that one lesson he learned in class is how to frame the issues. After law school, he will work providing legal services for residents and advocates of permanent affordable housing in Los Angeles.
"I think locating community development and affordable housing work as part of this longer history of social justice struggle has been really powerful for me in understanding what we're trying to do here," he said.
That direct community impact is a crucial aspect of what the class is trying to teach, according to Singh Lemar. She hopes the class will give students from all three schools practical skills they can use long after school.
"Students are very much in the community. These are their projects and they are owning them," she said. "They are out in the world, thinking about real-world problems, getting experience that they will 100% apply after they graduate."