Tuesday, November 23, 2021
---
Seven Yale Law Students Selected as Kerry Fellows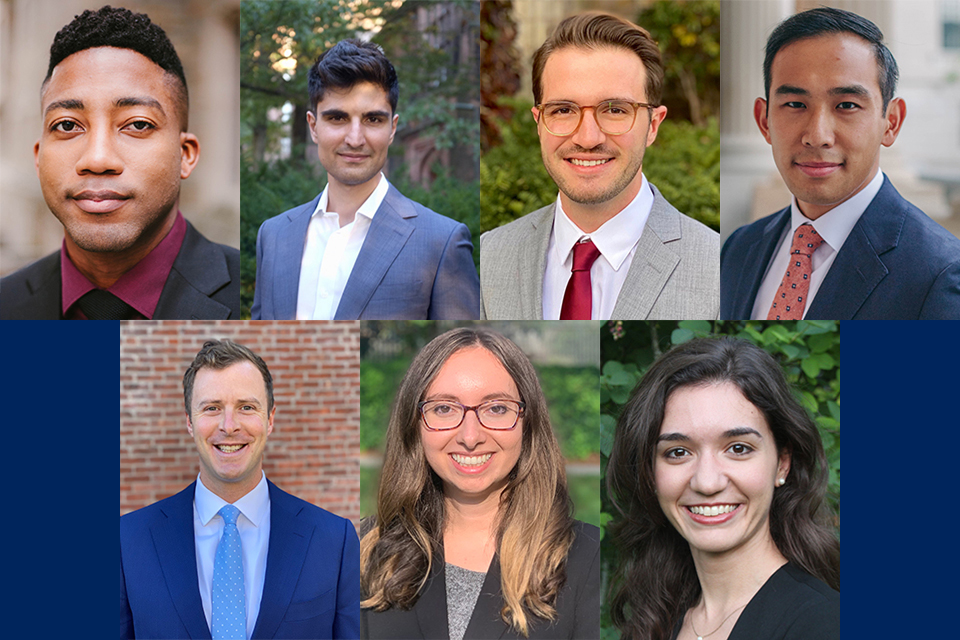 Seven Law School students selected have been selected as Kerry Fellows. Top row: Mikhail Grant '24, Lorand Laskai '22, Evan Lisman '24, Brian Liu '24. Bottom row: William McGee '24, Alexandria Miskho '22, Angela Remus '22.
The Kerry Initiative announced that seven Yale Law School students have been named Kerry Fellows for the 2021–2022 academic year.
The Kerry Fellows were selected on the basis of outstanding academic and, if appropriate, professional achievement, with some priority given to interdisciplinary work in the core subjects on which the Kerry Initiative is focused: global climate change and oceans issues, democracy, failed and failing states, the challenge of authoritarian populism, America's civilian security capacity, public diplomacy, technology in foreign policy, and economic opportunity and development.
The new student Fellows from the Law School are Mikhail Grant '24, Lorand Laskai '22, Evan Lisman '24, Brian Liu '24, William McGee '24, Alexandria Miskho '22, and Angela Remus '22.
---
Mikhail Grant is a first-year J.D. candidate at Yale Law School. He is interested in the roles of environmental law and international law in emissions reduction and migration patterns. Before law school, he worked in energy policy research at Rhodium Group in their Energy and Climate practice. As a Research Analyst at Rhodium Group, he analyzed and modeled the emissions of major economies and conducted research on nascent carbon removal technologies. His work primarily focused on greenhouse gas emissions in China and policy support in the U.S. for direct air capture technology. Grant has also interned for the International Council on Clean Transportation and Natural Resources Defense Council. Born and raised in Jamaica, Grant lived in the Bay Area for 10 years before moving to New Haven. He graduated from Stanford University with a B.S. in Engineering and a minor in Global Studies, as well as an M.S. in Civil and Environmental Engineering.
Lorand Laskai is a third-year student at Yale Law School. His work during and prior to law school has focused on the intersection of technology, foreign policy, and China's rise. During law school, he interned at the Senate Foreign Relations Committee and New York State Attorney General's Bureau of Internet and Technology. He worked on a task force on U.S.-China technology interdependence at the Johns Hopkins University Applied Physics Lab. Last year, he served as a member of the Biden-Harris Presidential Transition. Prior to law school, Laskai worked at the Center for Security and Emerging Technology, the Council on Foreign Relations, and at the Financial Times in Beijing. He graduated from Swarthmore College and is proficient in Mandarin.
Evan Lisman is a first-year student at Yale Law School. He researches emerging technology, nuclear policy, and security dynamics in the Middle East. Before law school, Lisman was a research associate at the Center for Global Security Research at Lawrence Livermore National Laboratory, where he assessed Iran's pursuit of disruptive weapons technology. He previously interned with the Center for Arms Control and Non-Proliferation and the Washington Institute for Near East Policy. Lisman graduated Phi Beta Kappa and with highest honors in Middle Eastern Studies from the University of California, Berkeley, where he was a Foreign Language and Area Studies Fellow and member of the Nuclear Policy Working Group.
Brian Liu is a first-year student at Yale Law School. On campus, he is a student Project Director for the International Refugee Assistance Project's Liberian refugee initiative and a co-author on a Lawfare column about U.S.-China technology policy. Prior to law school, Liu worked for Google's legal team, supporting international public Wi-Fi launches, and as a Reservist Army officer. In college, he interned for the State Department's human rights office for East Asia and studied abroad in China and South Korea on various Defense and State Department programs. Liu holds a B.A. in Philosophy, Politics, and Economics from the University of Pennsylvania.
William McGee is a student at Yale Law School where he focuses on the intersection between national security, foreign policy, and the law. A 2013 graduate of the Naval Academy, McGee earned an MPhil in Modern European History at Cambridge University as a Nolan Scholar. Before law school, he served on active duty in the Marine Corps for eight years, including assignments with 2nd Marine Regiment and deployment on an embassy-reinforcement mission in Europe and East Africa. He continues to serve as a Captain in the Marine Corps Reserves. McGee is from Beaufort, South Carolina.
Alexandria Miskho is a third-year student at Yale Law School. She is a Student Director for the Allard K. Lowenstein International Human Rights Clinic and an Executive Editor for the Yale Journal of International Law. Previously, she has been a Student Fellow for the Solomon Center for Health Law and Policy, a Board Member of the Yale Immigrant Justice Project and the Yale Food Society, and a Teaching Fellow for courses on sustainability, global affairs, and the technological world. Her research at the Law School focuses on climate change, climate justice, and disability law. Miskho has interned with the International Law Commission and the Office of the Legal Adviser at the U.S. Department of State. Prior to law school, she worked for a consulting firm where she, among other projects, assessed climate-related financial risks in the financial industry, building models and methodologies to link climate change and credit risk. Miskho graduated from the Massachusetts Institute of Technology studying Chemical Engineering with a focus in Sustainable Energy. She was a member of the Tau Beta Pi Engineering Honors Society.
Angela Remus is third-year student at Yale Law School where she specializes in migrant and refugee protection issues under U.S. immigration law and international law and serves as the Editor-in-Chief of the Yale Journal of International Law. While a law student, Remus interned with the U.S. Department of State and the U.S. Agency for International Development, where her projects have focused on public international law, international human rights law, and citizenship. She also coordinates the Immigration Policy Tracking Project, leading student efforts to catalogue changes to U.S. immigration policy. She has litigated on behalf of immigrant communities before U.S. federal district courts and international human rights tribunals. Prior to law school, Remus worked for nonprofit legal services providers in the United States and for the United Nations High Commissioner for Refugees in Guatemala. She graduated with distinction from the University of Oxford with an M.Sc. in Refugee and Forced Migration Studies. She graduated summa cum laude and Phi Beta Kappa from the University of Rochester with a B.A. in International Relations and Spanish.
Kerry Fellows collaborate with U.S. policymakers on leading-edge research and high-profile publications for a global audience touching on issues from the global environment to democracy and technology.
"These are extraordinary students, many of whom who have already served their country in uniform or in civilian security and foreign policy positions in government. Already, our new Kerry Fellows have been on the ground at COP26 where they met the diplomats leading the U.S. effort, Secretary Kerry, and Yale's own Sue Biniaz. It's an exciting time for everyone to contribute towards a safer world. We're looking forward to a productive year working closely with each of them," said David E. Wade, Director of the Kerry Initiative and former U.S. State Department Chief of Staff.
The Law School students are among 23 Yale students selected for the program. The 2021–2022 Kerry Fellows represent Yale College and several of Yale's professional schools, including the schools of the Environment, Law, Management, the Graduate School of Arts and Sciences, and the Jackson Institute for Global Affairs.
Founded in 2017 by former Secretary of State John Kerry, the Kerry Initiative is an interdisciplinary program that focuses on pressing global challenges through teaching, research, practicums, conferences, and international dialogue.