Tuesday, February 7, 2023
---
Solomon Center Hosts Talk with Assistant U.S. Health Secretary Rachel L. Levine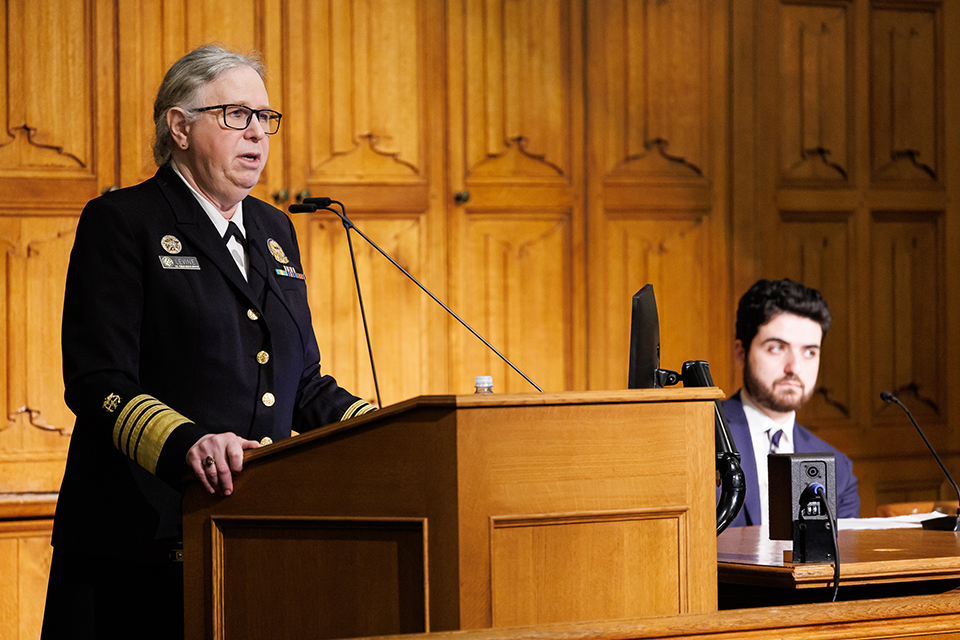 Adm. Rachel L. Levine, M.D., Assistant U.S. Secretary for Health, addresses the audience at event co-sponsored by the Solomon Center. At right is Jacob Hutt '24, student organizer of the event.
On Feb. 6, the Solomon Center for Health Law and Policy hosted Adm. Rachel L. Levine, M.D., Assistant Secretary for Health for the U.S. Department of Health and Human Services. To an auditorium packed with members of Yale's law, medical, public health, and nursing schools, Levine delivered remarks on the importance of gender-affirming care and how doctors and lawyers can advocate for trans and nonbinary patients.
Abbe Gluck '00, Alfred M. Rankin Professor of Law and Faculty Director of the Solomon Center for Health Law and Policy at Yale Law School and Professor of Internal Medicine (General Medicine) at the Yale School of Medicine, and Jacob Hutt '24 co-moderated the discussion. The event was co-sponsored by the Yale Section of Endocrinology and Diabetes of the Department of Pediatrics, Section of Endocrinology and Metabolism of the Department of Medicine, Yale General Internal Medicine, Yale Pediatric Gender Program, Yale Health Law and Policy Society (YHeLPS), American Constitution Society, Trans @ YLS, OutLaws, OutPatient, and Out in Public.
Levine emphasized that gender-affirming care is safe, effective, and medically necessary treatment for those with gender dysphoria. Drawing support from leading medical organizations and several scientific studies, Levine noted this care lowers risk of suicide, self-harm, and other depressive systems. She pushed back against ideological misrepresentations of this medical care, noting that gender-affirming care has saved thousands of LGBTQI+ lives.
As a broader theme to her talk, Levine emphasized the importance of a more inclusive and compassionate approach to healthcare for all patients, especially those who have been systematically mistreated. She called on providers to take account of systemic racism and implicit bias in their efforts to reduce health disparities among LGBTQI+ patients. And she noted that medical school curricula have yet to fully integrate the needs of LGBTQI+ patients into their training.
Levine advised that medical and legal professionals enhance the experiences of their patients and clients by engaging with social services. She remarked on the importance of addressing patients' non-medical hardships, including housing insecurity and other social determinants of health. As part of this broader strategy of addressing patients' needs, she encouraged medical professionals to be champions for LGBTQI+ rights, not only within the confines of their practice, but also in their broader communities.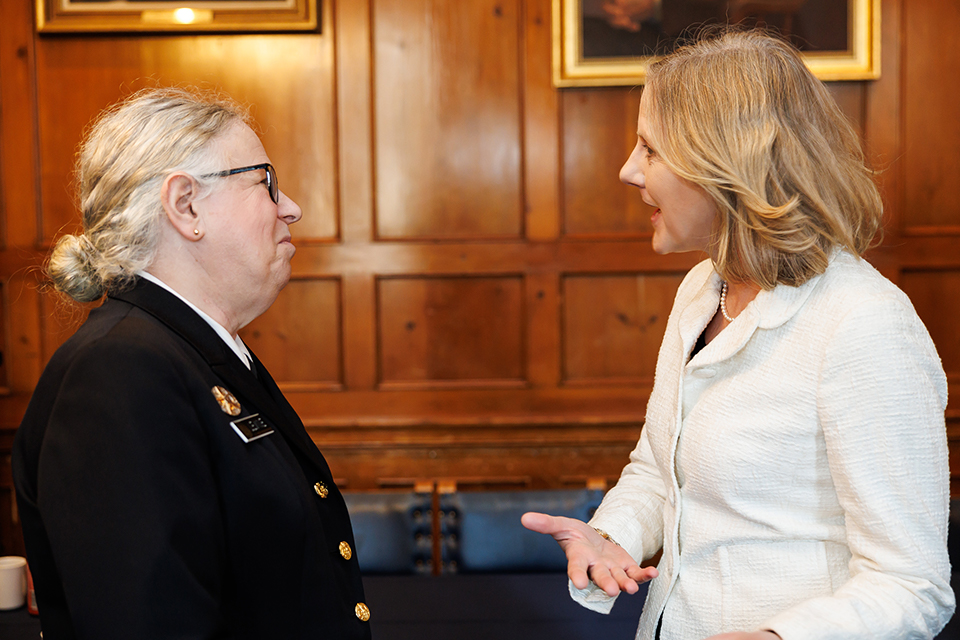 Concluding her remarks, Levine reaffirmed the Biden Administration's commitment to helping trans and nonbinary patients. She spotlighted a need for data-driven studies and surveys, increased access to primary care and other medical services, and an end to discrimination for LGBTQI+ patients.  Before opening up the floor for Q&A, she reminded the audience about the 988 Suicide & Crisis Lifeline.
During the Q&A section, a mother of a trans child shared her story of moving from Texas to Connecticut because of the discrimination her child faced in school. Levine offered her comfort and resolve to advocate for all LGBTQI+ youth.