Tuesday, October 18, 2022
---
Solomon Center Panel Examines Care for Trans and Nonbinary Patients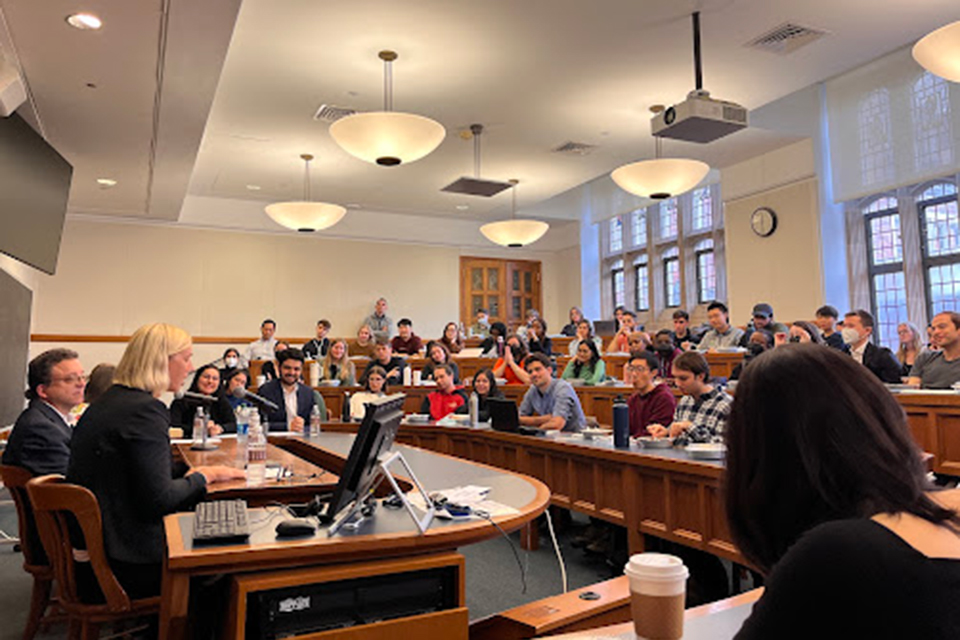 Sasha Buchert (at table in foreground), with fellow panelist Dr. Stuart Weinzimer (left), speaks at the Solomon Center co-hosted panel "Care for Trans Patients: Legal and Policy Challenges Around Access to Gender-Affirming Care."
The Solomon Center for Health Law and Policy hosted a multidisciplinary panel discussion on health care for transgender and nonbinary patients. The Oct. 17 event, "Care for Trans Patients: Legal and Policy Challenges Around Access to Gender-Affirming Care," was co-hosted by the Yale Health Law & Policy Society (YHeLPS), OutLaws, and Trans@YLS.
The panel brought together attorneys, academics, and doctors to explain recent attempts to criminalize healthcare for trans and nonbinary patients, the scientific disinformation used to justify these laws, and the state of ongoing legal challenges to these laws' implementation. Panelists provided recommendations for effective care for trans and nonbinary patients and suggested areas for policy reform to better address trans and nonbinary healthcare needs. Jacob Hutt '24 and Melisa Olgun '24, the panel's organizers, moderated.
Jacquin D. Bierman Professor in Taxation Anne Alstott '87 began with an overview of state-level restrictions on gender-affirming care. Alstott has worked in collaboration with the Yale School of Medicine to produce scholarship that challenges pseudoscientific claims about gender-affirming care. She discussed how both legal and medical academia can help challenge discriminatory laws by confronting disinformation. 
Dr. Stuart Weinzimer, Professor of Pediatrics at Yale School of Medicine and Research Director of the Yale Pediatric Gender Program and a pediatric endocrinologist, shared insights as a provider of transgender health care. He gave an overview of what constitutes gender-affirming care and the procedures in place to provide it. Weinzimer also spoke on the difficulties for providers and patients operating against a backdrop of inflammatory rhetoric on critical care.
Dr. Meredithe McNamara, Assistant Professor of Pediatrics at Yale School of Medicine, continued by speaking about the toll that today's antagonistic environment about gender-affirming care takes on patients. McNamara, who has specialized in adolescent medicine, specifically addressed the challenges for minors and their families considering this care. Like Alstott, with whom she collaborates, McNamara affirmed the need to meet disinformation with accurate science on gender dysphoria.
Rounding out the panel was Sasha Buchert, Director of the Non-Binary and Transgender Rights Project at Lambda Legal, the oldest and largest organization dedicated to advancing the civil rights of LGBTQ+ people and individuals living with HIV. She summarized the active court cases challenging gender-affirming care, relaying both successes and difficulties under existing civil rights law. Buchert also emphasized the importance of standing in solidarity with trans and nonbinary people in states hostile to them. 
By Jacob Hutt '24