Monday, November 10, 2008
---
Symbolic Chalice On Display in Alumni Reading Room
A World War I chaplain's chalice with ties to a noted Supreme Court case now has a place of honor in the Yale Law School Alumni Reading Room, thanks to the generous donation of a Yale Divinity School alum.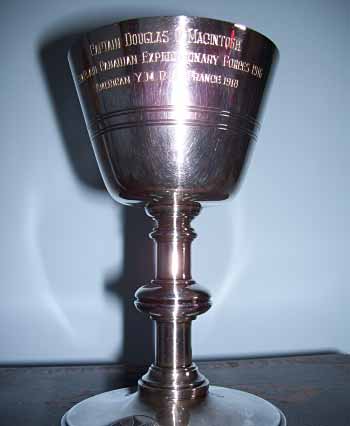 Paul Keane M.Div. '80 presented the chalice to Yale Law School Dean Harold Hongju Koh in September. The chalice originally belonged to Douglas Clyde Macintosh, a theology professor at Yale Divinity School in the early 1900s who is believed to have used the chalice in services on the front lines when he was a chaplain in the Canadian Army during World War I. The chalice was given to Keane 32 years after Macintosh's death by the executor of Macintosh's estate.
"I felt that Yale Law School should have this chalice since it is a symbol of Douglas Clyde Macintosh's Supreme Court case, U.S. v. Macintosh," said Keane.
In the 1931 case, Macintosh, a Canadian citizen, argued for the right to be granted American citizenship without having to promise beforehand to fight in "any and all wars." He asked for "selective conscientious objection," saying he would rely on his own moral judgment of a war's validity in deciding whether or not to participate. One of Macintosh's lawyers, Charles Edward Clark '13, would serve as dean of Yale Law School from 1929-1939.
The Supreme Court ruled 5-4 against Macintosh's attempt to qualify his citizenship oath, a decision that began a long debate over the arms-bearing pledge. The Supreme Court overturned U.S. v. Macintosh with a 5-3 ruling in 1946, asserting that the pledge to bear arms should no longer be required for naturalization.
Keane said he wanted the Law School to have some memorabilia of the case, particularly since the Divinity School, where Macintosh taught for 40 years, is already the repository of Macintosh's library, his portrait, and a fellowship in his name. He added that the chalice certifies Macintosh was not a pacifist since he participated in World War I as a chaplain.
Dean Koh expressed gratitude for the gift. "It is a lovely and fitting testament to a courageous man," he said.