Friday, October 4, 2019
---
Tsai Center Holds Gender Discrimination and Sexual Harassment Litigation Workshops in China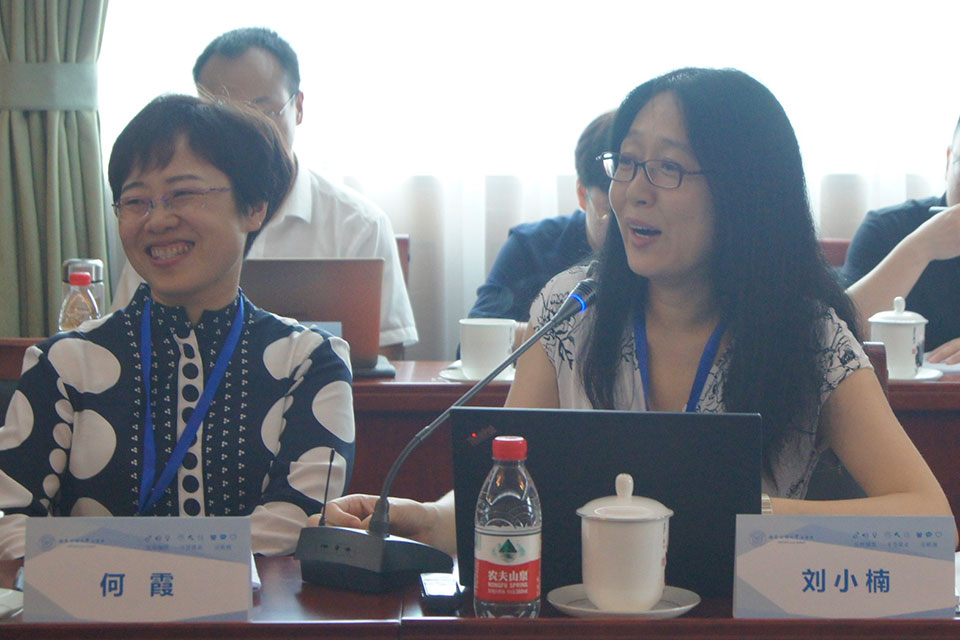 Former Tsai Center visiting scholars Professor He Xia (left) and Professor Liu Xiaonan (right) at a workshop on equal employment rights cosponsored by the Tsai Center and the Southwest University of Finance and Economics School of Law's Anti-Discrimination Law Research Center.
Fan Huiling lives and works in Zhuhai, a city in the southern province of Guangdong. Right after Spring Festival 2019, she discovered she was pregnant. On the same day that she informed her manager of her pregnancy, she was fired. At trial, her manager claimed she was terminated due to frequent lateness, not pregnancy status. What is the most effective way for her lawyer to litigate her case?
In July 2019, the Paul Tsai China Center organized a series of workshops with scholars, lawyers, civil rights advocates, and government stakeholders to discuss cases like Fan Huiling's and the future of employment discrimination and sexual harassment litigation in China.
Qiaojing Ella Zheng, an experienced California-based litigator with the law firm Sanford Heisler Sharp, provided a comparative perspective drawing on her practice representing victims of workplace discrimination and sexual harassment in the United States.
Fan Huiling's case is the first case in China filed under a new cause of action called "Equal Employment Rights Disputes," issued by the Supreme People's Court in 2018. Although employment discrimination based on sex has long been illegal under Chinese law, litigation has been frustrated by the rule that courts will only hear cases once China's Supreme People's Court has formally listed the subject matter as a "cause of action" — something the Court had long declined to do in this area. "Lawyers had to shoehorn discrimination cases into other causes of action, creating confusion for courts and suboptimal results for plaintiffs," said Tsai Center Senior Fellow Darius Longarino, who spearheaded organizing the recent workshops.
Under pressure from the bar, civil society, and other government actors focused on women's rights, the Supreme People's Court listed the new cause of action for "Equal Employment Rights Disputes" in 2018, a significant advance that adds legitimacy to these claims and allows lawyers to litigate them unequivocally and develop a new and important body of anti-discrimination law.
More broadly, the Chinese government seems to have recognized the serious discrimination that women face in the workplace, and has also recently adopted numerous other measures that it says will further enhance protections, including a new cause of action for sexual harassment suits.
Workshop participants discussed specific things that need to happen to ensure that litigation becomes an effective tool in fighting workplace discrimination and harassment. Barriers to plaintiffs bringing and winning cases, and getting fair compensation, remain high, and employers will have little incentive to change if they think the risk of paying out damage awards is low.
At a Tsai Center workshop cohosted by the Southwest University of Finance and Economics School of Law's Anti-Discrimination Law Research Center, former Tsai Center visiting scholar Professor He Xia pointed out that in discrimination cases relevant evidence is usually mostly in employers' possession. Without modifying the burden of evidence, plaintiffs are almost guaranteed to lose unless smoking-gun evidence falls into their lap.
He suggested that courts develop a burden-shifting mechanism whereby after the plaintiff makes a prima facie case that discrimination occurred, the burden would shift to the employer to show a legitimate reason for the dismissal. Zheng, a native speaker of Chinese who has legal training in China and the United States, discussed how burden-shifting mechanisms work in employment litigation in the United States. Workshop participants debated how courts should differentiate between legitimate reasons and pretexts for differential treatment.
Workshop participants also discussed the scope of China's antidiscrimination law. Although Chinese law has no express prohibitions on sexual orientation or gender identity discrimination, courts have heard several cases brought by LGBT people against employers for discriminatory treatment. Notably, at trial, employers have not argued that the law lacks protections for LGBT people, but instead have challenged the sufficiency of evidence for plaintiffs' claims that discrimination happened. Courts also have not publicly doubted whether LGBT people enjoy workplace protections, and, in 2018, a court in the southern city of Guiyang even declared that "laborers should not be treated differently in the course of employ because of their gender identity and expression."
As employment discrimination litigation increases, however, Chinese scholars and rights advocates worry that employers might start to argue that the law does not cover LGBT-related discrimination. At a workshop at Renmin University Law School, former Tsai Center visiting scholar Professor Lu Haina presented on whether Chinese law's prohibition on sex discrimination includes discrimination based on sexual orientation and gender identity. With the U.S. Supreme Court set to rule on the same question under U.S. law in October, Lu also analyzed relevant U.S. jurisprudence, citing John A. Garver Professor of Jurisprudence William Eskridge, whom she interviewed while at Yale in the spring of 2017.
At a Tsai Center workshop in Beijing, Yezi, a transgender woman, shared her experience of being terminated after she was late several times due to complications from gender-affirming surgery. She was fired without warning, though several of her coworkers were much more frequently late without consequence. One legal scholar in attendance said that a judge could find the dismissal legitimate as long as a company rule was broken, while others thought the unequal treatment should serve as compelling evidence of discrimination.
Zheng analyzed how she would handle the case under U.S. law. She described strategies for obtaining Yezi's colleagues' time records through discovery to show how similarly situated employees were treated differently, demonstrating that the employer's stated reason for Yezi's termination was pretextual. Yezi's lawyer, Wang Yongmei, said the conversation helped her think through strategies for her lines of argument and for collecting evidence. 
Instead of denying that LGBT people are protected by the law, employers have cited "customer preference" as a way to justify discrimination. One lawyer present shared how his client, a kindergarten teacher, was fired after his school principal discovered he was gay through social media. The principal told the teacher that students' parents wouldn't want him teaching their kids because of his sexual orientation.
At a workshop in Beijing, Tsai Center Research Associate Yifu Dong presented on how "customer preference" justifications fell out of favor in the United States, and that only in rare circumstances do gender preferences fall under the "bona fide occupational qualification" exception. Zheng provided examples of this narrow exception, such as how rape crisis centers may prefer female phone operators in order to make their clients — who have just experienced traumatic sexual violence — feel safer. But even this view of the exception is very controversial for not being sufficiently narrowly defined, according to Longarino.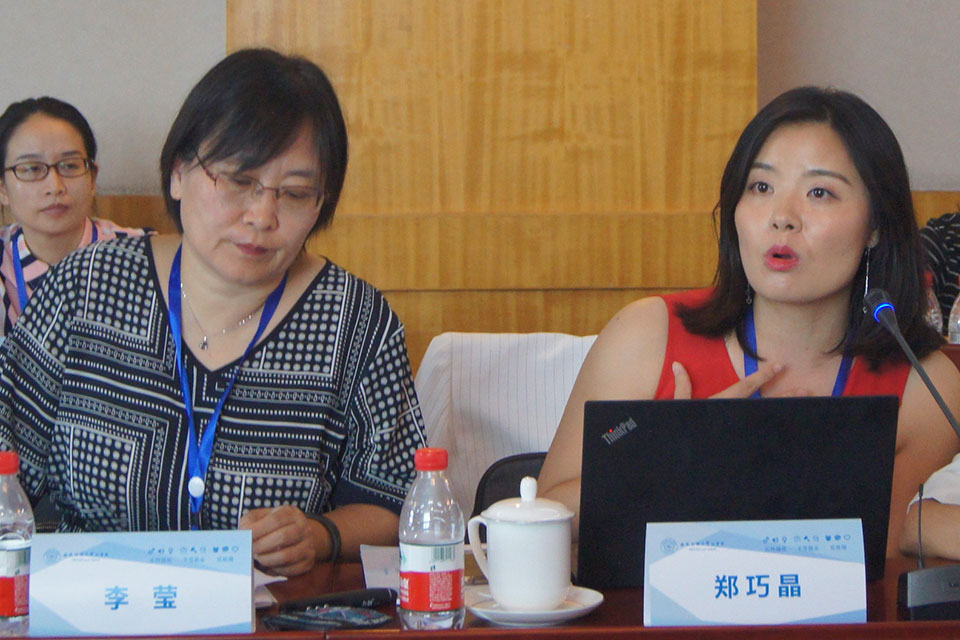 Workshop participants also discussed the particular difficulties in winning sexual harassment suits. Social stigma and the risk of retaliation makes it difficult for victims to come forward, and even if a plaintiff wins a suit, rewards are paltry. Central to the discussion was the first-ever case brought under the new cause of action on sexual harassment, a suit in Sichuan Province against a well-known figure in the philanthropy sector. Li Ying, a former Tsai Center visiting scholar and the director of the Beijing Yuanzhong Gender Development Center, a women's rights NGO that supported the litigation, analyzed the court's judgment. The court sided with the plaintiff but did not provide compensation for mental distress. The court also did not hold the employer liable for the employee's misconduct and for failing to implement anti-sexual harassment policies. Without risk of liability, employers are less motivated to institute such policies, and will opt to blame individual bad actors. The court later suggested to the plaintiff that she file another separate suit against the employer.
Former Tsai Center visiting scholar Professor Liu Xiaonan from the China University of Politics and Law shared the results of a survey she conducted for the All-China Federation of Trade Unions (ACFTU) on sexual harassment in the workplace in China. She said that by and large domestic companies have traditionally taken a head-in-the-sand approach to workplace sexual harassment. Employers she interviewed said they were worried about announcing anti-sexual harassment policies, because others would then suspect that sexual harassment is common at the company. Based on her findings, Liu drafted a handbook titled "Promoting Gender Equality in the Workplace," the first in a series of resources that the ACFTU is distributing to employers nationally. While at Yale in spring 2019, Liu researched anti-sexual harassment policies in the United States, and spoke to stakeholders who explained the systematic failures brought to light by #MeToo. Liu plans to integrate this research into future employer handbooks that will be disseminated by ACFTU.
Lawyers representing multinational companies at the workshop shared that since the rise of the global #MeToo movement (a topic that is heavily censored in China), their clients have become very concerned about revising and enforcing anti-sexual harassment policies. Some attendees from other institutions present at the workshops were concerned about the costs and risks of implementing anti-sexual harassment policies and investigations. Zheng explained different scenarios under which employers could be held liable for sexual harassment incidents in the workplace under U.S. law. At a minimum, employers should have in place and enforce anti-harassment policies, and should make reasonable efforts to address employees' complaints and take corrective actions.
Looking toward the future, lawyers, advocates, scholars, and justice system stakeholders identified employer liability as a crucial issue in addressing sexual harassment claims in the workplace. More broadly, Liu said the Supreme People's Court is likely to issue guidance to lower courts on how to obtain and weigh evidence, determine liability, and calculate damages in employment discrimination and sexual harassment cases. However, the Court will only do this after the amount of cases and pertinent academic analysis reach a critical threshold.
He Xia echoed Liu's comments, saying that it was only after ten years of bringing discrimination cases — pioneered by workshop participant Professor Zhou Wei of Sichuan University School of Law — that the Supreme People's Court issued the new causes of action for employment discrimination and sexual harassment. Thus, workshop participants and other scholars, advocates, and practitioners have an important role to play in crafting effective approaches of litigating such cases. There was general agreement that the people attending this workshop should continue their cooperative work to develop further expert analysis and ideas that could advance the future effectiveness of employment discrimination litigation and real-world equal rights for employees.