Monday, August 8, 2022
---
U.N. Body Finds Activist's Detention "Arbitrary" in Case Filed by Lowenstein Clinic
The United Nations Working Group on Arbitrary Detention has published an opinion calling for the immediate release of Leonard Peltier, a 77-year-old Indigenous activist imprisoned by the U.S. government since 1977. The June 7 opinion, which deemed Peltier's detention prolonged, indefinite, and arbitrary, culminated a case initiated by the Lowenstein Clinic for International Human Rights at Yale Law School. 
In 2020, the Lowenstein Clinic filed a petition with the Working Group urging it to find that the "pattern of procedural and substantive injustice that Mr. Peltier has experienced" constituted arbitrary detention and to recommend that the U.S. government immediately release him from custody and provide rehabilitative and compensatory relief.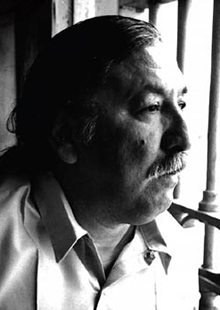 An enrolled member of the Turtle Mountain Chippewa tribe and of Lakota and Dakota descent, Peltier has dedicated his life to protecting the rights of Indigenous people. Peltier was a leader of the American Indian Movement (AIM), which was founded in the 1960s to foster spirituality among Indigenous communities in the Americas, strengthen Indigenous self-determination, and protect the rights of Indigenous people. In 1975, during a period of conflict on the Pine Ridge Reservation in South Dakota, two FBI agents were killed in a shootout on the reservation. Peltier was convicted of the murder of the two agents in 1997, but he denies that he killed them. At the time of the shooting, AIM was facing explicit antagonism from the FBI, which considered AIM's advocacy on behalf of Indigenous people to be "extremist" political activity. 
Peltier's trial and subsequent series of parole hearings were rife with due process violations, according to his supporters. They note that the trial judge excluded evidence that the FBI had coerced witnesses, and a critical ballistics report intended to establish Peltier's guilt was later found to be falsified. When a parole hearing examiner acknowledged that there was not enough evidence to sustain Peltier's conviction, the U.S Parole Commission demoted the examiner. James Reynolds, the former federal prosecutor who oversaw Peltier's post-trial sentencing, acknowledged in a letter to President Biden that the "prosecution and continued incarceration of Mr. Peltier was and is unjust." 
Despite many advocates raising questions about serious irregularities in his proceedings, Peltier has remained imprisoned for 46 years, more than five of which he has spent in solitary confinement. He has persistently engaged in art and charitable work, including initiatives to support Native health, culture, and entrepreneurship. 
In December 2020, the Lowenstein Clinic submitted a petition to the Working Group on Arbitrary Detention, imploring it to take urgent action to address Peltier's decades-long history of being "denied any meaningful avenue to end his prolonged, indefinite, and arbitrary detention." Established by the U.N. Commission on Human Rights (the forerunner of today's U.N. Council on Human Rights) in its resolution 1991/42, the Working Group investigates cases of arbitrary arrest and detention. Arbitrary detention is a violation of the right to liberty under the International Covenant on Civil and Political Rights (ICCPR), to which the United States is a party.
The Lowenstein Clinic's petition was drafted by Schell Center Community Fellow Madeline Batt YC '19, Leanne Gale '20, Danielle Harris YC '21, and Abigail Pershing '20, under the supervision of Binger Clinical Professor of Human Rights and Lowenstein Clinic Director James Silk '89. The petition argued that Peltier's detention constitutes an arbitrary deprivation of his liberty under two categories the Working Group has defined to govern its work: no basis for detention (Category I) and procedural deficiencies (Category III). 
The Working Group reviewed a petition on behalf of Peltier in 2004 and did not find his detention arbitrary, but the Clinic noted that new evidence had come to light and that the circumstances that had been found to justify the detention had changed, making the U.S. government's continued deprivation of his liberty arbitrary. 
"The Petition demonstrated that the proceedings of the widely discredited U.S. Parole Commission in Mr. Peltier's case have been unreasonable, highly subjective, and lacking in transparency, consistently deviating from its own procedural requirements," said Pershing, a former Lowenstein Clinic student who worked on the petition. "It also showed how the Parole Commission has explicitly displayed anti-Native American bias, leaving Mr. Peltier to suffer torturous conditions of solitary confinement and medical neglect in federal prison."
In its 17-page opinion, the Working Group concluded, "The deprivation of liberty of Leonard Peltier, being in contravention of articles 2, 7 and 9 of the Universal Declaration of Human Rights and articles 2(1), 9 and 26 of the International Covenant on Civil and Political Rights, is arbitrary and falls within categories III and V."
Although the Working Group did not accept the Clinic's claim that there was no basis for detention, it agreed that Peltier's detention is an arbitrary deprivation of his liberty under the category for procedural deficiencies, noting that "[t]he cumulative effect of the procedural deficiencies that Mr. Peltier has suffered in parole proceedings are overwhelming, rendering his continued detention arbitrary."
On the basis of the evidence provided by the Clinic, the Working Group, on its own initiative, also found Peltier's imprisonment to be arbitrary under Category V, detention on the basis of unlawful discrimination. In explaining its decision under this category, the Working Group noted the anti-Indigenous bias surrounding Peltier's detention, stating that he "continues to be detained because he is Native American."
The Working Group called upon the U.S. government to "release Mr. Peltier immediately and accord him an enforceable right to compensation and other reparations, in accordance with international law." The group also urged the United States to investigate the circumstances surrounding Peltier's arbitrary detention and to take measures against those responsible for violating his human rights. Additionally, it referred Peltier's case to the U.N. Special Rapporteur on torture and other cruel, inhuman, or degrading punishment; the U.N. Special Rapporteur on the right of everyone to the highest attainable standard of physical and mental health; the U.N. Independent Expert on the enjoyment of all human rights by older persons; and the U.N. Special Rapporteur on the rights of indigenous peoples.
"Mr. Peltier is now 77 years old and suffers from myriad medical conditions, including diabetes, kidney disease, a heart condition, and near blindness in one eye due to a stroke. He has already contracted COVID-19 in federal custody, placing him at elevated risk of severe complications or death," said Leanne Gale '20, a former Clinic student who worked on the petition. "The time is now for the U.S. government to free Leonard Peltier, reunite him with his family, and ensure that he is able to live his final years surrounded by his loved ones in his ancestral homelands." 
Although the opinions of the Working Group are not legally binding on states, they are generally considered authoritative. The United States, which has spoken in support of the Working Group's efforts but considers its opinions to be advisory, has typically argued that the U.S. Constitution, other legal guarantees of due process, and the right of appeal ensure that those convicted of crimes and sentenced to terms of imprisonment in the United States are not detained arbitrarily.
"We are optimistic that the Working Group's careful, thorough, and balanced opinion will help the Biden Administration decide to end the terrible injustice Mr. Peltier has suffered," said James Silk, who teaches and directs the Lowenstein Clinic. "The opinion shows how our human rights obligations are consistent with the rule of law and the human values that President Biden has articulated and require that Mr. Peltier be released without further delay."
The Allard K. Lowenstein International Human Rights Clinic is a legal clinic at Yale Law School that undertakes projects on behalf of human rights organizations and individual victims of human rights abuses.