Thursday, July 20, 2023
---
Veterans and LGBTQ+ Rights Groups Petition for Antidiscrimination Rules for VA Health Care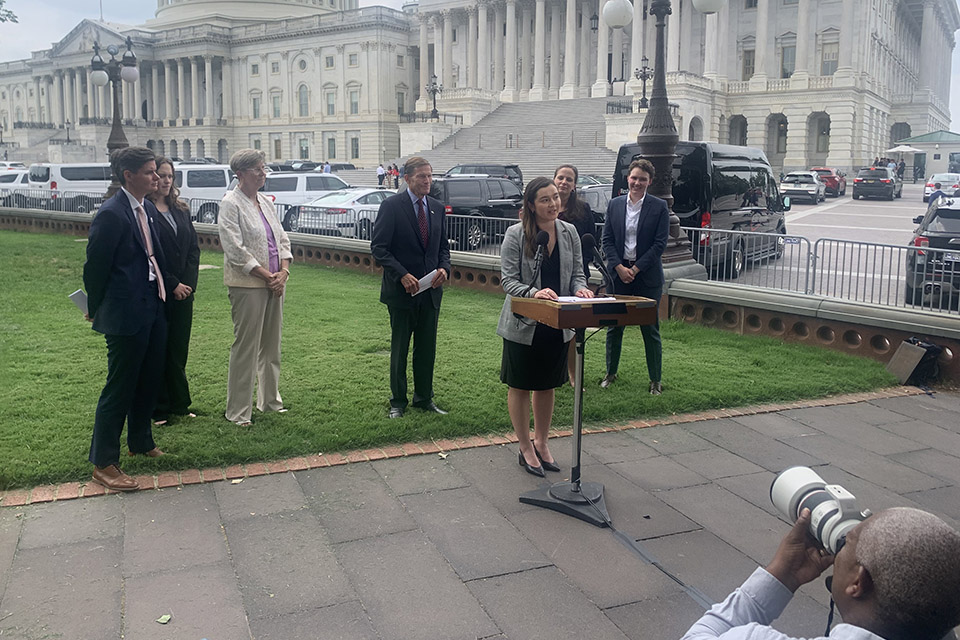 Alex Johnson '24, an intern with the Veterans Legal Services Clinic, addresses the audience at a press conference outside the U.S. Capitol. The clinic filed a petition on behalf of 14 veterans LGBTQ+ rights groups to request that the U.S. Department of Veterans Affairs issue regulations to enforce antidiscrimination rules for its health care programs. Behind Johnson are clients and the measure's supporters including, at left, Lindsay Church of Minority Veterans of America, the lead petitioner; at center, Sen. Richard Blumenthal '73; and, at right, K.N. McCleary '24, another law student intern with the clinic.
Today, Minority Veterans of America (MVA) and 13 other veteran and LGBTQ+ rights organizations filed a petition for rulemaking requesting that the U.S. Department of Veterans Affairs (VA) issue antidiscrimination regulations for the health care programs it administers.
The organizations, represented by the Veterans Legal Services Clinic at Yale Law School, are requesting that the VA promulgate regulations under Section 1557 of the Patient Protection and Affordable Care Act. Section 1557 prohibits discrimination on the basis of race, color, national origin, sex, age, or disability in federal health care programs — including those administered and funded by VA.
"All veterans, regardless of the identities they hold, deserve equitable access to the healthcare they earned through service to our nation," said Lindsay Church, Executive Director of MVA. "We call upon VA to promulgate rules under Section 1557 of the Affordable Care Act to take substantive measures to address the ongoing epidemic of discrimination in VA healthcare. By implementing comprehensive guidelines, VA can protect the veterans it is charged with serving and foster an environment where diversity is celebrated and discrimination has no place. It's time to bridge the gap and ensure that every veteran receives the respectful, inclusive, and unbiased care they deserve."
The petition asks VA to clarify that Section 1557's antidiscrimination protections and enforcement mechanisms apply to every health program or activity administered by VA, such as the Veterans Health Administration, or any entity which receives federal financial assistance from VA. In addition, the petition requests that VA specify the forms of discrimination prohibited by Section 1557 and the remedies available for violations, as the U.S. Department of Health and Human Services has done repeatedly via their own regulations. 
"As attacks on inclusion escalate and efforts to weaponize and dismantle equity ferment, VA has a responsibility to put in place regulations to protect against discrimination," said Richard Brookshire, CEO of the Black Veterans Project. "For decades, Black and minority veterans have faced an onslaught of biased treatment that relegated these veterans to the margins of accessibility, unjustly locking them out of the benefits they rightly earned. Without antidiscrimination regulations, these injustices will continue unabated."
The U.S. Department of Health and Human Services has promulgated regulations to implement Section 1557 in its health care programs for civilians, but VA has not done so for veterans, the petition notes. Regulations are needed because discrimination based on sexual orientation and gender identity is widespread within the VA health care system, according to the petitioners.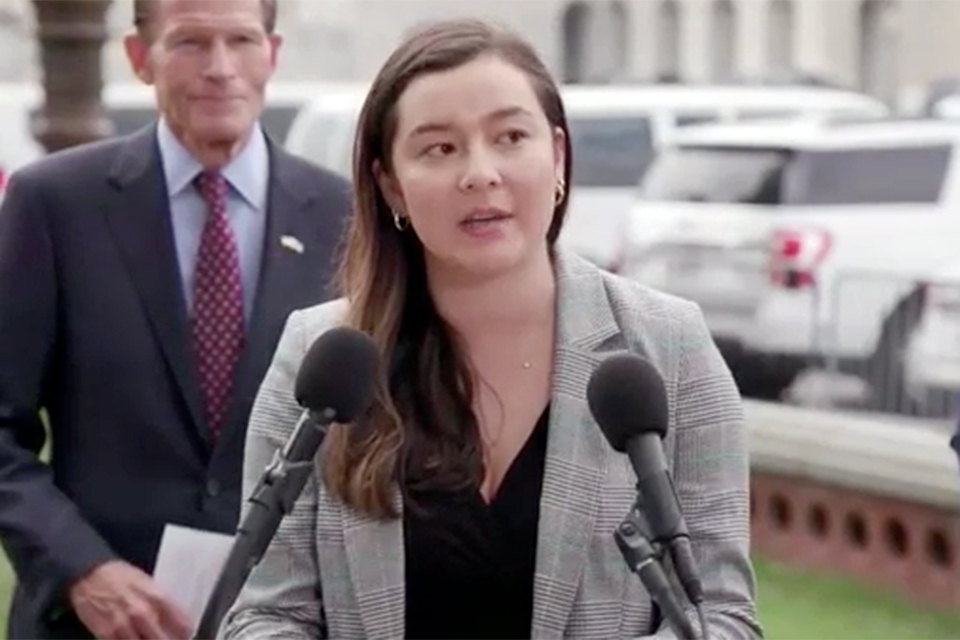 "VA needs to implement specific guidelines to prevent discrimination and to ensure that every veteran is receiving the quality care that they deserve," added Lorry M. Fenner, Director of Government Relations for the Service Women's Action Network and retired U.S. Air Force Colonel. "They should be able to have confidence in the care and treatment they receive from any VA facility regardless of their identity."
"Transgender individuals have demonstrated courage, dedication, and invaluable contributions while serving our country," said Rebekka Eshler, President of the Transgender American Veterans Association. "We firmly believe that all qualified individuals, regardless of gender identity, should have the opportunity to serve openly and authentically in the military — and to receive quality care from VA upon their return."
Students with the Veterans Legal Services Clinic at Yale Law School, which represents the petitioners, also noted the need for antidiscrimination measures in VA health services.
"We have heard from veterans around the country who experience identity-based harassment and mistreatment at VA medical centers every single day," said K.N. McCleary '24, a law student intern with the clinic.
Alex Johnson '24, another intern with the clinic, added that the regulations were overdue since the Affordable Care Act was passed in 2010.
"For more than a decade, VA has neglected to implement basic antidiscrimination rules," Johnson said. "Why should veterans seeking health care have fewer protections than civilians?"
MVA is joined by 13 co-petitioners: the Black Veterans Project, Connecticut Veterans Legal Center, Iraq and Afghanistan Veterans of America, Modern Military Association of America, National Center for Transgender Equality, National Veterans Council for Legal Redress, National Veterans Legal Services Program, Protect Our Defenders, Service Women's Action Network, Swords to Plowshares, Transgender American Veterans Association, Veterans Advocacy Project, and Vietnam Veterans of America.
---
Minority Veterans of America (MVA) is a nationwide, non-partisan, nonprofit organization that works to foster belonging and advance equity for the minority veteran community, many of whom have felt marginalized, underserved, and underrepresented both during their time in military service and afterward.
The Veterans Legal Services Clinic is part of the Jerome N. Frank Legal Services Organization at Yale Law School.