Tuesday, September 5, 2017
---
WIRAC Challenges Trump Administration's Termination of DACA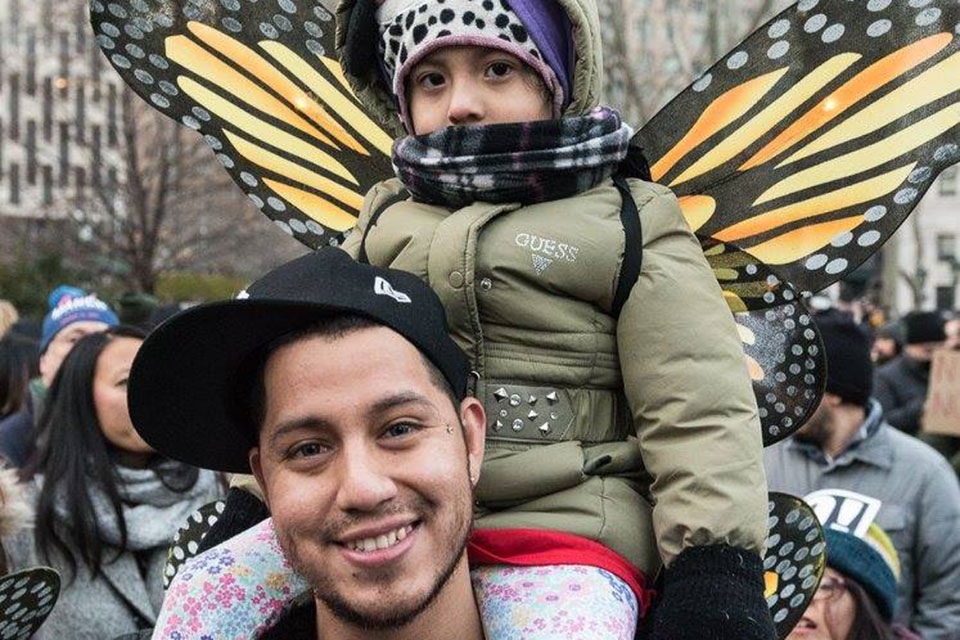 WIRAC's client, Martín Batalla Vidal
A young immigrant New Yorker and Make the Road New York (MRNY) went to federal court on September 5, 2017, to challenge the Trump administration's termination of the Deferred Action for Childhood Arrivals (DACA) program. In a lawsuit brought in the U.S. District Court for the Eastern District of New York, Martín Batalla Vidal, a DACA recipient, and MRNY are asking permission to amend their original complaint in order to argue that President Trump's actions violate federal law and the equal protection guarantee of the Constitution.
The case, Batalla Vidal v. Baran, et al, was originally filed on behalf of Batalla Vidal and MRNY in 2016 challenging the court decision in United States v. Texas that blocked Deferred Action for Parents of Americans and Lawful Permanent Residents (DAPA) and the expansion of DACA from going into effect. Batalla Vidal and MRNY are represented by Make the Road New York, the National Immigration Law Center, and the Worker and Immigrant Rights Advocacy Clinic (WIRAC) at Yale Law School.
Nearly 800,000 young people now have DACA, according to records. They have provided personal and confidential information to the U.S. government and gone through a rigorous application process and background check, which has allowed them to receive a two-year work permit and relief from deportation.
According to a recent survey, in the more than five years since DACA was first implemented, 91 percent of DACA recipients are currently employed, and their average earnings have increased during the time that DACA has been in place.
The benefits of DACA extend beyond the recipients themselves. Nearly three quarters of all DACA recipients have a U.S. citizen spouse, sibling, or child. Terminating the program would create emotional and economic harm for these family members as well.
Batalla Vidal's family is no different. Batalla Vidal is 26 years old and grew up in Brooklyn, New York. He came to the U.S. from Mexico when he was seven years old. He works in a nursing home and rehabilitation center, and supports his mother financially. He is a member of Make the Road New York.
Martin Batalla Vidal, plaintiff and member of Make the Road New York, said, "DACA has changed my life. It's allowed me to pursue my dream of continuing my education and supporting my family, with the peace of mind that I won't be separated from the people I love the most. Losing DACA would have a dramatic impact on my life. It would prevent me from being able to take on major professional or academic goals, make me unable to work legally, and put me at risk of being deported and separated from my family. This decision by Donald Trump is a direct attack on immigrant youth like me and on our families, and it's based on one thing: the racist beliefs of a president who has been attacking Latinos and Mexicans since the first day of his campaign."
Members of Make the Road New York, including staff members, as well as nonmember clients, have filed DACA applications that remain outstanding. As an employer, MRNY will lose significant staff resources; a number of employees rely on DACA to be able to work at the organization.
Javier H. Valdes, Co-Executive Director of Make the Road New York, said, "DACA recipients, in addition to being core members of our community and families, have been absolutely central to our organization since 2012. From our work organizing youth and adult members to our legal department to our English classes, DACA recipients have been at the forefront of delivering vital services to our membership and clientele. Donald Trump and Jeff Sessions' decision today is not only racist and immoral — it also will do serious damage to our organization."
"The Trump administration's zeal for anti-immigrant and racist actions continues today, and with more devastating consequences. Terminating DACA betrays the nearly 800,000 young people who have put their faith in the government, throwing their lives into terrifying chaos. Our fight continues on behalf of these brave young people, and together we will work tirelessly to live up to this country's ideals of justice and dignity for all," said Mayra Joachin, staff attorney with the National Immigration Law Center.
"The bravery of Mr. Batalla Vidal and of the members of Make the Road New York today reveal that young immigrants will not recede into the shadows as the Trump Administration would like them to do. They are here to stay and will continue fighting today's callous and unlawful decision to eliminate DACA," said David Chen '18, law student intern in the Worker and Immigrant Rights Advocacy Clinic at Yale Law School. 
Students in the Worker & Immigrant Rights Advocacy Clinic (WIRAC) represent immigrants, low-wage workers, and their organizations in labor, immigration, criminal justice, civil rights, and other matters.