Wednesday, June 29, 2016
---
Yale Law Students Launch Asylum Seeker Advocacy Project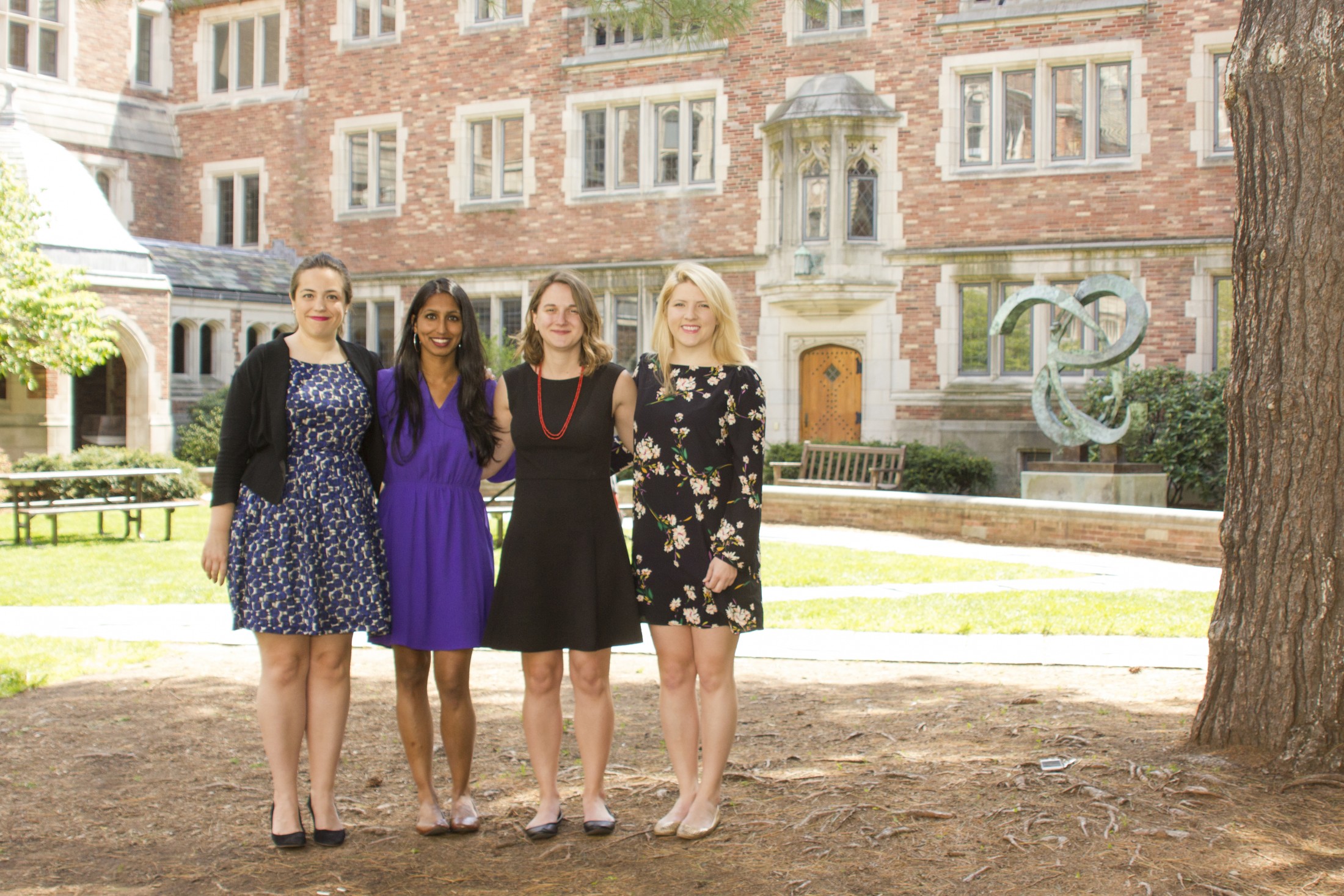 The stories are hauntingly similar. Single mothers and their young children enduring unthinkable violence and trauma, from sexual assault by abusive partners, to the murder of relatives, to gun fights outside their homes.
In these grim situations, many families see only one way out of the incredible despair — fleeing to the United States to seek asylum.
For Alba Veronica Cruz Montano and her 4-year-old daughter, that was the difficult choice she made as she fought for survival by fleeing El Salvador, a country with one of the highest murder rates for women.
"I knew about the dangers, but I was in despair and I asked God to get me to a place where I could be safe with my daughter and where no one would take her from me," said Cruz Montano in a video posted by the United Nations about her struggle. "That's why I took the risk."
Cruz Montano and her daughter were two of the thousands of women and children who were taken to an immigration detention center in Dilley, Texas after crossing the border into the U.S. seeking refuge. They were also among the earliest clients of a newly formed organization called the Asylum Seeker Advocacy Project (ASAP), founded at Yale Law School.
Conchita Cruz '16, Swapna Reddy '16, Dorothy Tegeler '16, and Liz Willis '17 co-founded ASAP in the Spring of 2015 to respond to the unmet legal needs of Central American refugee families, both while detained in border detention facilities and after release. The project started as a volunteer effort funded by the Gruber Project for Global Justice and Women's Rights at Yale when the co-founders traveled with fellow law students to the Texas detention center. There, they filled a gap in legal services by representing a Honduran mother at her trial, helping to secure her and her 8-year-old son's legal status and release from the facility.
"It was so powerful to watch our client tell her son they had won their case and to see his look of excitement and disbelief that they were finally leaving the facility," said Cruz. "Moments later she reminded us that there were many other families at Dilley fighting to stay in the United States who did not know where else to turn. It was difficult to leave Texas knowing we were leaving those families behind."
With their client's message in mind, ASAP's co-founders created a team of remote Yale law student volunteers to advocate on behalf of as many detained refugee families at their trials as possible. Since May 2015, ASAP has ensured universal representation for every family forced to go to trial while detained at the Dilley family detention facility, winning every case.
"As we prepared for each trial, we couldn't set up direct phone calls with our clients or meet with them in person given the remote location of Dilley," said Columbia Law School Professor Elora Mukherjee '05 who supervised ASAP's initial cases after meeting the co-founders during their first week in Dilley. "ASAP won every case against all the odds, a testament to the families' meritorious cases and the importance of quality pro bono counsel. ASAP volunteers devoted countless hours to representing detained women and children, including children as young as three years old."
"The goal of this new organization is to provide legal services to refugee families across the country," said Dorothy Tegeler. "Nationally, less than 2% of Central American families who are unrepresented in their trials are able to secure refugee status. But when families have lawyers, they are dramatically more likely to win. ASAP helps refugee families to advocate for their right to remain in safety in the United States."
In the fall of 2015, ASAP began to help refugees reverse the negative results of their preliminary asylum interviews and provide basic information to families in advance of their court hearings. One year later, in the spring of 2016, ASAP expanded once more in response to immigration raids, applying its remote representation model—originally developed to represent families while detained—to represent families who had received wrongful orders of deportation in immigration courts nationwide.
"ASAP is bringing legal aid services to places where there are few or no legal aid lawyers," said Swapna Reddy. "The majority of pro bono resources are concentrated in major cities, and we are finding ways to bring these resources to the underserved communities where indigent refugees are most likely to live."
To achieve this goal, ASAP enables volunteer attorneys and law students to assist remotely from across the globe by collecting evidence from hard-to-access locations via cell phone and using skills-based assembly lines to prepare filings. ASAP relies on Spanish-speaking volunteers and indigenous language interpreters to communicate with their predominantly Central American clients. The group also partner with local organizations for on-the-ground logistical support.
Through this work, ASAP has produced extraordinary results. In just over one year, ASAP has prevented the imminent deportation of hundreds of refugees through emergency legal filings; tracked case developments for more than 7,000 refugee families; notified more than 2,000 families of upcoming hearings; recruited more than 200 active volunteers; and ensured universal representation for every family forced to have a full immigration trial in the Dilley family detention center from May 2015 onward, winning every trial.
"Fueled by the brains, heart, and fierce spirit of its founders and the classmates they have recruited, and little else, ASAP has built a pathbreaking legal services and advocacy organization practically overnight," said Yale Law Professor Michael Wishnie '93, the Deputy Dean for Experiential Education at Yale Law School who mentored ASAP's co-founders throughout the project's development.
"When many lawyers reflect on their careers, they are proudest of one or two cases in which they made a real difference in another person's life. ASAP handles those cases every single week."
More than 200 members of the YLS community have supported ASAP's efforts. "Through my work with ASAP, I have found a community full of dedicated, passionate, and caring students, faculty, and staff," said Liz Willis, who will continue to lead the student-driven efforts at YLS next year, along with Amit Jain '18. "I am so thankful for the chance to learn from them and work alongside them to ensure basic rights for families seeking refuge in the United States."
This important work also prompted a collaborative effort with the Allard K. Lowenstein International Human Rights Clinic with the recent release of a new report that provides an independent legal analysis of the United States' obligations under international human rights law towards the families fleeing violence in Central America. Titled U.S. Detention and Removal of Asylum Seekers: An International Human Rights Law Analysis, the report focuses on three different aspects of the immigration detention regime that violate international law. The core findings show that the United States' basic approach – which is to penalize asylum seekers – runs counter to core obligations under international law.
"Collaborating with ASAP on the report was tremendously valuable. ASAP's first-hand experience with the system helped us to understand the flawed and complex legal regime asylum seekers must navigate to secure refugee protections," said Lara Dominguez '16, who co-authored the report and traveled to Dilley with ASAP in March 2016. "When we volunteered with ASAP in Dilley, it drove home the urgency of getting the U.S. government to comply with its legal obligations—sending these families home is literally a matter of life and death."
"ASAP's founders have developed a clear and smart vision for growing the organization. They are resourceful, capable, and guided by an unwavering commitment to their clients," said Sara Lulo, Assistant Dean at Yale Law School, the first to encourage its co-founders to pursue ASAP's work longer term. "ASAP's volunteer efforts already have established an astonishing track record for efficacy. As an advocacy organization, ASAP's potential for continued and even broader impact is extraordinary."
Moving forward, ASAP will continue to grow as two of the group's graduating co-founders, Conchita Cruz and Swapna Reddy, have each earned a post-graduate fellowship to convert the project into a non-profit organization incubated at the Urban Justice Center. Cruz has been awarded a Gruber Fellowship in Global Justice and Reddy has earned an Equal Justice Works fellowship sponsored by an anonymous donor. Dorothy Tegeler and Liz Willis will join them at the Urban Justice Center the following year.
For the co-founders of ASAP, being able to continue this work is incredibly meaningful.
"As a Guatemalan-American and the daughter of a refugee, I am committed to working for families fleeing persecution in Central America," said Cruz. "I am proud that the United States has a history of welcoming refugees. Despite the actions of our government, I am proud to tell the families we work with that so many Americans care about them and are doing everything they can to work on their case and others like it."
"Given the ongoing refugee crisis, it is more important than ever to find efficient methods for representing asylum seekers and providing pro se assistance. It has been incredible to see the law school community turn its talents, creativity, and resources toward solving this problem," said Reddy. "I am grateful for the opportunity to continue our efforts to improve access to counsel for refugee families in underserved communities across the United States."
For more information on ASAP, please visit the group's website.