Christian Aviles
Christian is a Los Angeles native who moved to New Haven to start his dream job working as the Director of College Access and Persistence at Squash Haven. In his years at Squash Haven, Christian has helped first-generation and low-income students gain admission to competitive colleges and universities across the northeast, secure millions of dollars in renewable financial aid, and earn summer internships and full-time job opportunities. Christian also works actively with Squash Haven families to connect them to resources in the community that ensure their economic success, as well as their health and wellbeing. Christian's work at Squash Haven is fueled by his lifelong passion for using education to empower communities of color and low-income families. Christian comes from a diverse background in education, having worked in public and private schools, nonprofits, and test prep settings. In addition to his passion for academics and college access, Christian is also committed to the economic empowerment of the students and families he serves. Christian is excited to begin his journey with the Law School Access Program and learn more about how to use the law to help people in New Haven overcome barriers that have kept them from accessing the promises of our country: the promise of economic stability, the promise of an education, and the promise of equality under the law.
Christian graduated with honors from Amherst College, where he earned a Bachelor's degree in English and Sociology. As part of his senior thesis, Christian completed a year-long project detailing the impact that changes in federal education policy would have on public school teachers. Christian is a first-generation college graduate from a low-income background, and a proud Jack Kent Cooke Foundation Scholar. Christian was also a participant in the New Haven Community Leadership Program, where he worked alongside nonprofit leaders to learn about courageous and collaborative leadership. In his free time, Christian enjoys walking around New Haven, listening to podcasts about politics, supporting local restaurants, and reading books.
Devin Avshalom-Smith
Devin Avshalom-Smith is a dedicated philosopher, community activist, and a proud New Haven, CT resident. He works as the Community Engagement Coordinator for the Community Alliance for Research and Engagement (CARE). Devin is an alumnus of The George Washington University and studied Philosophy at Central Connecticut State University. While living in Washington, D.C. he was active in political and community organizing. Notably, he lobbied on Capitol Hill, served as a coordinator for the D.C. leg of the U.S. based Olympic Dream for Darfur team torch rally, helped coordinate the STAND National Conference held at the United States Holocaust Memorial in 2007, and taught in D.C. preschools for six years.
While living and working in New Britain, Connecticut, Devin coordinated the donation of a medication drop box to the city in partnership with the New Britain Chief of Police, the Office of Senator Terry Gerratana, TRIAD, and Mayor Erin Stewart. In 2020, Devin founded the Newhallville Community Action Network (NCAN) which has partnered with local nonprofit organizations to provide approximately 145,000 free meals to New Haven residents and visiting guests during the COVID-19 pandemic. He is also a founding member of Newhallville United, a social justice organization that provides vital information, resources, and training to the Newhallville community. Devin is passionate about social justice, gender equality, racial equity, and health equity. He enjoys reading, writing poetry, songwriting, cycling, and hiking.
Tiheba Bain
Tiheba Bain is the Executive Director of Women Against Mass Incarceration, a grassroots organization empowering justice involved women and girls. She is currently working for The National Council for Incarcerated and Formerly Incarcerated Women and Girls as a community organizer.
Tiheba is a public speaker who played an integral role in passing legislation SB13 for incarcerated women and girls in the State of Connecticut. She sits on the African American subcommission of the Commission on Women, Children, Seniors, Equity & Opportunity. Tiheba also participated on the Commission for Collateral Consequences Task Force. In the past, she sat on the mass incarceration subcommittee for Governor Ned Lamont's Transitional Policy committee.
Tiheba also spoke on several platforms which included a press conference with former Governor Dannel Malloy, State Representative Robyn Porter and State Senator Gary Winfield. As a member of the ACLU Smart Justice campaign she assisted with introducing the anti-discrimination act. Tiheba has sat on panels at Yale University, UConn and the IMRP Annual Building Bridges Conference.
While obtaining her dual undergraduate degree in Psychology and Women and Criminal Justice, she served as a contributing author to Race, Education, and Reintegration. She is an alumna of the Justice-in-Education Scholar Program at the Heyman Center for Humanities at Columbia University.
Kevin Baisden
Kevin Baisden is currently a junior investment professional at an asset management firm where he covers natural resources, real estate, and infrastructure investments. Prior to this work, he spent roughly a year in the financial technology sector and participated in the 2019 Beyond the Bars fellowship cohort at the Columbia University Center for Justice. He is a 2019 graduate of Columbia University where he studied Economics-Philosophy.
During his time as a Columbia student, he worked at several investment firms including hedge funds and asset owners where he focused on impact and socially responsible investing. Aside from his experience in the business world, he has authored several academic papers and has been awarded numerous research prizes for his work in social philosophy and economics. Kevin has presented at conferences around the country using metaphysics, logic, and game theory to address the legal and moral implications underpinning crime, punishment, re-entry, disenfranchisement, and the societal reintegration of formerly incarcerated individuals. Additionally, he has extensively explored the intersection of criminal justice reform and employment legislature, specifically pre-employment screenings and the frictional access to employment post-incarceration. He aims to address recidivism and initial admission into the carceral system through the lens of economic empowerment and employment access. In his fleeting moments of free time, he writes poetry and performs spoken word highlighting investment strategies to make financial literacy accessible to underserved communities.
Dora Lynn Barnes
Dora Lynn Barnes works as a School Counselor for the West Haven Board of Education. She started her career at West Haven High School (WHHS) and is presently employed at May V. Carrigan Intermediate School. In 2019, she was selected as Carrigan's Unsung Hero and also implemented Carrigan's First Annual Black History Celebration which received an Honorary Citation from the Mayor of West Haven. Dora is dedicated to her students and constantly strives to create better opportunities for them by improving their academic, social/emotional, and college/career development. For example, she implemented WHHS's annual trip to the HBCU College Fair in Riverbank, NY; facilitated WHHS's annual visit to Monroe College in New Rochelle, NY; and implemented a college collage contest at Carrigan where student winners receive either a University of New Haven t-shirt or attend a demonstration at Carrigan facilitated by Goodwin College in their Advanced Manufacturing Mobile Training Lab.
Dora received her undergraduate degree at Albertus Magnus College where she majored in Sociology with a concentration in Social Work and minored in Criminal Justice. She also graduated from both the University of Saint Joseph where she received her Master's Degree in School Counseling and from the University of Bridgeport where she earned her 6th Year Degree in Education. She also completed internships at Dr. Robert H. Brown Intermediate School, WHHS, Carrigan, Multicultural Ambulatory Addictions Services, Our Community Counseling, and the State of Connecticut Adult Probation which led to her receiving the Department of Sociology Practicum & Internship Student of the Year from Albertus Magnus College. Dora recently submitted all of her paperwork to the State of Connecticut to become a Licensed Professional Counselor (LPC) and to the National Board for Certified Counselors (NBCC) for her National Certified Counselor (NCC) certification. She truly enjoys helping, advocating, and mentoring the "underdog," especially those at a disadvantage due to living in poverty, suffering from systemic racism, or faced with language barriers. Dora is an avid reader who loves to learn about Black history both in the Americas and in ancient African civilizations, as well as the connection between these civilizations and the remainder of the world today. She has enjoyed swimming since childhood and continues to swim as often as her schedule allows. When time permits she enjoys dancing to Reggae (her favorite music), spending time with friends/family, traveling to new places, and trying new foods. Her long-term aspirations are to retire in a Spanish speaking country, build a home, become a college professor, and start both her own law practice and mental health counseling facility. Her short-term goals are to continue learning Spanish until she is fluent, become a school principal in an urban district, become a Superintendent in one of America's most impoverished cities, and of course to become an attorney!
Darryl J. Brackeen, Jr.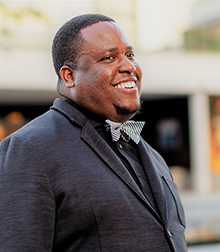 Darryl J. Brackeen, Jr was born and raised in the City of New Haven. He is a proud New Haven Public School graduate, having attended Vincent E. Mauro, Sheridan Middle School, and James Hillhouse High School. He is a 2010 graduate of Fairfield University, where he double majored in Political Science and History. Brackeen is also a graduate of Fordham University, where he received his Master's degree in Religious Education, concentrating in African American Religious Education and Youth/Young Adult Ministry. Darryl currently serves as the first New Haven native and African-American to serve as the District Executive Director of the New Haven YMCA Youth Center, Hamden/North Haven YMCA, and Camp Mt. Laurel. Early in Darryl's career, he taught social studies in New Haven Public schools and as a community organizer surrounding voting rights and education.
In 2014, Darryl was elected as the City of New Haven's 26th Ward's youngest and first African-American Alder. He is serving his fourth term. On the Board of Alders, Darryl serves as a member of the Affirmative Action Commission, Legislation Committee, and Living Wage Commission. He is the Chair of the Health and Human Services Committee, Vice-Chair of the Education Committee, and now leads the working group to address racism as a public health issue. Darryl was chosen as a delegate to the National League of Cities and is a Local Progress member. As a community organizer, he founded the Community Leadership Academy for community leaders, educators, and parents to become advocates for kids in Connecticut public schools, as well as, addressing protecting voter rights and addressing voter suppression. He has served on numerous boards over the years, such as the Greater New Haven Green Fund, steering committee member of Greater New Haven Help Alliance (Adopt-A-School Initiative), founding member of the local prison reentry program, Immunity in the Community. He also served as the Young Elected Officials Network Connecticut state director.
Darryl also brings expertise level campaign management experience and coaching for developing political leaders. He served on Mayor Justin Elicker's transition team as the Human Services Chair and Budget Chair. He has led efforts on behalf of the campaign of Secretary Hillary Clinton, where he served as the City of New Haven volunteer coordinator in 2016, and now presently serves on the CT Leadership team for Vice President Joe Biden leading statewide efforts. Darryl is also a proud member of Alpha Phi Alpha Fraternity Inc - Eta Alpha Lambda Chapter. He was recently appointed as President of the Urban League of Southern Connecticut of Young Professionals chapter. Darryl was featured as CPTV Connecticut Magazine's "40 Under 40". Brackeen is happily married to the love of his life Chaz Brackeen, MSW, and has two beautiful daughters Chelsea and Gabriella.
Follow Darryl on Facebook @Alder Darryl Brackeen Jr, Twitter: @dbrackeen, Instagram: @dbrackeenjr
Malachi Bridges
Malachi Bridges, from New Haven, CT, is a senior at the University of Connecticut, double majoring in political science and Africana Studies. Malachi graduated valedictorian from his high school, the Metropolitan Business Academy, and found his passion for politics while there. Along with advocacy, Malachi has a passion for financial equity. He served as the treasurer of the Student Government and was a 2-year delegate with Yale Model Congress, presenting bills on wealth inequality and housing disparity. At UConn, Malachi is a Residential Advisor (RA), a member of the National Conference of Black Political Scientists (NCOBPS), a member of the CLAS Student Leadership Board, and a ScHOLA2RS House Alum. For three years, Malachi has interned for the City of New Haven as the Coordinator of Corporate Sponsorship. While in this role, he worked to revitalize an urban district and aid in the reintegration of at-risk youth and troubled populations to back into productive society. This past summer, Malachi was awarded UConn's SURF grant to research the thwarting of Black homeownership. Malachi is interested in administrative law to study property, land use, and disputes in the hope of curbing homelessness, residential inequity, and evictions. He lives by a motto: "I was given these hands and this mouth to do and to speak, but nothing I do or say would mean anything if it wasn't used to help others."
Akia S. Callum
Akia S. Callum is an avid community organizer, fierce political strategist, and social justice advocate who is committed to implementing transformational policies from the ground up. She was born and raised in Brooklyn, New York, and is a product of the New York City Public School system. With over 8 years of experience working with and for cross-sector entities, she is committed to advocacy for students of color through the lens of civil rights and education.
Akia became heavily involved in governmental affairs at the age of 16 when she was a legislative aide for a New York City Council Member. During that time, she assisted in organizational branding through the development of marketing material, asset mapping, and programming for direct impact.
A graduate of Post University, she is committed to implementing transformational policies from the ground level. In 2015, Akia was an immediate change agent in her college town of Waterbury, CT. As the founder of the Black Student Union at Post University, she also served on the 'Campus Culture Committee' to bring students voices to the forefront around equitable practices on the topics of diversity and inclusion. In 2017, Akia was appointed to serve on the executive board as Vice President for the Connecticut State Conference NAACP Youth & College Division. Currently, Akia S. serves as President of the Connecticut State Conference NAACP Youth & College Division and Chair of National Initiatives and Development for the NAACP National Youth Works Committee. She also serves as the Director of Community Impact and Marketing at Waterbury Bridge to Success Community Partnership (BTS).
As the eldest daughter of immigrants, Akia understands the importance of creating opportunities for the marginalized. She has been influential in addressing critical issues such as criminal justice reform, education, and immigration in communities of color. A champion for education and civic engagement, she knows firsthand how they directly correlate with one's quality of life and has helped to mobilize others. It is her vision that we become fearless and truthful while serving in all capacities that alleviate societal issues that impact our communities.
Through her work as a student leader on campus, as well as her various roles for different service organizations including the NAACP on the local, state, and national level; she has realized that law school would further her growth to increase advocacy for students of color through the lens of civil rights and education.
She holds a Bachelor's Degree in Legal Studies and a Master of Education with a concentration in curriculum and instruction from Post University.
Addys Castillo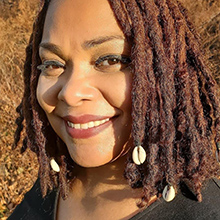 Addys Castillo is a public servant by day and performance artist by night. She is a public administrator with over 25 years of experience working across intersecting systems serving and organizing vulnerable populations. She has worked with numerous state agencies and nonprofits, including but not limited to LEAP (Leadership, Education and Athletics in Partnership), the State of Connecticut's Department of Children and Families, Project Model Offender Reintegration Experience (MORE) Inc., the California Endowment and the Children's Aid Society. Addys is most passionate about working towards dismantling systems of oppression that impact our most vulnerable communities. As the Executive Director of the Citywide Youth Coalition, Inc. in New Haven, CT she organizes and convenes youth, community members and youth-serving organizations towards building a courageous community where young people lead change.
When she is not building people power, you can find Addys dancing, drumming and singing in el Batey with Movimiento Cultural Afro-Continental, Bomba Troupe. She has been dancing for over 29 years and in October 2019 she made her theatrical debut as "Yuisa" in La Negra: A Bomba Musical at Yale University. She is an aspiring body builder and an Anti-Racist Organizer and Core Trainer with The People's Institute for Survival and Beyond.
Addys is a National Urban Fellow and holds a Bachelor's of Arts in Sociology from Central Connecticut State University; a Master of Science in Criminal Justice and Professional Certificate in Forensic Psychology from the University of New Haven; along with a Master of Public Administration from the City of New York Baruch College's School of Public Affairs.
Jalyn Johnson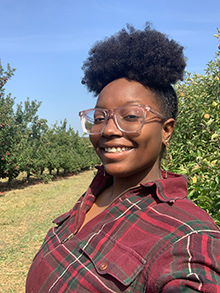 Jalyn Johnson was born and raised in New Haven, CT and graduated from Common Ground High School, a school that is focused on social justice and the environment, in 2017. At Common Ground, she began working on the school farm and developed a passion for the tough work. She is currently pursuing a BSW at the University of Connecticut and will be graduating in the Spring of 2021. She hopes to work at Connecticut Department of Children and Families after graduation to gain experience as a social worker, and then plans to pursue a MSW and JD to become a juvenile lawyer.
While being a lawyer, she also plans to open a farm to feed communities of color who lack resources to healthy and local food. She also hopes to create a program in which those who are neglected by society, such as the formerly incarcerated or disabled, can learn about themselves and the food that they eat while giving them the tools to be autonomous in a society that rejects/ignores them. She also hopes to raise animals as well to use them as support animals for her clients.
Typically, Jalyn spends her free time watching TV, doing arts and crafts, working out, spending time with friends and family, and learning ASL.
Kaseem Johnson
Kaseem Johnson is currently undecided between the pursuit of civil rights and corporate law. He works as an Associate Dean of School Culture at Achievement First Amistad High School in New Haven, CT. Within this role, Kaseem creates a culture structured for the well-being and academic success of all students. Those actions range from supporting students with social/emotional development to creating school-wide events which attract a broad range of students, staff and school community. Kaseem has spent a decade working with inner city youth in his current residence and hometown of New Haven. He is the founder of Kamili's Kids Youth Development Program, a board director for READY, and a former assistant coach at his alma mater, James Hillhouse High School.
In his undergraduate career as a scholar-athlete at Rhode Island College, Kaseem studied Communications and graduated with a Bachelor's Degree in Public Relations in 2009. In 2016, Kaseem earned a Master's Degree in Political Science with a concentration in Urban Affairs and Public Policy.
Outside of work, Kaseem is a proud father of two energetic daughters, Kamili (4 years old), and Kairo (3 months old), with his partner Jaz. Kaseem enjoys exercise, family time, along with milkshakes and intriguing documentaries.
Stache Jones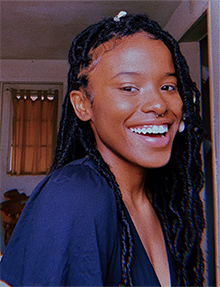 Stache Jones is currently pursuing a BS at Southern Connecticut State University. At Southern Connecticut State University, she is majoring in Sociology with a minor in Urban Affairs and a concentration in Criminology. She is an active student and member of SCSU's community. She participates in various clubs, including Women's Rugby. She has utilized her membership in an effort to gain access to important positions within her own community. She is the president of Southern Connecticut Women's Rugby Club. In this position, she promotes leadership, community accountability, and a safe space for women of all backgrounds. As well as being a full-time student, she also works part-time. Therefore, she prioritizes downtime. When she has free time, she enjoys writing poetry. Her poetry has allowed her to participate in an intensive program hosted by The Word. This intensive program led to her first spoken-word opportunity at the International Festival of Arts & Ideas. Because of this, she has started working on a compilation book of her work. Through her work, she highlights issues within society, themes of identity regarding sexuality, and healing.
Her poetry has proven boundless. It has provided opportunities to educate communities on important topics that continue to permeate society. She continues this education of society through her own activism. She has headed protests, generated petitions, and is a part of an intergenerational group of women creating Black and Brown Voices at Sacred Heart Academy, an equitable and safe place for students of color.
She also enjoys spending time with friends and family. She particularly appreciates traveling. She has experienced numerous solo trips within the U.S. Furthermore, she enjoys music of any style, genre, and background. She believes that music helps to heal, individually and collectively.
She hopes to attend law school after obtaining her undergraduate degree. She is looking to promote equality, equity, and justice for all through her work and deeds.
Brittany LaMarr
Brittany is a current senior at the University of Connecticut, pursuing a B.S. in Political Science. During a four-year enlistment with the United States Army where she constructed bridges as part of her job as a combat engineer, Brittany received the Soldier of the Year award for her unit two consecutive years in a row, an award given to soldiers for outstanding excellence amongst their peers. She is also a former Big Sister in the Big Brother Big Sister Program, an intern for the Connecticut Secretary of the State Denise Merrill, and volunteer for U.S. Senator Chris Murphy's political campaign. As an advocate for the protection of human rights internationally, Brittany commits her life to serving as a vessel of justice for those whose human rights have been violated. Her passion is to uphold the dignities of all individuals and dreams of becoming a human rights lawyer.
After involvement in the criminal justice system as a young adult, she channels the transformation she was able to make within her life into helping other young adults by speaking with classes of high school students. As a prior athlete, Brittany sought out weightlifting and strength training to enable her strength within. Intrigued by the substantial benefits of physical exercise and proper nutrition for a person's mental stability, emotional intelligence and overall happiness, Brittany endeavored to become a certified yoga and meditation instructor, personal trainer, competitive Olympic weightlifter, and American Parkinson Disease Association-certified personal trainer. She has gone on to open her own sports chiropractic studio to help every individual achieve their own optimal health through a holistic approach, training not only athletes, but those individuals who seek personal training as a means to improve their health and wellness.
She enjoys spending every other moment between work and school, with her four-year-old son. She loves to enjoy the outdoors with him through activities like hiking, kayaking, mountain biking, swimming, or just playing in the dirt with construction trucks. Her most cherished moments are those where she aids in and witnesses his growth as he practices his reading, writing, math, and learning Spanish, which she speaks as a second language.
Lesly Lopez
Lesly Lopez is currently a Third Grade Dual Language teacher in New Haven. As a teacher, Lesly strives to make a difference in the lives of her students and lead by example. Lesly grew up in New Haven but is originally from Mexico. She attended Southern Connecticut State University where she graduated with two bachelors degrees: one in Elementary Education and another in Interdisciplinary Studies. During her time at Southern, she worked two jobs to pay her tuition and participated in programs that helped her become knowledgeable about racial justice.
Lesly is a DACA Recipient, which has motivated her to become passionate about immigration. She has attended protests in Washington D.C in an effort to pass the DREAM Act, a piece of legislation granting undocumented people who were brought to the U.S. as minors a path to citizenship. She hopes to pursue a career in immigration law and to help immigrant families in her community. Outside of work, Lesly enjoys hiking and dancing bachata.
Henry J. Seyue
Henry J. Seyue is a third-year Political Science & Economics major at the University of Connecticut. While in high school, Henry became involved in a variety of experiences that sparked a desire for social activism, which he maintains today. Among these experiences was a tenure at the Youth Court of the City of New Haven, where he found ways for youth offenders and delinquent students to repair harm to their communities rather than facing immediate punitive action. He also held other leadership positions during this time such as Senior Class President and captain of his high school debate team, to name a few. Upon graduating from high school, he matriculated at Benedict College, where he served as a Legislative Lead for Save the Children Action Network, and was named the school's first Frederick Douglass Global Fellow. As a Fellow, Henry focused on juxtaposing European and American social and political climates. Following his Fellowship, Henry began attending the University of Connecticut (UConn), where in his first semester he contributed to the UConn Political Review as a staff writer. In his second semester, he remotely served as an Assistant Editor to the Review while interning in the D.C. office of Senator Richard Blumenthal. Currently, he balances his editorial tasks with improving his academic community as an Administrative Assistant in UConn's Office of Diversity and Inclusion.
Angie Soto
Angie Soto is currently pursuing a Bachelor's Degree at Wesleyan University. She is a member of the Latinx dance group, Caliente, and a House Manager at the Center for the Arts on campus. After realizing her passion for immigration law, Angie has been determined to gain as much experience as possible, reflected in her intern positions with the Connecticut Chief State's Attorney, Pichardo Immigration Associates LLC, and Esperanza Law. She has learned a wide variety of skills from each experience and plans to give back to the community that helped her realize her passion as a future lawyer. Furthermore, her commitment to the immigrant community and interest in education studies has resulted in a research project that examines determining factors of early childhood education in Latino communities throughout Connecticut, mainly in New Haven and Middletown.
During her free time, Angie enjoys taking walks with her family and puppy. She enjoys beautiful, natural scenery and family time, as they are inspirational aspects of her life. She ultimately likes to wind down by baking a sweet treat and reading books, her most recent read being The Undocumented Americans.
Aishah Jenkins Stovall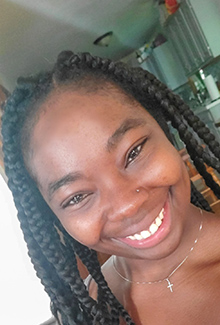 Aishah Jenkins Stovall was born and raised in New Haven, CT. After graduating from Hopkins School, Aishah went on to receive her undergraduate degree in English at Morgan State University, in Baltimore, MD. Although she only received her master's degree, also in English, from Central Connecticut State University in 2019, she was offered the opportunity to teach her master's thesis, on intersectionality, as a course. Aishah currently works as an adjunct professor at both Tunxis Community College and Central Connecticut State University.
In her personal life, Aishah enjoys reading, baking, and taking long walks with her husband and two children. Her love of learning has proven especially helpful during this COVID-19 pandemic, as Aishah has been successfully homeschooling both her children.
Aishah firmly believes that America is one giant cultural melting pot. As such, she has long traveled throughout the United States viewing small museums and talking in one cultural experience after another. A self-titled lifelong learner, Aishah is constantly searching for new information to furnish her arsenal.
Marc Strickland
Marc Strickland is a member of the Nehantic Indian Tribe and helped to draft their current tribal constitution. He is an elected delegate of the Nehantic Tribal Steering Committee and specializes in legal strategy and public relations.
During his undergraduate years, he studied political science, focusing on international relations. He was a member of the Black Student Alliance at Yale, the Yale Eli Whitney Student Society, serving as ambassador and executive board member, and the Association of Native Americans at Yale, serving on the executive board and Local Community Task Force. As a New Haven resident, he has volunteered in his local community as a tutor at Bishop Woods Elementary School and as vice-chairperson of the No-Limits sports and academic mentoring program.
Prior to completing his undergraduate degree, he served in the Bridgeport, CT Fire Department and retired as a lieutenant. While in the department, he completed the Federal Emergency Management Agency Certified National Incident Management System, the United States Department of Homeland Security Weapons of Mass Destruction Training Certification, and earned an Executive Fire Service Management Degree. He is a member of the Firebird Society of Bridgeport, CT and the International Association of Black Professional Firefighters and served in the positions of secretary and executive board member.
His hobbies include astronomy, watching films, reading about history, listening to music, high-fidelity audio systems, mid-century furniture, architecture, and travel.
Tai Walker
Prior to Tai Walker's acceptance into the Yale Access to Law School Program, his previous academic accomplishments include graduate studies at Champlain College in Burlington, VT, where he earned his Master's of Science in Law degree in 2015. In 2006, he earned his undergraduate Bachelor of Science in Mass Communication Studies from Liberty University, located in Lynchburg, VA.
Throughout his undergraduate studies, he enjoyed the performing arts as a stage actor and member of the school's Gospel Choir. Having special interests in music and entertainment, during his sophomore year, he launched his first music entertainment business called Red Carpet Productions. He managed and toured with his own indie artists. His number-one college band, "Six Chasing Seven" gained a lot of popularity and would later perform opening acts for the famous Dave Matthews Band located in Charlottesville, VA. His vibrant talent brought something new and daring to the conservative, religious city of Lynchburg.
Although he's accomplished a great deal, it didn't come so easy without a price to pay. As a member of an underrepresented population, he remembers growing up as a little boy with limited access to advanced education and economic resources. Living in the inner city, he experienced the sufferings of Black-on-Black crime, systemic racism, unequal justice, and had several run-ins with the law, and even to the point of being incarcerated for a year.
Despite all of these struggles and challenges, he has been able to make good use of his opportunities to become the best man he is today. Some of his further accomplishments include being a SAG-AFTRA union actor, featured in a few motion picture films and TV series such as Blue Bloods, The Good Wife, Delivery Man, and Rob the Mob. When not acting, he is a professional Caribbean chef and serial entrepreneur. He owns and successfully operates a restaurant brand, Karobean Kitchen, which received an Official Citation by the Connecticut General Assembly for being Hartford's first Caribbean soul food restaurant to offer self-serve breakfast, lunch, and dinner. While his tasteful cuisine continues to captures the heart of many hungry patrons, he uses his restaurant platform to help support local causes such as Harford World Aids Day and Hartford Public Library Career Pathways Initiative (CPI) Food Service Program. In 2017, he gave oral testimony at the state's Capitol for a cause that he is most passionate about, leading to the passing of Connecticut House Bill 6219, An Act Concerning Community Reentry By Persons Who Were Incarcerated. He continues to makes his doors open and available to the formerly incarcerated without seeking any government tax-credits. He also supports the State of Connecticut Department of Developmental Services by providing employment opportunities to persons with developmental disabilities and special needs. While he advocates for equal employment and small business opportunities for all people, he endeavors to fight against any and all discriminatory practices that adversely affect Black and Minority Owned Businesses.
He's excited to be learning as a Fellow at the Yale Access to Law Program. He hopes that his wealth of experience and knowledge will help other Fellows, as well as contribute to the overall success of the program's initiative.
Alexis Willoughby-Robinson
Alexis Willoughby-Robinson is a New Haven native. She is presently a Custodial Team Leader for Yale Facilities at Yale School of Management. As lead, she works as the intermediary between facilities and custodial staff to maintain a healthy and safe environment for both staff and students. She attended Spelman College for her first two years of undergrad and finished her matriculation at the University of New Haven with a Bachelor of Science in Political Science. After serving as an intern with the Connecticut State Legislature, she continues to stay active in her community when needed by neighbor and New Haven Alder Frank Douglass and Representative Pat Dillon. During her internship, Alexis became interested in advocacy to break the educational gap disparities in the State of Connecticut, not only as a constituent but also as a mom. Willoughby-Robinson continues this awareness in advocating the importance of charter schools in the city of New Haven for both Achievement First and Booker T. Washington Academy during local and state hearings. When she's not at work, Alexis is volunteering at her church's Food Pantry or actively participating with her children's sports activities.
Alexis previously served as the co-chair of the American Cancer Society's Making Strides Against Breast Cancer walk in the City of New Haven, helping to facilitate their yearly walk at Lighthouse Point to raise awareness and funds for breast cancer research. Alexis also worked actively on Varick Memorial AME Zion Church's Hospitality Committee.
Whether it is a matter considering that which is political and spiritual, or just a listening ear, she's always willing to give of her time and talents to anyone in need.