Shattering a Glass Ceiling
---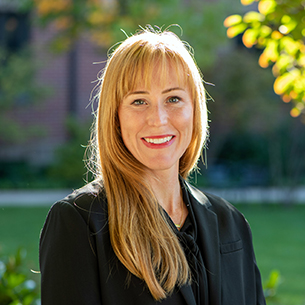 "If I'm going to do it, I should do it. You really only live once," Bri Thompson '25 remembered reasoning to herself as she chose the career of aviator after college and Air Force ROTC. 
Thompson had not planned to serve in the military at all, let alone fly planes. An Air Force brat who lived in Germany for middle school and high school, she valued the experience of growing up in Europe and the opportunities provided to her, but she had other interests. However, once her heart was set on attending American University, a private college in Washington, D.C., Thompson reconsidered her stance and ultimately joined the Air Force's ROTC program, which covered tuition and books in addition to paying cadets a stipend.
Looking back, Thompson feels thankful that she took the leap in becoming an aviator, because it led her to her favorite job, which she calls "the best-kept secret in the Air Force" — the special ops role of Combat Aviation Advisor (CAA). A multi-faceted and competitive job, the Air Force website describes CAAs as "air commandos" who "assess, train, advise, assist, and accompany foreign aviation forces, [enabling] friendly, partner, and allied forces to employ and sustain their own combat-oriented airpower resources." For her six years in this advisory role, Thompson deployed to partner nations to fly with their air forces in their aircraft — often Cessnas — in order to develop their capability and advise them on their programs in concert with the U.S. State Department's country plans.
Thompson's trip to the Sahel was one of her favorites, because working with Chad's Air Force was so different from what she expected. Thompson was concerned that she might find a lack of motivation among the soldiers in this under-resourced country; instead, she was greeted by a new, visionary General who had already begun an overhaul of his forces. "I found some really hardworking, dedicated, learning-focused attitudes," Thompson said. She identified individuals with talent and motivation, and recommended that those pilots be promoted to leadership. She added, "The General in Chad was taking our recommendations and implementing them on the spot, and that's rare to see. So that was very gratifying."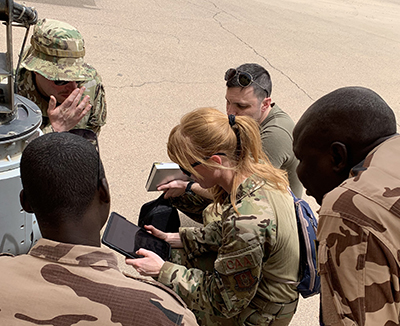 Thompson's biggest challenge during her service as a CAA came from within the Air Force. When she was hired, there were only three women in a community of 150, and at one point, she was the only woman in her unit. She said she kept asking her superiors if she could deploy to their Middle East partners — Lebanon or Jordan, for example — and she was repeatedly told that they were not ready to fly with women. Dissatisfied with that answer, Thompson researched and could not find evidence of this position from the Middle Eastern partners, the Embassy, or Special Operations Command. So, with five other women, Thompson drafted a white paper and brought it to their leadership. 
"We weren't accusatory; we were professional. We asked in good faith and for good reason: 'Can you explain this policy and can you explain the process for evaluating it in the future?' and also, 'Why did you hire us if you didn't want us to do this job?,'" Thompson remembered. "And no one had an answer, and it essentially changed overnight."
After that breakthrough, women went to Jordan multiple summers in a row, with great success. Thompson was assigned to a Jordanian unit who had no prior military engagement with the U.S. "Their first interaction with the U.S. military was me. And it went beautifully," she said. Thompson emphasized that now, six years later, the culture within the unit has changed.
Advocacy, whether for herself or her government, and being the expert in the room were Thompson's favorite parts of the job, and she decided to make a switch to the legal profession. As she chose which law school to attend, Thompson felt like she still had something to prove. "It hurt so much to feel like maybe people didn't think I was credible, not because I wasn't good at my job, but because I was a woman," she said. "As I got older, I was mature enough to see it, and then to address it. But I just thought, 'if you're going to be a lawyer, maybe you take away any doubt about your credibility and you try to go to the best law school. Then if someone doesn't take you seriously, it's because you had a bad day at the office. Not because you didn't come in the door with the best foundation laid.'"
During her first semester at Yale Law School, Thompson is enjoying her Civil Procedure class and she plans to explore career opportunities in litigation. She would love to join the Veterans Legal Services Clinic, which is what first sparked her interest in Yale Law School in particular; she also hopes to be involved with the Reproductive Rights and Justice Project. She remains a reservist in Florida, and for her, it's an important way of staying connected to the people and organization that have meant so much to her over the past 15 years.