Determination Has a Ripple Effect
---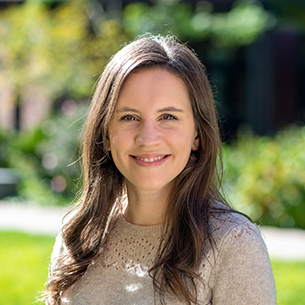 "I hiked Mt. Fuji during a typhoon," Hillary Browning '25 recalled of her time serving in the U.S. Navy. "Mostly by accident, but also because I am stubborn."
She and her then-boyfriend, now husband, had planned to climb the iconic mountain with some Japanese Self-Defense Force sailors, but when they arrived at the base, they realized the weather was deteriorating quickly. However, they had come a long way and weren't going to be deterred.
"The rain drops were coming in so hard that it felt like hail. Visibility was less than 20 feet," she remembered. "The employees at every checkpoint kept asking us to please turn around, but we pressed on."
The same determination that allowed her to summit Japan's highest mountain also brought her to Yale Law School.
Growing up in New Braunfels, Texas, in the greater San Antonio area, Browning wanted to attend college after high school but her family couldn't afford it, so she enlisted in the Navy for the opportunities it would provide. "It was always meant to be a temporary gig — just a stepping-stone to a college education," she explained.
Browning was deployed to Japan and Afghanistan during her six years as a Navy journalist (called a Mass Communication Specialist). She also spent a year at sea stationed on the aircraft carrier USS Dwight D. Eisenhower. While serving as editor-in-chief of the ship's daily newspaper, she wrote a piece on the ship's Commanding Officer (CO) that won the Navy's award for Feature Story of the Year.
"The CO can be so far removed from most enlisted people, and even junior officers, that it was fun to humanize him a bit," Browning recalled. "Even though it's not the most 'hooyah' military topic, I liked the personal stories." 
Browning's video production work in Afghanistan stands out as the highlight of her military journalism career. She is quick to point out that "documenting operations in a combat zone was the original purpose for a military journalist." 
Sometimes she shadowed a solider to document their day on the job. "I did a story on a Civil Affairs Officer who met with local Afghan police officers to discuss their needs for defending themselves and their community against the Taliban," she remembered. Other times, she covered service members' outreach activities, for example, traveling to a local Afghan orphanage to donate winter coats and gloves. Browning found the work meaningful. So did the U.S. Army, which recognized her with a Commendation Medal.
However, for all these accolades, Browning's proudest accomplishment is not rooted in her excellence in journalism but rather in her role as a mentor for higher education. While Browning was exploring college opportunities after active duty, she encouraged a few friends to apply. When she was accepted to Yale College through its nontraditional students' program, and then featured in an article about Yale's veterans, many sailors reached out to her and asked how they could get into college.
"It's a great source of pride to know that service members have been persuaded to apply to college after hearing my story," she said.
While an undergraduate at Yale, Browning took a class taught by a Connecticut judge that focused on the First Amendment. The professor and the course material sparked her interest in law school and the field of public interest law.
By the time Browning applied to law school, her husband had entered the nontraditional students' program at Yale College, and they were settled in New Haven with their growing family. Yale Law School was the ideal place for Browning, both reputationally and geographically.
"I applied for the fall 2021 admissions cycle and was waitlisted," she said. "This did not deter me. In fact, it buoyed me. I anticipated being flat-out rejected from Yale Law School. I would gleefully tell people who asked, 'I got waitlisted at Yale!'" Encouraged to try again, Browning applied for the fall 2022 cycle and was admitted. "It seems crazy to think that five years ago, I was just starting to think about law school as an idea, and now I'm at YLS," Browning observed.
 
Reflecting on her 1L fall semester, Browning said, "So far, balancing law school and a family has been challenging in ways I didn't expect, but I feel very supported and cared for at YLS — specifically because of the small group construction, which has given me 15 people to lean on."
This profile is one of six in a series on veterans in the class of 2025.