Joe Sullivan-Springhetti '25
Joe Sullivan-Springhetti '25
Protecting People on our Coasts
---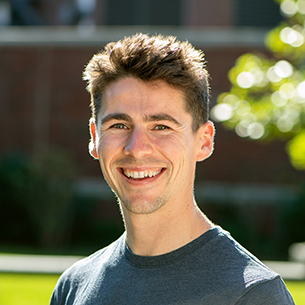 Joe Sullivan-Springhetti '25 matriculated in Yale Law School's Class of 2025 for the same reason he joined the U.S. Coast Guard — he hopes to make a positive impact in people's lives. That's what he was able to do during his nine years as a Coast Guard officer during four tours of duty in Tampa, Florida; Juneau, Alaska; Washington, D.C.; and Ketchikan, Alaska. 
Growing up in Portland, Oregon, Sullivan-Springhetti always found the Coast Guard's life-saving mission deeply appealing. After graduating from the United States Coast Guard Academy in New London, Connecticut, Sullivan-Springhetti's primary job was driving Coast Guard ships. The highlight of his seafaring tours was captaining a ship based in Ketchikan, Alaska. Sailing the Inside Passage, a scenic, coastal route of 500 miles that stretches from the Juneau, Alaska region southward to Seattle, he discovered just how integral the Coast Guard was to the life of the community. "Alaska's Inside Passage is a part of the country that is so dependent on the Coast Guard and on the fishing communities there," he said. "People are on the water in an area with very limited government otherwise; other resources are often constrained. Feeling like we were making a difference was always really gratifying."
Sullivan-Springhetti received one particularly memorable mayday call from a fishing boat that had been stranded on a pinnacle of rock as the tide rapidly receded, threatening to roll the crew into the near-freezing ocean. In that cold climate, Sullivan-Springhetti explained, whenever they got a call, it was an emergency. Once someone is plunged into the 40-degree water, they quickly lose bodily function and can no longer swim. If they don't have a lifejacket, it can take as little as half an hour. If they're in a lifejacket, they get a little more time, but it's not long. The fishing boat's crew had already donned their immersion suits when Sullivan-Springhetti's ship arrived to rescue them, taking them onboard and then stabilizing their boat until the tide came in enough to be towed to shore. 
Equally meaningful to Sullivan-Springhetti were his years serving in the Coast Guard's Office of Congressional Affairs in Washington, D.C., where he worked in the House of Representatives as a service liaison. "That was just an incredible couple of years flying across the country with members of Congress and their staff, showing them the Coast Guard," he said, remarking on how much he learned. 
In early 2020, Sullivan-Springhetti accompanied House Majority Leader Steny Hoyer, U.S. Representative Carolyn Maloney, and U.S. Representative Alexandria Ocasio-Cortes on a visit to Puerto Rico in the wake of a series of earthquakes that had knocked out power for much of the island. He was able to observe the representatives visiting emergency shelter camps and interacting with local business and political leaders. "Seeing that congressional leadership on-scene in an emergency disaster area was memorable," he said.
When it came to choosing his path after his military service, Sullivan-Springhetti sensed that Yale Law School would position him to make a new kind of positive impact. "Yale Law School opens so many doors. It's that booster pack that helps you get where you're trying to go," he said. "I've always thought that practicing law would be super interesting, and I just don't think there's a better place to learn." He has found ready camaraderie among the YLS veterans' group, and of the wider YLS community, he added, "The support and the respect for veterans has been a really wonderful aspect of my experience here."