Navigating the Final Frontier
---
When he graduated from the United States Air Force Academy, Kevin Beauchemin '25 set his sights above the storied "wild blue yonder," into the realm of intelligence, and space.
Selected to be an Intelligence Officer, Beauchemin was first sent to get his master's degree at Harvard Kennedy School, where his master's thesis focused on space policy.
"I wrote about how a lot of the existing laws and international treaties don't provide a suitable legal foundation for the world we live in now, because they were designed around two or three spacefaring nations, and now high schoolers can build and launch small satellites," he explained. "The current legal frameworks are not sufficient to grapple with the problems that arise." 
From the theoretical, Beauchemin plunged into the deeply practical at Air Mobility Command in Illinois — analyzing all streams of intelligence (human, signals, geospatial) to decide, for example, where to land state-of-the-art aircraft full of American soldiers inside combat zones.
Next came Beauchemin's biggest career highlight: attending the elite Air Force Weapons School — think Top Gun for the Air Force, without the Hollywood gloss. "One of my mentors always liked to say that the Air Force Weapons School is a leadership school disguised as a tactics school," Beauchemin said. Of the six-month program, he explained, "You're dealing with a very, very impressive set of peers. They're all typically the best in their career fields; they're very type-A go-getters. So, you're learning a lot of subtle peer leadership while at the same time, you're being trained as a Weapons Instructor."
After Weapons School, Beauchemin joined a unit in Air Force Space Command at Buckley Air Force Base — now Buckley Space Force Base — in Aurora, Colorado. "A lot of what we were doing day-to-day felt very detached," Beauchemin said of his work, which included analyzing intel from a constellation of the military's satellites, known as SBIRS, "But there was one day in particular where our missile warning mission had real impact." In January 2020, after the previous Administration had ordered a drone strike killing Iranian Major General Qasem Soleimani, Iran retaliated by launching missiles against American operating locations in Iraq. Beauchemin's unit detected the launch of the Iranian missiles and gave the emergency warning for the American troops at the base to take shelter, mitigating injuries and quite possibly saving lives.
Only weeks earlier, an act of Congress had converted Air Force Space Command into the newest branch of the armed forces, the United States Space Force, and Beauchemin had been asked to help with the transition. "Since I was in the intelligence field and had space experience, I was pulled in, and I stayed for a few years until the Space Force could build up its own corps of intelligence personnel," he explained.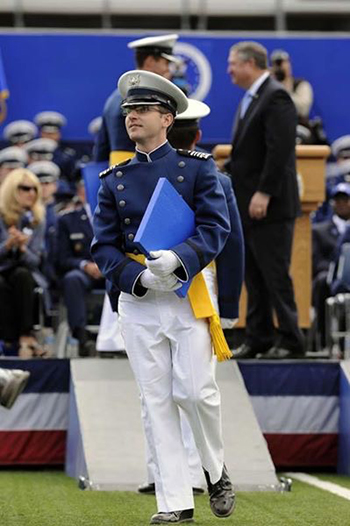 It was in this role, Beauchemin said, that he made his most tangible impact on the Space Force. As a Weapons Instructor, he was tasked with developing the training program for this brand-new military branch. Over the course of three years, he and his team created a training curriculum and trained a corps of Space Force instructors. Beauchemin felt like he had made a difference, he said, when servicemembers who had been assigned to the unit in its infancy told him they were envious of those receiving the improved training. Beauchemin explained the personal reward of this service, "I had the opportunity to give back to the people who are going to be doing the job, sitting on the operations floor, and to watch these 18-, 19-, 20-year-olds really flourish in the environment."
After nine years of service, Beauchemin was promoted to Major, and he felt that he needed to either commit to a full 20 years of service or pivot to a new profession. He and his wife, a surgeon, decided that they wanted to put down roots in one place — they hope in Colorado, where they met — so they started discussing new career paths. Beauchemin saw the overlap between his intelligence skillsets and the practice of law. Law also appealed to him as "a bridge between the active and the contemplative life," and Yale Law School, specifically, as a place where he could merge his abstract philosophical interests with practice.
Now, during the fall term, he and his wife live apart during the week and see each other on weekends while she completes a fellowship in breast surgical oncology in Camden, New Jersey. He didn't anticipate how hard it would be to live in a different city than his spouse, but they are making the best of it.
Considering possibilities for the future, Beachemin said, "I think I want to do a clerkship of some sort for a year, to get a breadth of experience and see how judges work to apply the law. And then I'd really like to dive in and start practicing." He'll likely work in a bigger firm, and he imagines he might work on some of Colorado's priority legal issues, including energy resources, water rights, and Native American Tribal Relations. He might even pursue the relatively uncharted legal territory of the final frontier. Especially in the space hub of Colorado, he said, "I could definitely see myself doing something in the space arena again."
This profile is one of six in a series on veterans in the class of 2025.