Thursday, December 2, 2021
---
Accountability for the Opioid Crisis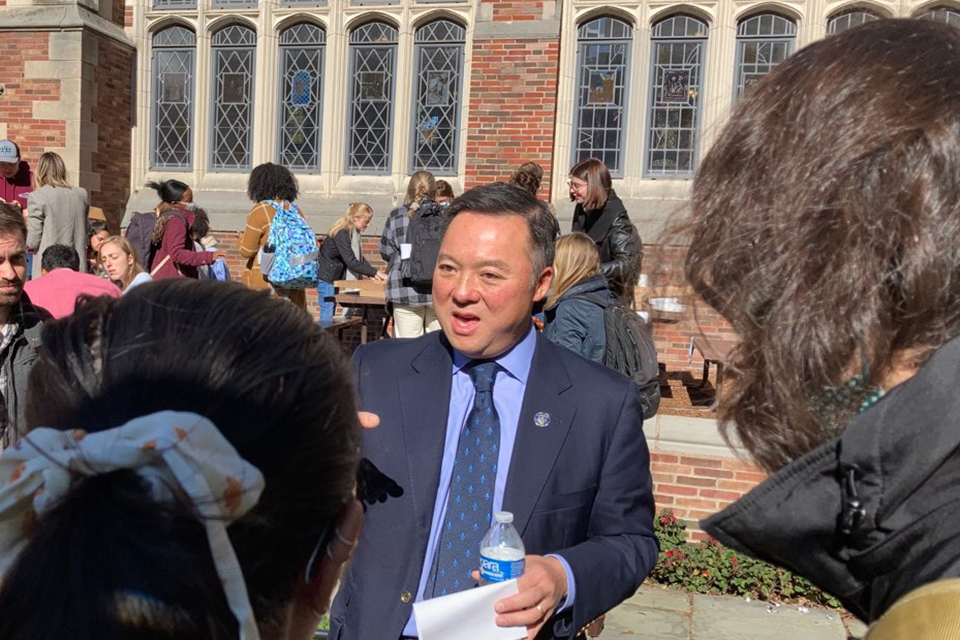 Connecticut Attorney General William Tong met with students after an event discussing the opioid crisis.
On Nov. 3, 2021, the Solomon Center for Health Law and Policy hosted a panel discussion about the history of the opioid epidemic, current litigation, the role of states and attorneys general, and how to hold opioid manufacturers and distributors accountable for their role in the crisis. The event was co-sponsored by the Yale Health Law and Policy Society.
The discussion was moderated by Abbe R. Gluck '00, the Alfred M. Rankin Professor of Law and the Faculty Director of the Solomon Center for Health Law and Policy and featured Connecticut Attorney General William Tong. Since taking office, Tong has been a leader in the fight to hold opioid manufacturers and distributors accountable for their role in the crisis. The discussion also featured Patrick Radden Keefe '05, a staff writer at The New Yorker and author of The New York Times bestseller Empire of Pain: The Secret History of the Sackler Dynasty, who joined virtually to discuss the history and legacy of one of the major players in the opioid crisis.
The discussion began with opening remarks by General Tong, who spoke about his path to becoming attorney general and the special focus that his office places on public health crises. Tong highlighted the role of being the "home state" attorney general in the opioid crisis and how this gave him a special responsibility to be aggressive in working towards creating accountability during the crisis.
Gluck noted the political economy of litigation and interrogated whether the courts are the right place to solve a public health crisis. Tong emphasized that the courts have been the only place where it has been possible to push for accountability because legislatures have punted the challenge of resolving the crisis to the courts. He also noted that although there is a limit to what fines can do against pharmaceutical companies and distributors and that there is a benefit in extracting resources from bad actors as a method to change behavior. Keefe additionally emphasized the value of discovery in bringing to light the behavior of companies like Purdue Pharma and indicated that he would not have been able to write his book without access to the documents that were made public during the discovery process.
The panel ended with a Q&A session with both live and virtual attendees. The panelists discussed issues such as directing settlement funds to specifically impacted communities, how science may impact where funds should go, whether Purdue Pharma is being treated as a scapegoat, and systemic factors that caused the predisposition for the crisis in the first place.
Finally, Tong gave a closing remark about the challenge of contingent attorney's fees and ensuring that affected people will receive a fair portion of the settlement funds. Speaking to the pharmaceutical companies, Tong declared that at the end of the day "it's not just about the money. It's about justice and holding you accountable."