Thursday, April 21, 2022
---
Alumni Address Pressing Environmental Challenges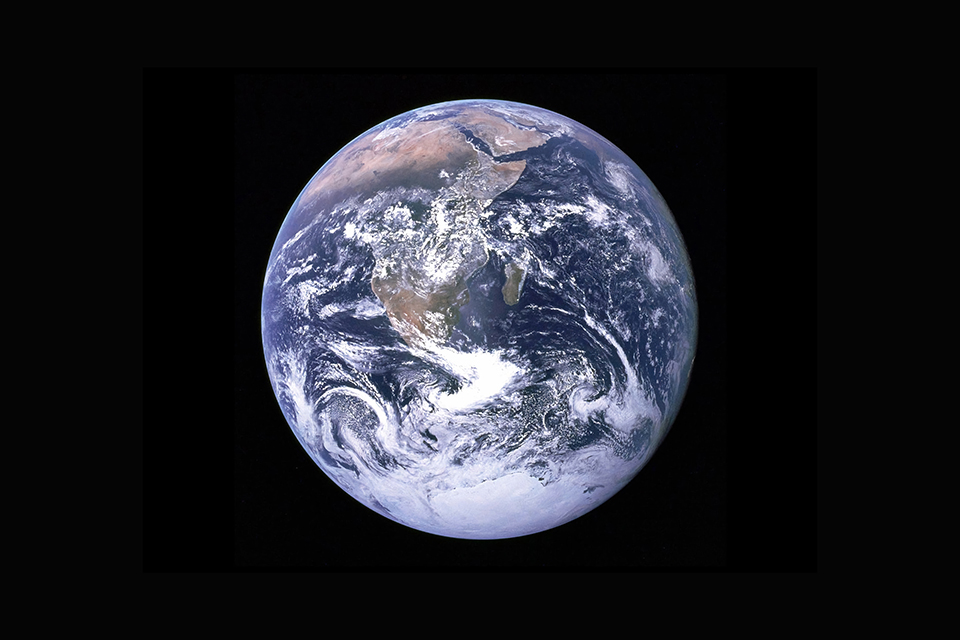 A view of the Earth as seen by the Apollo 17 crew traveling toward the moon in 1972.
In April 2022, a new report by the Intergovernmental Panel on Climate Change, commissioned by the U.N., contained yet another stark warning about climate change. Recognizing the relationship between humans, climate, ecosystems, and biodiversity, the report contends that countries must move away much faster from fossil fuels, or previous goals of limiting global warming to 2.7 degrees Fahrenheit will be out of reach by the end of the decade.
The dangers of climate change are sobering, not only for the environment but for humans: sea level rise, temperature increases, more severe storms, and record droughts threaten the globe, and more than 13 million people in Africa and Asia have been displaced by extreme weather in 2019.
April 22 marks Earth Day, an annual international event to support environmental protection, first held more than 50 years ago. Through curricular offerings, teaching, research, clinics, and student organizations, the Law School's environmental law program offers students the opportunity to engage deeply with the field and sends graduates into the public and private sectors ready to tackle the crucial challenges ahead.
Among the many Yale Law graduates working in various aspects of environmental law, two alumni below discuss their efforts to address some of the most pressing challenges of climate change nationally and across the globe through litigation, regulation, governance, and more.
Quentin Karpilow '18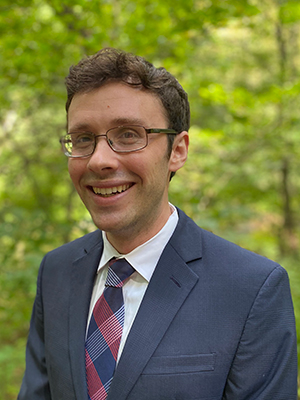 Quentin Karpilow '18 is currently an associate at Sher Edling LLP, where he is dedicated to protecting the environment and frontline communities from pollution.
Before joining Sher Edling, Quentin clerked for the Honorable Susan L. Carney of the U.S. Court of Appeals for the Second Circuit and the Honorable Janet C. Hall of the U.S. District Court for the District of Connecticut.
At the Law School, Karpilow served as co-director of the Yale Environmental Law Association, helped to lead the Rule of Law Clinic in its climate-related litigation, and co-authored several law review articles on environmental regulation and developments in clean energy finance.
Stephanie Safdi '13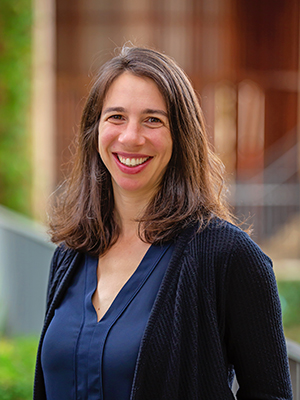 Stephanie Safdi '13 is a Clinical Supervising Attorney and Lecturer in Law for the Stanford Environmental Law Clinic, where she trains and supervises clinical law students in the practice of public interest environmental lawyering.
Safdi served as Deputy County Counsel for the County of Santa Clara, where she litigated the final stages of a landmark 20-year public nuisance lawsuit against former manufacturers of lead paint and fought for protections from environmental toxins, among other work.
At the Law School, Safdi discovered her interest in environmental law and became involved in the Yale Environmental Law Association (YELA) and completed the joint J.D./M.E.M degree program offered by the Law School and the Yale School of the Environment.
She began her legal practice as an environmental law fellow at the public interest environmental law firm Shute, Mihaly & Weinberger LLP, where she represented public agencies, community groups, and Indian tribes in state and federal court and in administrative proceedings.
---
Q: The realities of climate change are already affecting millions across the globe. Based on your work, what are the most critical challenges we face?
Quentin Karpilow: The costs of climate adaptation are enormous, and in the United States at least, those costs fall most heavily on budget-strapped state and local governments — and, ultimately, the taxpayers that provide their revenue. As I've come to appreciate through my work at Sher Edling LLP, cities, counties, and states are on the front lines of trying to survive the ravages of global warming. Greenhouse gas emissions may be an international problem, but climate adaptation is a quintessentially local endeavor. When it comes to building sea walls, fortifying public roads and infrastructure from storm surges, or climate-proofing drinking water supplies (to name just a few adaptation efforts), states and localities will be leading the charge, not the federal government. Recognizing as much, many of these communities are already identifying and implementing adaptation measures that are necessary to shield their residents, businesses, and infrastructure from the worst consequences of a warming world. To do so, however, they will need to spend billions of dollars in a time when many states and localities face a myriad of fiscal pressures. 
Stephanie Safdi: The challenges posed by the climate emergency are pervasive, multi-dimensional, and both universally and unevenly devastating. Some aspects of climate change challenge our moral imagination — mass extinctions of nonhuman species, ecosystem collapse, climate-induced conflict, the externalization of harms to the Global South and to vulnerable populations worldwide. Other aspects challenge fundamental models of governance — like achieving true global governance to provide for enforceable emissions caps and reparations adequate to finance adaptation, just relocation policies, and sustainable infrastructure development in communities that are at the front lines of climate impacts. Others challenge us to stare down political manipulation, voter dilution and suppression, and other failures of democracy. And still others demand transformative change to systems of production, consumption, and distribution as well as behavioral patterns like meat and dairy consumption, car-based transit, air travel, and excessive energy and water consumption.
One can look to California's Bay Delta watershed, where several clients of the Stanford Environmental Law Clinic are located. Among the communities most impacted by the imperiled state of Delta ecosystems are the same indigenous communities — including clinic clients Winnemem Wintu and Shingle Springs Band of Mimowk Indians — who were violently displaced from their native lands in the Delta and deprived access and rights to the water, and who now face a renewed risk of cultural genocide from the collapse of salmon fisheries and riparian ecosystems with which their identity and cultural practices are intertwined. Although required by state and federal law to manage scarce Delta water resources, the state is nearly 25 years behind schedule in updating its water quality control plan for the Bay Delta. As climate change pushes Delta ecosystems to the brink, the state is running out of time.
Q: How are you currently tackling issues surrounding climate change?
Quentin Karpilow: At Sher Edling LLP, we represent cities, counties, and states in lawsuits seeking to hold the fossil fuel industry accountable for its decades-long campaign to conceal and misrepresent the climate-change impacts of their products. Thanks to some phenomenal investigative journalism, there is now a public treasure trove of internal corporate documents showing that major fossil fuel companies have known for more than half a century that their fossil fuel products were causing irreversible climate change. The defendants took their scientists' warnings seriously, investing heavily to protect their fossil fuel infrastructure and assets from rising seas, more extreme weather events, and other climate-related impacts. 
Yet rather than warning consumers and the public about the catastrophic consequences of continued and increasing fossil fuel consumption, these companies waged a widespread, sophisticated disinformation campaign to cast doubt on the science, causes, and effects of global warming. As detailed in our complaints, the fossil fuel industry bankrolled front groups who knowingly peddled in climate-change denialism, and they spent millions of dollars on newspaper ads, radio commercials, and other media that distorted the science of climate change. Then, when public awareness finally started catching up to the fossil fuel industry's own knowledge of global warming, these companies pivoted to a new strategy of deception: greenwashing.
To this very day, the defendants deceptively portray their fossil fuel products as "green" or "clean," while failing to warn that these very same products are the leading cause of climate change. And they falsely portray themselves on social media and other platforms as sustainability leaders that invest heavily in renewable energy sources, when — in fact — nearly their entire budget goes towards fossil fuel exploration, development, and production.
Our clients have filed more than two dozen lawsuits for injuries caused by these climate disinformation campaigns. These backward-looking actions seek to ensure that the companies who profited from deceptive commercial activities are held accountable for the costs and harms resulting from those activities. 
Stephanie Safdi: As a clinical educator, I see my role in the struggle as centered on empowering students to tackle the climate emergency and its impacts by equipping them with formative experiences and with strong legal and advocacy tools. But I also see clinical practice as itself playing a unique role in climate action by taking on particularly challenging or innovative matters, filling representation voids, experimenting with a developing models of movement lawyering, and providing the pro bono services of dedicated student practitioners.
As with many clinics and legal service organizations, the approach to climate action that we are taking embodies the multidimensional climate action strategy needed to tackle this multidimensional emergency. As a few examples of our current climate-related docket, we are representing a coalition of indigenous tribes and environmental justice groups in the California Bay Delta and with the Center for Biological Diversity, challenging the pattern and practice of blanket approvals of new oil and gas wells by California's Geologic Energy Management Division without any environmental review. We are also assisting with the defense of County of Monterey's zoning ordinance that would prohibit land uses supporting new oil and gas wells and representing local conservation groups in multiple successful challenges to the County of Marin's failure to analyze and offset impacts of sprawl development.
In other areas of our practice, our clinic assists clients in advocating for effective federal emissions regulation, protection of endangered species increasingly imperiled by climate change as well as by development that disrupts carbon sinks, just planning for energy development and generation siting, protection and tribal management of sacred landscapes, and in advocating to ensure that planning for solutions to climate-induced resource scarcity is meaningfully influenced by directly impacted communities and done with effective environmental review.
Q: What are some of the legal remedies you see to combat climate change and its effects?
Quentin Karpilow: Tort law and consumer protection statutes are powerful vehicles for addressing the harms caused by climate disinformation. In many states, longstanding common-law duties require companies to disclose and accurately describe the reasonably foreseeable risks posed by their products. When they breach those basic duties of care, they are liable for all harms that naturally flow from the breach. Likewise, many state legislatures have enacted statutes that prohibit commercial actors from making false or misleading statements about their products.
In our climate-deception lawsuits, state and local governments are simply applying old state law to new forms of deceptive commercial activity, namely: concealing and misrepresenting the dangers of fossil fuels. Notably, these lawsuits — as pleaded and argued by the plaintiffs — do not and cannot directly or indirectly force fossil fuel companies to reduce or stop fossil fuel production. Because our state-law claims are backwards looking and narrowly targeted to the defendants' deceptive advertising and promotional activities, the defendants can avoid the risk of any future liability simply by stopping their climate disinformation and starting to adequately warn of the climate-impacts of their products and businesses. 
Stephanie Safdi: Tackling climate change requires an all-of-the-above strategy. We need resiliency not only in climate solutions but also mechanisms to achieve them. We need aggressive state and local regulation, judicial remedies from creative lawyering, and on-the-ground restorative activities to fill the void. Two realms of legal action that I find particularly exciting are innovative regulatory levers being pursued at the local and state level and the groundswell of climate litigation in the courts.
At the local level, agencies have an important role to play in exercising their traditional police power in areas like land use and zoning, transportation planning, building codes, and public health. This is not to mention the suite of important climate programs at the state level, many of which are implemented through local programs.
Local regulation and permitting authority can also go a long way in tackling the distributional inequities of climate change. Cities can do much more to plan for, mandate, and finance green infrastructure in low-wealth communities, like ensuring that all neighborhoods benefit from parks and urban tree canopies to buffer against heat island effects of climate change.
The litigation front has also been marked by a groundswell of climate-related lawsuits. Under domestic state law, this includes a suite of lawsuits seeking to hold the oil and gas industry accountable for climate disinformation. Locally, litigation under state environmental review laws can compel state and local governments to adequately analyze and offset the climate impacts of development project approvals. And litigation to compel improved regulation and enforcement of traditional air pollutant emissions, as well as to police discharge of other pollutants like runoff into waterways, can achieve significant climate co-benefits.
Climate co-benefits are almost certain to be realized through long-overdue remedies that return ancestral tribal lands to indigenous control and management, enable exercise of indigenous ecological knowledge, and undo discriminatory resource exclusion of BIPOC communities and disinvestment in communities of color. Empowering community-led solutions in these and other such domains can go a long way toward repairing past violence while creating inclusive and regenerative solutions for the future.
These responses have been edited for length.