Alumni Reconnect at a Celebratory Reunion
More than 900 Yale Law School alumni and guests gathered in New Haven on Oct. 20–22 to reconnect with old friends, attend stimulating panel discussions, and enjoy celebratory reunion events during Alumni Weekend 2023.
In her annual State of the School address, Dean Heather K. Gerken focused on some of the Law School's newest programs and initiatives that seek to redefine legal education. Gerken updated alumni on three of the biggest programs in the school's history, the Launchpad Scholars Program, the Hurst Horizon Scholarship Program, and The Tsai Leadership Program, and explained how they fit together strategically.
"Together, they enable us to pull in talented students from across the world, break down barriers that limit access to the profession, and equip the next generation of leaders with an ability to effect meaningful change in every community they occupy. And we are already seeing the impact," Gerken said. 
The Launchpad Scholars Program, built in collaboration with Latham & Watkins, is the Law School's second pipeline program, joining the Access to Law School Program founded by J. Skelly Wright Professor of Law James Forman Jr. '92. Both programs aim to make the law school more accessible to students from nontraditional backgrounds underrepresented in the legal profession. 
Gerken also reported on the expansion of the Hurst Horizon Scholarship program, a full-tuition scholarship for students with the greatest financial need. This year, 75 J.D. students are attending the Law School tuition-free, up from 51 the prior year. 
"Expanding the pool of talented students is not enough. We have to ensure that the financial barriers that stand in the way are eliminated," Gerken said. "This life-changing scholarship has lifted the burden of debt from their shoulders to ensure that they can come here."
The Tsai Leadership Program, now in its third year, has launched new courses and fellows' programs while building a curriculum to prepare students for the challenges they will face, Gerken said. "This generation is inheriting impossible problems and it is time to teach them to solve them," she said. Because students need to be not just literate but numerate, Gerken said, the program offers courses in finance, technology, and more to prepare students for their last job, not just their first. 
Gerken said that leadership involves building consensus and working across differences, one of the motivating factors for the Law School's newly launched Ronnie F. Heyman Crossing Divides Program. The program establishes a formal speaker series that brings together high-profile leaders from opposite sides of major national debates to discuss how they bridge differences and work to understand each other.
Gerken also updated alumni on new faculty who have joined the Law School in the past year: Sarath Sanga '14, Ketan Ramakrishnan '21, and Natasha Sarin. Just a few days before Alumni Weekend, Gerken announced that Keith Whittington of Princeton University will join the faculty next year. A leading figure in constitutional theory and history, Whittington will continue his work on academic freedom and free speech through a new center that will be created with the support of the Stanton Foundation.
During her address, Gerken shared some statistics about the 1L class, notably that 57% are students of color; nearly a third are the first in their families to attend graduate or professional school; more than one in six are first-generation college graduates; and 7% are veterans. 
"As I tell our students, lawyers are problem solvers," Gerken said in conclusion. "They get things done by learning to reach agreement, to build consensus in communities that are often defined by difference. And by keeping these abilities at the heart of our curriculum, we are doing our best to ensure that all of our students model the best values of the profession and the best values of this law school."
After the State of the School address, Gerken presented the Award of Merit, the Yale Law School Association's highest honor, to six recipients: Eugene Ludwig '73, former Comptroller of the Currency; Jean Koh Peters, Sol Goldman Clinical Professor Emeritus of Law; and a collective award to the founders of the Law School's clinical program: Stephen Wizner, William O. Douglas Clinical Professor Emeritus of Law; Dennis Curtis '66, Clinical Professor Emeritus of Law; and posthumous awards to Daniel Freed '51 and Frank Dineen '61. 
READ MORE: Award of Merit honorees
In one of the weekend's highlights, former Secretary of State Hillary Rodham Clinton '73 joined Commerce Secretary Gina Raimondo '98 for a wide-ranging conversation with Dean Heather K. Gerken on their remarkable careers in public service.
WATCH: A Conversation with Hillary Clinton '73 and Gina Raimondo '98
On Saturday afternoon, Gerken hosted a Changemaker Series conversation where both women shared the challenges they experienced as women in political leadership roles and addressed concerns about the future of democracy.
Clinton said that she learned many leadership lessons throughout her career, especially while serving as a senator, Secretary of State, and presidential candidate. 
"My leadership style is an accumulation of everything I've seen, I've learned, I've succeeded and failed at," she said. "I think a leader shows up, does the job, brings people along, and tries to make the case.
"What I did not learn is how to be a performer," she continued. "We are living at a time when performative leadership is prevalent, and I would argue very concerning. Performance is now actually substituting for production, accomplishment, results."
Social media helps to fuel performative politics in the United States and around the world, Clinton said.
"We have a lot at stake in whether we can reject politicians who are only about entertainment and performance," Clinton said. "We have to reward people who get things done and are thinking about the common good and making tough decisions."
Raimondo, a former governor of Rhode Island, discussed her challenges being perceived as unlikeable despite winning elections, noting that many people feel uncomfortable with women in leadership roles.
"We have to find our own style of leadership. That's why I say commit yourself to a cause, commit yourself to the people you serve…find your authentic way of leading," Raimondo said. "But be deeply aware of the fact that it isn't fair. It is not a level playing field."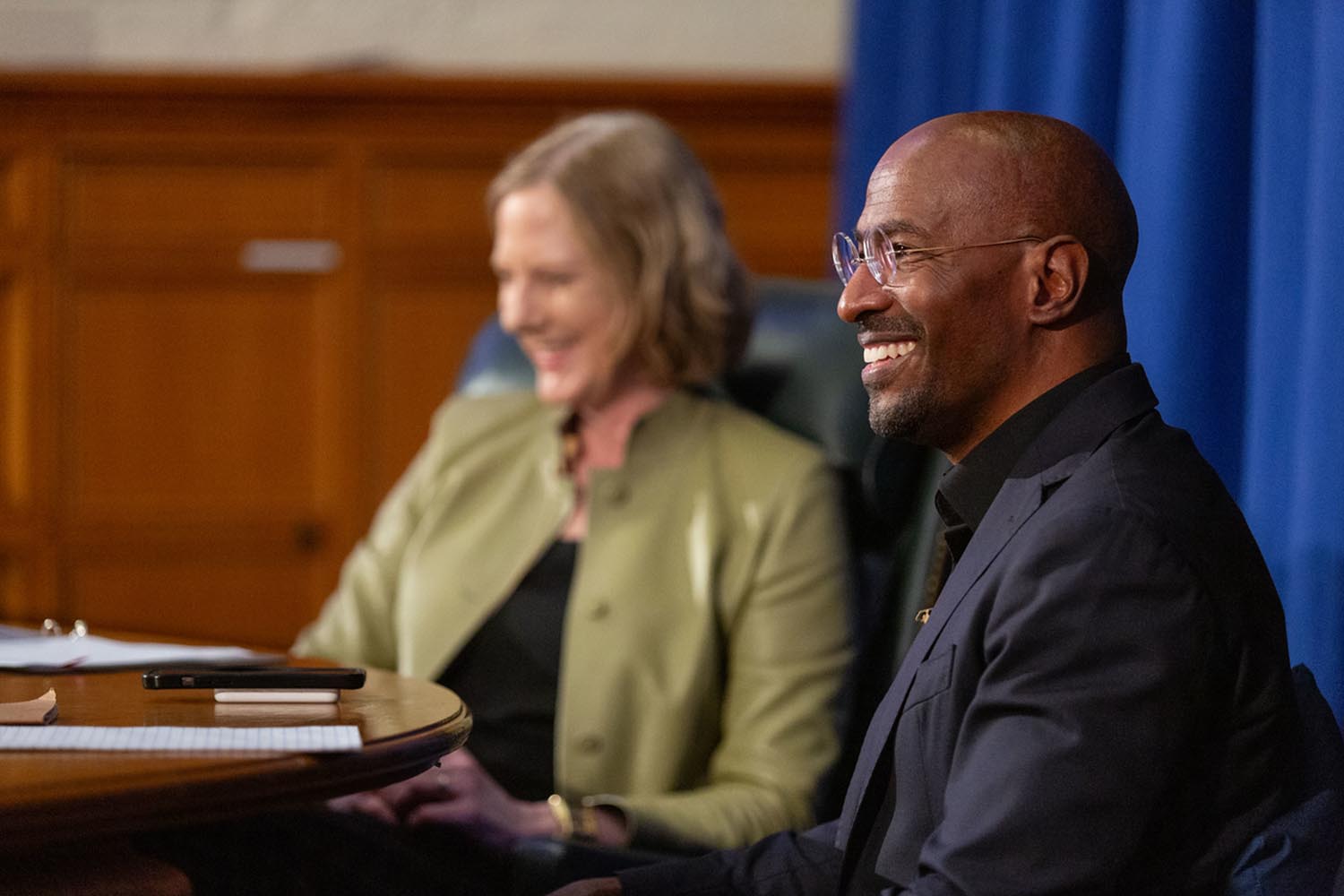 Raimondo called on current students as well as alumni to get involved in public service. 
"It's true that our politics have never been worse, but it's also true that it's never mattered more that good people raise their hand and are willing to serve," she said. "Because whether it's climate change, income inequality, competition, these problems will not be solved if you don't get in the game in some way. Every one of these problems is fixable if we decide to fix them. And they will not be fixed if we sit on the sidelines and complain."
The weekend also included a Changemaker Series conversation with Van Jones '93, author, political commentator, and CNN host. Jones recalled his experiences as a law school student and urged students to "fight every day for what you believe in." He also spoke to the audience about his efforts to work across party lines and find common ground wherever possible, including his work on bipartisan criminal justice reform that culminated in the passage of the First Step Act in 2018. 
Other weekend highlights included a discussion on the challenges posed by artificial intelligence to the ABA Rules of Professional Conduct hosted by Professor William Eskridge '78, the Alexander M. Bickel Professor of Public Law. 
Clinical Professor of Law Marisol Orihuela '08 hosted a conversation on immigrant rights and justice with several alumni at the forefront of this work: Charanya Krishnaswami '13, Counselor to the Secretary of Homeland Security; Efren Olivares '08, Deputy Legal Director for the Southern Poverty Law Center's Immigrant Justice Project; and Nicole Hallett '08, Clinical Professor of Law and Director of the Immigrants' Rights Clinic at the University of Chicago Law School.
Class reunion dinners were held for all classes ending in 3s and 8s, with a special 50th reunion dinner for the class of 1973 on Friday evening. Alumni also attended the student/alumni breakfast and special reunion class activities throughout the weekend.