Alumni Honor Forces Behind Clinical and Leadership Programs
Yale Law School's alumni organization chose six individuals for its highest honor this year: a graduate whose accomplishments have left an imprint on the nation's legal and financial landscape and five instructors instrumental to shaping the School's clinical program.
Dean Heather K. Gerken presented the 2023 Award of Merit on Oct. 21 during Alumni Weekend in the Levinson Auditorium. This year's honorees include Eugene Ludwig '73, former Comptroller of the Currency and driving force behind several recent Law School initiatives. 
READ MORE ABOUT ALUMNI WEEKEND 2023
The awards also highlighted Yale Law School's clinical program, which celebrated its 50th anniversary in 2022. Awards honored Sol Goldman Clinical Professor Emeritus Jean Koh Peters and the clinical program's founders: Clinical Professor Emeritus Dennis Curtis '66, William O. Douglas Clinical Professor Emeritus of Law Stephen Wizner, the late Professor Emeritus Daniel Freed '51, and the late Visiting Clinical Lecturer Francis X. Dineen '61. 
 
Eugene Ludwig '73
"If you look across Gene's career, you will see that at every single step, he has focused on those in need and the changes this country must make to live up to its values," Gerken said.
As Comptroller of the Currency under President Bill Clinton '73, Ludwig entirely revamped the Community Reinvestment Act, injecting billions of dollars into low- and moderate-income communities. After his tenure as Comptroller, Ludwig founded Promontory Financial Group and the Ludwig Institute for Shared Economic Prosperity, addressing regulatory, labor market, and economic inequality issues. 
Gerken also described Ludwig's contributions to the Law School. Ludwig and his wife, Dr. Carol Ludwig, were founding donors of the Hurst Horizon Scholarship, which covers full tuition for students with the greatest need. They also made possible the physical home for The Tsai Leadership Program, Carol & Gene Ludwig Hall, which was dedicated at Alumni Weekend in 2022. In addition, the Ludwigs supported a major pillar of the program, the Carol and Gene Ludwig Program in Public Sector Leadership, which prepares law students for careers in public service. 
"There are students walking the halls today whose entire lives have been changed thanks to Gene and Carol's dedication to giving back and breaking down barriers for the next generation of leaders," Gerken said.
Accepting the award, Ludwig described why the skills the Leadership Program imparts are critical for Yale Law School students and the future of the country. Ludwig said the program will give students tools for their future that are grounded in the values of Yale Law School — a dedication to truth, treating others with respect, and a dedication to service.
"YLS and this new leadership program, it seems to me, are critical in this troubled world," Ludwig said. "This school in particular is a place that seeks truth."
 
Jean Koh Peters
In her introduction of Sol Goldman Clinical Professor Emeritus of Law Jean Koh Peters, Gerken said that Peters has carried forward the torch of the Law School's clinical program for years.
As a lawyer of family and asylum law, Peters has been "a fierce advocate for children and families in need," Gerken said.
Peters was the first woman of color tenured at Yale Law School and during her tenure helped develop, teach, and disseminate what Gerken called "the gold standard in cross-cultural lawyering." Starting in 1999, Peters and Professor Susan Bryant co-created the Habits of Cross-Cultural Lawyering, a curriculum used in clinical practices across the United States. 
Peters "has dedicated the totality of her career to teaching and reminding us about the human dimension of law," Gerken said.
In her 30 years at Yale, Peters taught law students how to represent children, most recently in the Sol and Lillian Goldman Family Advocacy for Children and Youth Clinic. She also taught students how to represent asylum seekers, especially through the Immigration Legal Services Clinic. 
"Most importantly, she has taught us all how to be better students and teachers, advocates and lawyers, and especially, human beings," Gerken said. 
Peters delivered acceptance remarks in a recorded video. Her brother, Sterling Professor of International Law and former Dean Harold Hongju Koh, accepted the award on her behalf — marking the first time that a brother and sister have received the award, Gerken said.
Reflecting on her decades of teaching, Peters started her remarks with two concepts: flow and self-compassion. In the state of flow, according to Peters, a person is completely absorbed in an activity for its own sake. She described how she experienced moments of flow in teaching.
"I recognize now that flow and collaboration with students serving children and refugees filled my teaching and clinic with hope and joy," Peters said. "My 30 years at Yale are blur of days deeply engrossed in strategizing with students or clients who struggled to be at home in the world, exiled from all they knew."
Peters closed by asking listeners to consider how they might apply self-compassion in their work. She urged them to be kind to themselves not to improve their lives — though this may happen as a result, she said — "but simply because you suffer as your heart goes out to clients and friends and even strangers."
 
Dennis Curtis '66, Stephen Wizner, Francis X. Dineen '61, and Daniel Freed '51 
The final award recognized a collective: the architects of Yale Law School's clinical program. 
"These four remarkable men founded a program that has reshaped Yale Law School, generated waves of change that have washed across communities across the country and the world, and taught generations of students why service matters," Gerken said.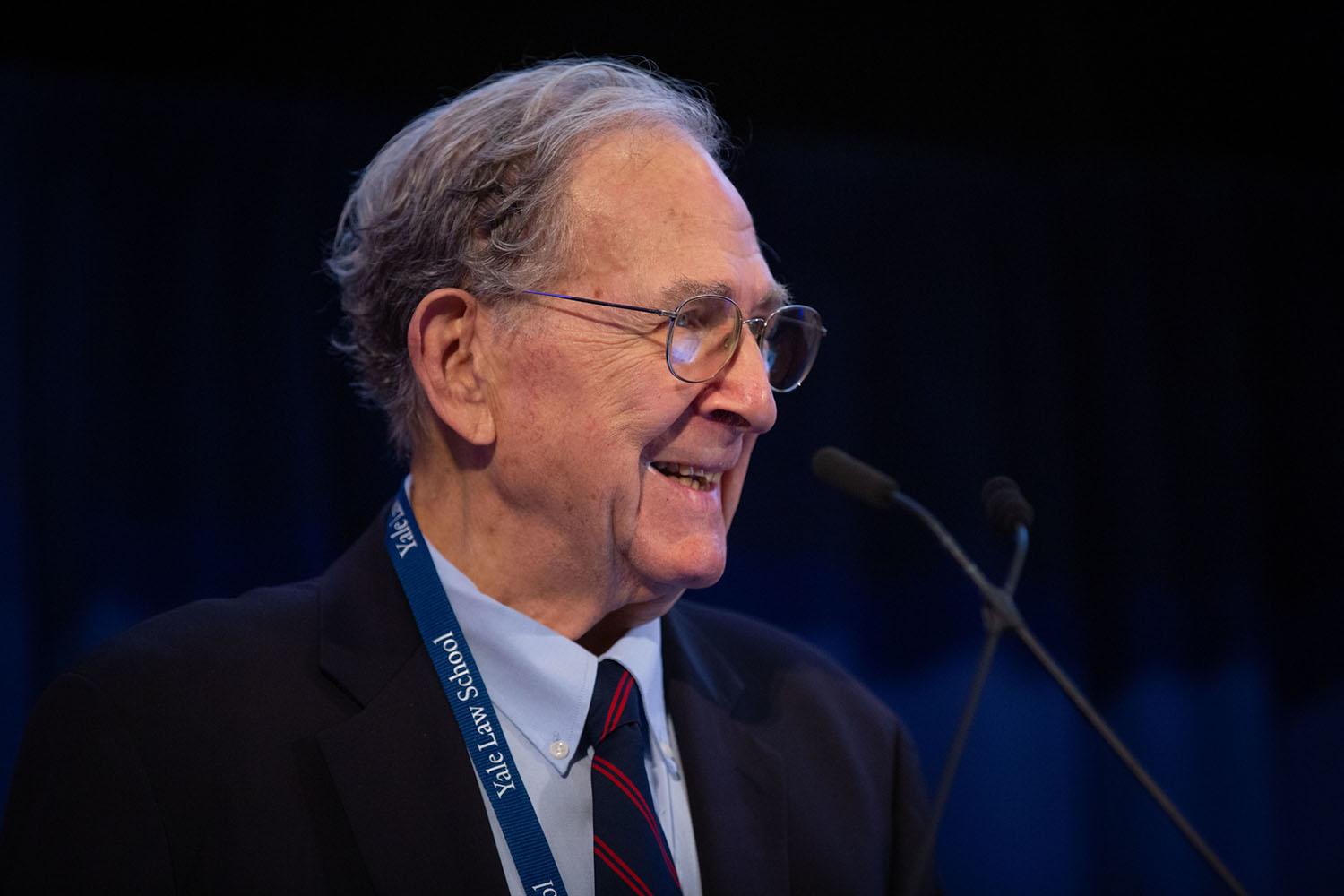 Gerken told the story of the clinic's founding by starting with Wizner, who joined the Law School in 1970 and began working to institutionalize a first-of-its-kind clinical education program at Yale. 
Before coming to Yale, Wizner worked for the Department of Justice's Honors Program as a trial attorney and later moved to New York City to serve as a neighborhood legal services lawyer. He was content to stay until a friend — Daniel Freed '51 — called and asked him to come to New Haven and discuss the possibility of setting up a clinical program together. Wizner agreed to the visit but said he would not leave his work in New York. When he arrived, Wizner was surprised to be met by a dozen students who were excited about the possibility of clinical education at Yale Law School.
"A true testament to the persuasive powers of Yale Law students, he was interviewing for the job by lunchtime," Gerken said.
In his remarks, Wizner commented that the program he helped to found emphasized students as clients' primary representation, with faculty in a supporting role. 
"We established an educational program in which students learned law through practice," Wizner said. "So if they needed to get some theory, they would get it. But as the saying goes, in theory, there's no difference between theory and practice. In practice, there is. So there was lots of discussion about the relationship of theory in practice."
Closely connected to Wizner's story is that of Daniel Freed '51, who died in 2010.
After serving in the Navy, Freed graduated from Yale Law School in 1951. He first worked as an investigator in the Senate and then in private practice in Washington, D.C. After a few years, he joined the Department of Justice. He eventually became the Director of the Office of Criminal Justice, an office he helped inaugurate in 1964 under Attorney General Robert Kennedy's leadership. Freed worked his way back to New Haven in 1969 to help oversee the buildout of the clinical education program. A few months later, he'd called Wizner, his former DOJ friend, with an idea. 
"Dan was, of course, not just a pioneer in education," Gerken said. "Dan led a movement to rethink, reframe, and reshape criminal justice in the United States."
Freed's scholarship on bail, detention, and sentencing helped usher in systemic criminal justice reform, Gerken said, adding that his book Bail in the United States is often credited as being the inspiration for the 1966 Bail Reform Act. 
Francis X. Dineen '61 became the full-time Director of New Haven's Legal Aid Bureau, the forerunner of today's New Haven Legal Assistance Association, in 1964. In that role, he taught Yale Law students through evening classes at the bureau, serving as their unofficial instructor. He gained a formal affiliation with the Law School in 1990, when he became a Visiting Clinical Lecturer.
He was Senior Counsel at New Haven Legal Assistance Association when he died in 2019 — one of the longest-serving legal services lawyers in the country. During his long career, he worked to amend Connecticut's landlord-tenant law to improve tenant protections and was involved in several landmark cases.
"Frank, more than anything, called upon us to expand our vision of how lawyers serve as a voice for the voiceless and as advocates for the underrepresented," Gerken said.
Gerken closed by quoting Dineen's remarks upon receiving the Distinguished Service Award from Yale University and Yale Law School: "Without legal representation, the law remains sealed in books and rights lose their meaning." 
Finally, Gerken introduced Dennis Curtis '66 , whom she called "another giant in the field of clinical legal education."
"Denny's work has not only challenged the status quo but has also paved the way for a more hands-on approach to legal education," Gerken said.
Curtis has supported students to represent federal prisoners at Danbury Federal Correctional Institution and patients at Connecticut Valley Hospital. He developed clinical offerings with the Connecticut agency charged with administering the lawyer disciplinary process. He facilitated numerous other opportunities for students to work in legal service programs on behalf of undocumented people, the elderly, the homeless, developmentally disabled people, and clients of legal aid societies. 
"Denny has a gift for inspiring students and helping them to reach their full potential. He is also a brilliant scholar," Gerken said. "His work on clinical legal education and criminal justice has profoundly impacted the legal profession and created space for students to work within legal institutions to assist directly with reform efforts."
Accepting the award, Curtis said that the moment brought him full circle. 
"Students were at the center of the founding of this school's clinical program — these students from 50 years ago and before, some of whom I see in the audience," he said. "This award is also a tribute to all of the many students and faculty who have helped the program to expand."
Since 1957, Yale Law School Association has annually bestowed the Award of Merit to graduates or faculty of Yale Law School for having made a substantial contribution to public service or to the legal profession.