Wednesday, April 4, 2018
---
CED Clinic Provides Training for Local Refugee Food Entrepreneurs
On February 24 and March 5, 2018, Yale graduate students and fellows in the Ludwig Center for Community & Economic Development (CED) held training sessions for participants in Sanctuary Kitchen's Kitchen Incubator Program. Rhoda Hassan '19, Chenault Taylor SOM '18, Jonathan Wong '18, and CED Fellows Brian Fink and Victor Rodriguez developed the materials and presentations for teaching local aspiring refugee/immigrant food entrepreneurs how to navigate the legal complexities of forming a food business and complying with food safety laws in Connecticut.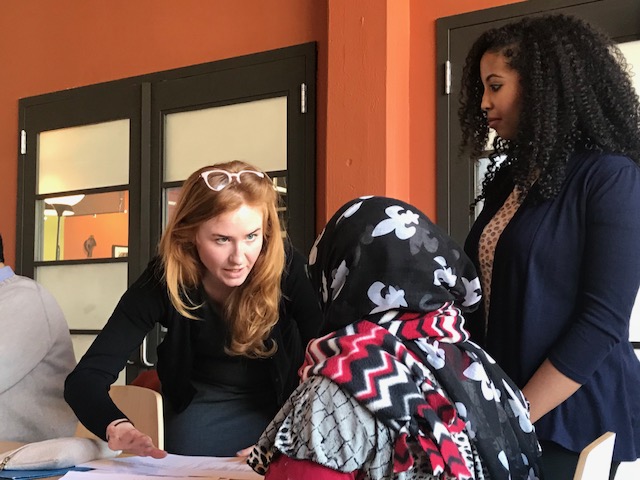 Sanctuary Kitchen is a program of CitySeed, a New-Haven based non-profit organization whose purpose is to foster community and economic development through the growth of an equitable, local food system. Launched in 2017, Sanctuary Kitchen hosts events, such as cooking classes, demonstrations, and supper clubs, where community members can meet and engage in culture exchange with refugees and immigrants who have been resettled in the area by hearing their stories and learning about the culinary traditions of their home countries. CitySeed's other activities include hosting farmers' markets in the Greater New Haven Area, leading the New Haven Food Policy Council, and renting out cooking space in their commercial kitchen to food entrepreneurs.
Sanctuary Kitchen introduced its inaugural Kitchen Incubator program in October 2017 with 10 participants. This 10-week training program is designed to provide resources, mentorship, and support to refugee and immigrant food entrepreneurs who seek to market food products from their home countries' culinary traditions.
"The participants came from varied backgrounds, some having extensive culinary backgrounds prior to being resettled and some nearer to opening their food truck or catering business," said Wong. "The incubator program was very beneficial to all participants as it provided key information and guidance that would have been otherwise quite difficult to find."
The CED clinic team, directed by Professor Anika Singh Lemar, assisted with the development of the curriculum for the Kitchen Incubator program, addressing the legal aspects of starting and running a food business. The topics addressed included business entity formation, state and local licenses for food establishments, applicable food safety laws, and insurance options. Each training session consisted of a presentation by the clinic team about the legal issues, followed by a working period during which each participant filled out various forms, applications, and questionnaires applicable to their food business. The clinic team, in conjunction with translators and Sanctuary Kitchen staff, provided individualized advice and guidance tailored to each participant's concerns. After this inaugural program, Sanctuary Kitchen aims to expand the program and provide resources and training to more refugees, immigrants, and asylum seekers interested in food entrepreneurship.
The CED clinic continues to assist CitySeed and Sanctuary Kitchen in a number of other initiatives, including opening up the New Haven commercial kitchen space to local food entrepreneurs and growing its catering operation. More information about Sanctuary Kitchen's programs can be found here.

The Ludwig Center for Community and Economic Development is part of the Jerome N. Frank Legal Services Organization at Yale Law School. CED provides transactional legal services to clients seeking to promote economic opportunity and mobility. CED's clients include affordable housing developers, community development financial institutions, farms and farmer's markets, fair housing advocates, and neighborhood associations.