Monday, May 24, 2021
---
Celebrating the Class of 2021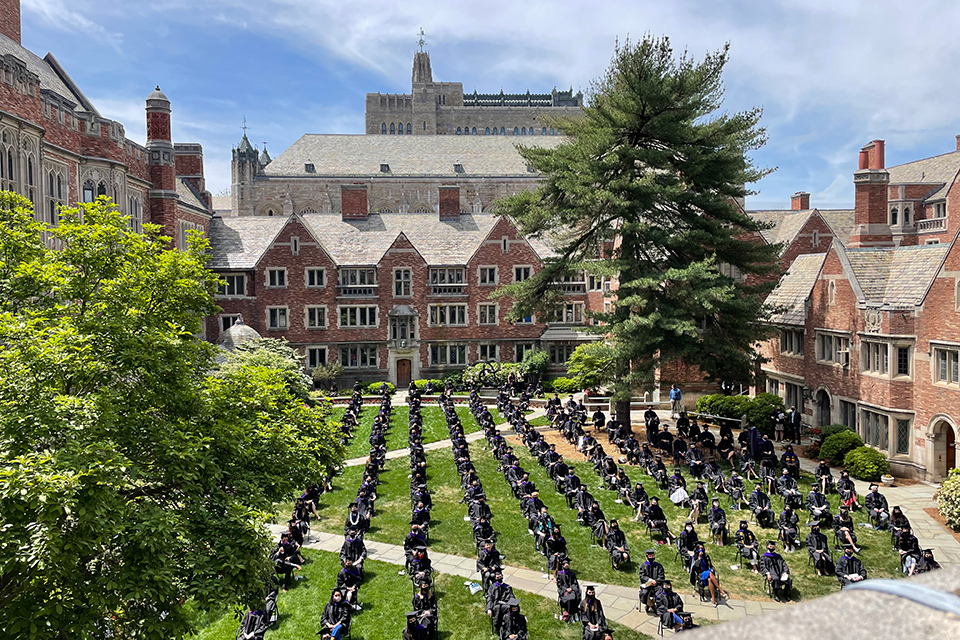 In a jubilant hybrid commencement celebration under clear blue sunny skies on Monday, May 24, 2021, more than 200 graduates of Yale Law School were celebrated for their perseverance during a year of tremendous obstacles and recognized for their remarkable academic and clinical achievements.
The Law School welcomed back students who have been studying remotely this year to the Sol Goldman Courtyard for the festivities under the guidance of University and public health protocols.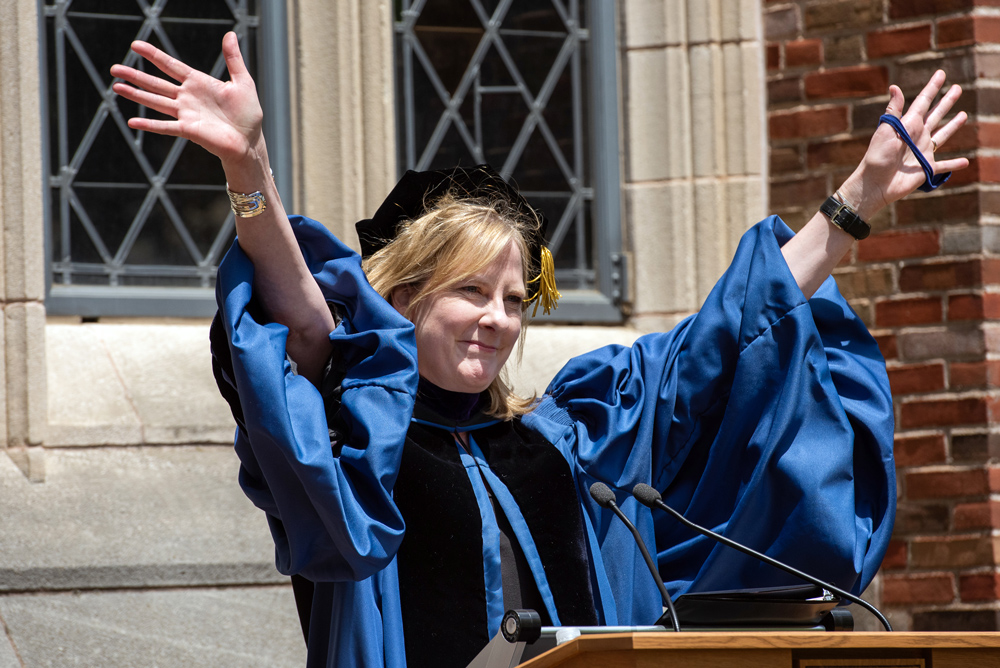 The morning began at 10 a.m. ET with Yale University President Peter Salovey's official conferral of student and honorary degrees on the Yale 2021 website.
At 12 p.m., the Law School's ceremony from the Courtyard was livestreamed for families and loved ones of the graduates, who could not attend in person due to public health guidance.
VIEW A PHOTO GALLERY OF YALE LAW SCHOOL COMMENCEMENT 2021
WATCH THE 2021 COMMENCEMENT VIDEO
Law School Commencement celebrations included a video message from faculty, including Professors Monica C. Bell '09, Lea Brilmayer, Paul Kahn '80, Yair Listokin '05, Daniel Markovits '00, Samuel Moyn, Claire Priest '00, and Cristina Rodríguez '00.
"Adversity can bring out the best in people, and that's certainly true of the class of 2021," said Moyn.
"You have big ideas, you have deep ideas, you have contributed to the world through the work that you've done on the ground, through the advocacy in which you've already engaged," Rodríguez said. "This experience no doubt has made you extraordinarily resilient, and adaptable and committed to making the world a place where we can all accomplish our goals and objectives."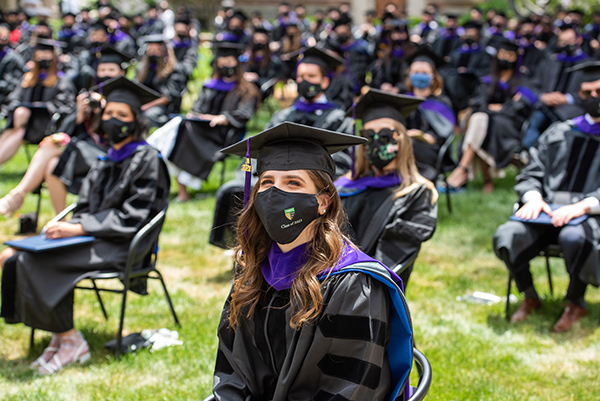 Following the remarks from faculty, Dean Gerken introduced guest speaker Associate Justice of the Supreme Court Sonia Sotomayor '79, who addressed the graduating class in remarks via video.
"You have finished a remarkable journey during especially difficult times," she said.
Sotomayor spoke of the difficulties of the legal profession and the power of the class of 2021 to effect change in the world.
"You are a new generation of talented, caring, and courageous people who will take the reins of our profession and continue the drive toward progress," she said. "The thought of all of you and everything you are poised to achieve buoys my spirits and renews my faith."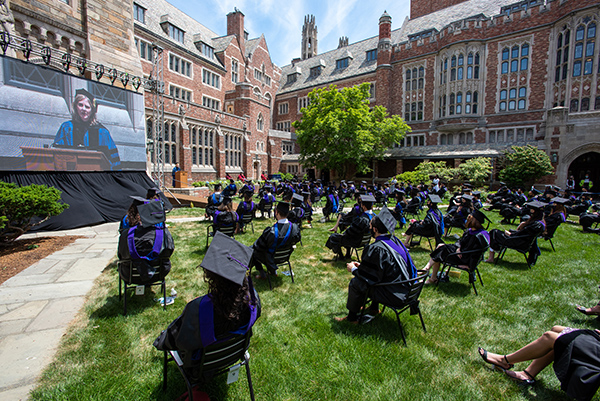 In her remarks to the class, Dean Heather K. Gerken spoke about the class's resilience and ability to thrive while helping others.
"This class includes students who possess the imagination not only to succeed at the goals they've been given, but to set their own," Gerken said. "The resilience not only to care for themselves, but also to advocate for others. And the empathy necessary to be good thinkers, good lawyers, and — above all — good people.  Imagination, resilience, and kindness — those are the qualities that the world needs right now."
Earlier in the weekend, Law School faculty held Zoom office hours on Sunday to connect with graduates and their families and wish them well.
Two hundred and twenty-seven degree candidates were honored on Monday, including 218 J.D. candidates, five LL.M. candidates, three J.S.D. candidates, and one M.S.L. candidate.
---
Visit the Yale Law School Commencement platform to view a photo gallery and watch the Commencement ceremony on-demand.