Monday, May 23, 2022
---
A Celebration of the Class of 2022 — Strength, Tradition, and Community
Law School student marshals began the day's ceremonies with a procession to Yale's Old Campus
The Yale Law School Class of 2022 was celebrated for its tenacity, strength, and community in Commencement ceremonies on May 23 on an exceptionally clear and sunny spring day in New Haven.
In her remarks, Dean Heather K. Gerken recounted the graduates' unusual Yale Law School career. On March 6 of their first year, 1L J.D. students left for spring break and did not return until the following fall. For some, it was even later. By facing the unexpected, the graduates learned to lean on each other to find strength in uncertain times.
"What leaves me in awe of this class is that you did everything that most YLS students do — extraordinary academic work, remarkable lawyering — during a period when it would have been remarkable just to get through," Gerken said. "What touched me even more is that you didn't stop there — you helped one another get through."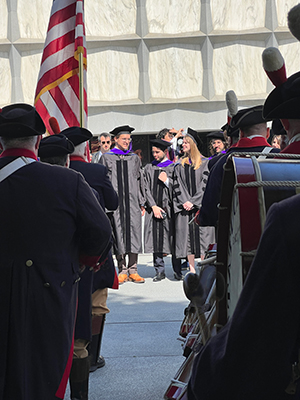 VIEW A PHOTO GALLERY FROM COMMENCEMENT 2022
WATCH THE VIDEO OF THE CEREMONY
Once the graduates returned to the Law School, its members were the only students in attendance who knew what life was like at Law School before the pandemic. Gerken reflected on how the class became keepers of tradition. They bought back cornerstone events of law school life and showed new 1Ls "the Table," a Sterling Law Building landmark.
"More than any other class in our memory," she said, "you have served as the link between past generations of graduates to those yet to arrive, between the glorious place this was pre-pandemic and the glorious place it will be."
Through the challenges of the pandemic, graduates acquired strengths and skills that will sustain them, Gerken said.
"You learned one crucial lesson much sooner than most graduates — that your journey will never unfold exactly in the way that you expect it to," Gerken said. "Anyone a decade out from law school could likely tell you that, but you all lived this lesson in ways that no previous law school class ever has."
Binger Clinical Professor of Human Rights James Silk '89 was selected to address the graduates as faculty speaker. In his remarks, Silk touched on two themes — humility and solidarity — that guide his work.
"As lawyers — in domestic practice just as in international human rights practice — achieving justice requires us to be creative," Silk said. "Not stuck on courts, and especially, to subordinate our elite efforts to movements for justice and equality, to listen to those resisting unjust power and yes, to help them wield the language of rights and the language of law to make their demands."
Award-winning novelist and essayist Chimamanda Ngozi Adichie, the year's guest speaker, urged the class to hold close to the ideals and goals they first entered law school with.
"I hope you know that idealism versus realism is a false choice," she said. "And I hope you continue to refuse to accept that unacceptable things must remain as they are."
The ceremony included recognition of an honoree, federal Judge Myron Thompson '72, whom Gerken called "a civil rights champion," and who received an honorary Doctor of Laws degree from Yale University earlier in the day.
In her address, Gerken emphasized the power of collectively sustaining one another throughout the difficult years of the pandemic. 
"When you heard tough news about a loved one or the state of the world, it was not your position on a journal or your CV or transcript that sustained you," Gerken said. "It was the community you had found for yourself here."
This year's Commencement honored 252 degree candidates, comprising 206 J.D., 38 LL.M., three MSL, and five J.S.Ds.