Wednesday, February 5, 2020
---
Conference Held on the Life and Legacy of Charles Reich '52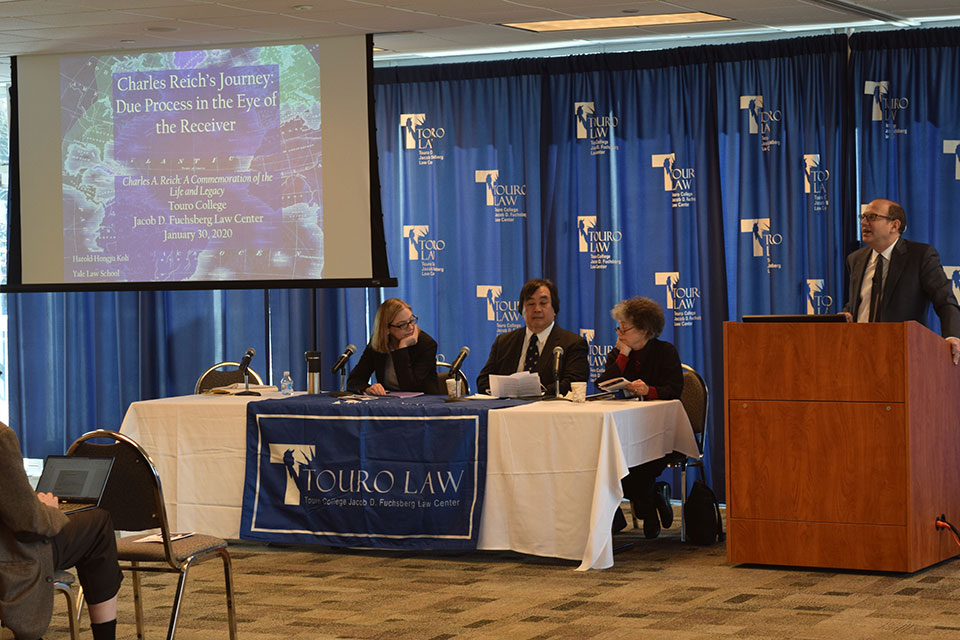 The Touro College Jacob D. Fuchsberg Law Center held a daylong conference on Thursday, January 30, 2020 commemorating the life and legacy of former Law School professor Charles A. Reich '52, who died on June 15, 2019.
Reich taught at the Law School from 1960 to 1974. His 1964 Yale Law Journal article "The New Property," influenced Supreme Court case law and continues to inform how Property and Constitutional Law are taught. His 1970 book The Greening of America, a tribute to 1960s counterculture, became an unexpected bestseller. In 2008, he received the Award of Merit from the Yale Law School Association.
The conference was organized by Rodger Citron '92, Associate Dean for Research and Scholarship and Professor of Law at Touro College, Jacob D. Fuchsberg Law Center.
"I met Charles in my last year of law school when he returned to Yale as a visiting professor," said Citron. "Later I became interested in writing about him and we became friends. Our conversations covered many subjects — from his clerkship with Justice Hugo Black and his friendship with Justice William O. Douglas to his views on contemporary law and society — and occurred over a more than 15-year period. It was an honor to chair this conference celebrating his life and work."
WATCH: Videos from the Conference
Sterling Professor of International Law Harold Hongju Koh spoke at the conference and gave an overview of Reich's life and lasting influence.
"The Conference was an extraordinary tribute to Charles Reich: a distinctively Yale Law School visionary, who could create with his pen worlds others could see only dimly," Koh said. "His life was a lifelong struggle to understand his own identity, the community to which he belonged, and how to prevent the law and system that we have created from destroying what makes us human."
Reich moved to San Francisco in 1974 but returned to teach at the Law School from 1991 to 1994 and again in February 2011.
"We should honor his life's journey as an anthem to human rights and a call to recognize personhood, a community that unites us, and due process in the eye of the receiver, not just the state," Koh said.
In addition to Koh and Citron, speakers and presenters at the conference included Sterling Professor Emeritus of Law Guido Calabresi '58, John Q. Barrett (St. John's Law School), Ray Brescia '92 (Albany Law School), Joseph M. Field '55 Professor of Law Doug Kysar, Gillian Metzger (Columbia Law School), Arthur Liman Professor of Law Judith Resnik, Sarah Seo (Iowa Law School), and Karen Tani (Berkeley Law School).