Friday, July 8, 2022
---
Deported Veteran Now a U.S. Citizen with Clinic's Help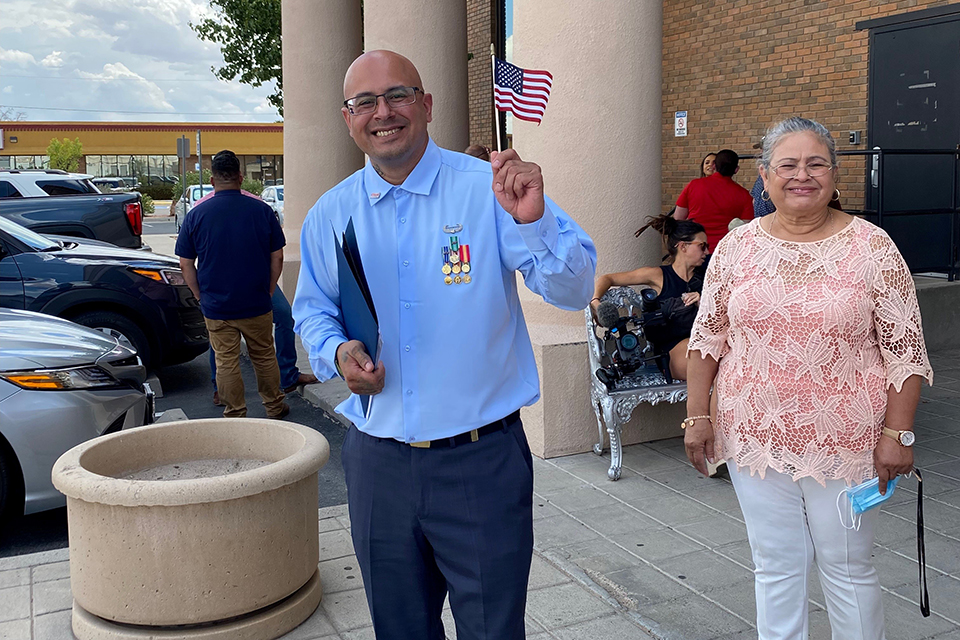 Veterans Legal Services Clinic client Ivan Ocon returned to the U.S. after being deported to Mexico in 2016. With the clinic's help, he became a U.S. citizen on July 7.
A deported U.S. Army veteran represented by the Veterans Legal Services Clinic has returned home and become a U.S. citizen.
Ivan Ocon, who served in the army for more than six years and was deported to Mexico in 2016, took his oath of citizenship in El Paso on July 7. Ocon, who grew up in Las Cruces, New Mexico, was a legal permanent resident during his Army service, which included a deployment to Jordan during the Iraq War. But he was deported for post-service criminal convictions which, under current law, no longer bar immigration relief. While in Mexico, Ocon joined a community of deported veterans and worked on their behalf.
The Veterans Legal Services Clinic and several organizations advocated for Ocon, and the Clinic filed a naturalization petition in September 2021. A few months later, with the help of local counsel Coyle & Benoit in El Paso, clinic students drafted and filed a petition for a writ of coram nobis or audita querela in the U.S. District Court for the Western District of Texas, seeking to vacate Ocon's firearms conviction. That petition was granted by U.S. District Court Judge David Briones in March 2022.
This spring, the team filed an application for humanitarian parole for Ocon, which was granted, and he was able to enter the U.S. on the morning of July 5 via El Paso. He passed his naturalization interview and civics test the following day — the latter with a perfect score. Ocon took the oath of citizenship in a ceremony on July 7.
"Ivan's story is a phenomenal victory, not only for himself and his family, but for the entire Deported Veterans movement who fought side-by-side with him, especially Repatriate our Patriots," said Nate Urban '23, a member of the clinic who worked on the case and traveled to El Paso for Ocon's citizenship interview and ceremony. Urban was joined in El Paso by William O. Douglas Clinical Professor of Law Michael Wishnie '93.
The clinic first met Ocon through a collaboration with the AFL-CIO Union Veterans Council. Urban noted that the Immigrant Military Members and Veterans Initiative, established under the Biden administration to assist deported veterans, was helpful to Ocon's case. But, Urban added, challenges for deported veterans remain. The first is finding them. A 2019 Government Accountability Office found that the U.S. government does not keep track of deported veterans.
"We simply don't know how many deported veterans there are and where they are, let alone the details of their cases and how to repatriate them," Urban said.
In addition, Urban said, deported veterans need lawyers. He noted that a law enacted last year allows the U.S. Department of Veterans Affairs to fund legal services, including for the deported veterans. However, the VA has yet to provide this funding.
"The burden for this work cannot be placed on the individual deported veterans who are in a daily fight for survival," Urban said. "Only the federal government has the resources needed to right these wrongs, once and for all."  
Other clinic members who worked on the case included Casey Smith '22, and Brian Liu '24, together with LSO summer intern Ryan Carson.
The Veterans Legal Services Clinic, part of the Jerome N. Frank Legal Services Organization at Yale Law School, represents veterans and veterans' organizations in individual and national litigation and regulatory and legislative reform efforts.