Wednesday, September 28, 2022
---
Echoes of Attica Brings 1971 Prison Uprising to Life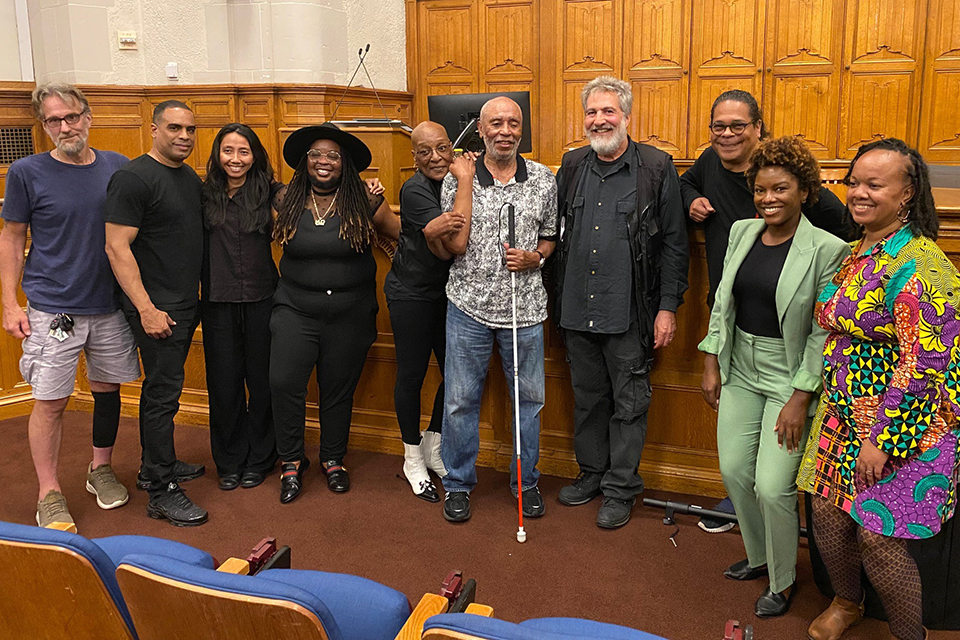 Members of the show Echoes of Attica (from left) Jason Torello. Dario Peña, Dinny Aletheiani, BL Shirelle, Simply Naomi, Carlos Roche, Ronald Jenkins, and Eddie Torres, with Kayla Vinson, Executive Director of the Law and Racial Justice Center, and Jennifer Taylor '10, Director of the Liman Center
The Arthur Liman Center for Public Interest Law recently co-hosted Echoes of Attica, a performance of original music, poetry, and dramatic readings based on court transcripts, recently released FBI files, and interviews with eyewitnesses of one of the deadliest prison massacres in U.S. history. The Sept. 12 performance in the Levinson Auditorium coincided with the anniversary of the event.
From Sept. 9 to 13, 1971, men imprisoned at New York's Attica State Prison rose up to protest mistreatment and dehumanizing conditions. New York State responded by sending in troops, and the result was the brutal suppression of the incarcerated men's calls for reform. The investigative report later released by the Attica Commission, whose Chief Counsel was Arthur Liman '57, described the violent raid that killed dozens as "the bloodiest one-day encounter between Americans since the Civil War." 
Liman Center Director Jennifer Taylor '10 and Kayla Vinson, Executive Director of the Law and Racial Justice Center at Yale Law School, welcomed the audience. They read the names of the individuals killed at Attica and discussed the centrality of incarceration to the United States and to legal education. Carlos Roche, 80, a survivor of the Attica assault, provided an introduction. He described getting to know and respect Arthur Liman, recalling, "He was a gentleman, and he was a good guy."
First performed last year for the uprising's 50th anniversary, Echoes of Attica featured several actors and musicians who were formerly incarcerated, including Philadelphia rap poet and activist BL Shirelle and the gospel singer Simply Naomi. Original music inspired by the Attica events was interspersed with cast members reading from a script composed of survivor testimony, national news coverage published in 1971, and the now-declassified words of officials including FBI Director J. Edgar Hoover, New York Governor Nelson D. Rockefeller, and President Richard Nixon. 
The full cast participated in a post-performance panel discussion, in which they described their connections to the legal and prison systems, and the ways that theater and music have enabled them to heal and to help others. Roche shared that the passage of time has not erased memories of the brutal violence, the friends whose deaths he witnessed, and the investigators he met afterward.
The performance and discussion resonated with Liman Center student director Berto Sicard '24, one of the more than 100 faculty, students, and community members in attendance. "Echoes of Attica's reliance on both historical sources and survivors' experiences brought the Attica Prison rebellion to life at Yale Law School in a powerful, emotional, and meaningful way more than 50 years later," he said.
The event was co-sponsored by the Law and Racial Justice Center, Yale Repertory Theater, Yale Institute of Sacred Music, Yale Divinity School, Afro-American Cultural Center at Yale, Yale College program in Theater and Performance Studies, and the Wesleyan University Allbritton Center for the Study of Public Life.