Thursday, March 7, 2019
---
­­­Former Robina Fellow Lani Inverarity '15 Shares Win for Land Rights in Haiti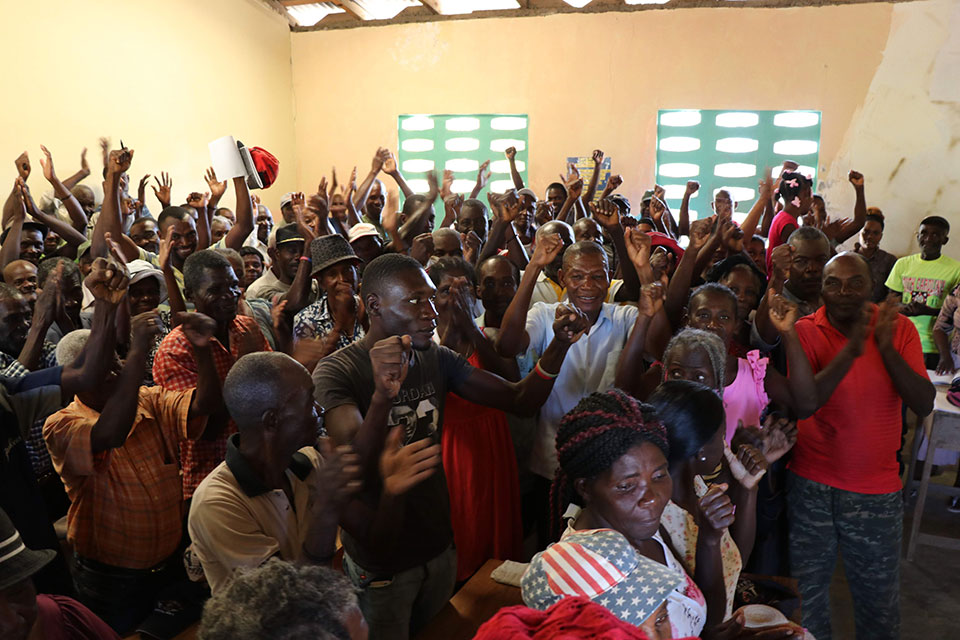 Members of the Kolektif vote to approve the agreement.
It took nearly eight years to achieve justice. But in December 2018, a complaint filed by more than 420 Haitian farmers and their families culminated in a historic agreement with the bank that once displaced them. Lani Inverarity '15 L.L.M. explained that what began as a mere dream "now has the potential to change the lives of thousands of people."
Inverarity is a Senior Communities Associate at Accountability Counsel, a nonprofit organization that provides pro bono legal support to communities around the world who are facing environmental and social abuses as a result of internationally financed projects. Since she joined Accountability Counsel in 2015, Inverarity has worked with a group of Haitian farmers called the Kolektif Peyizan Viktim Tè Chabè, who were displaced from their land by a large industrial facility, Caracol Industrial Park, a project of the Inter-American Development Bank (IDB).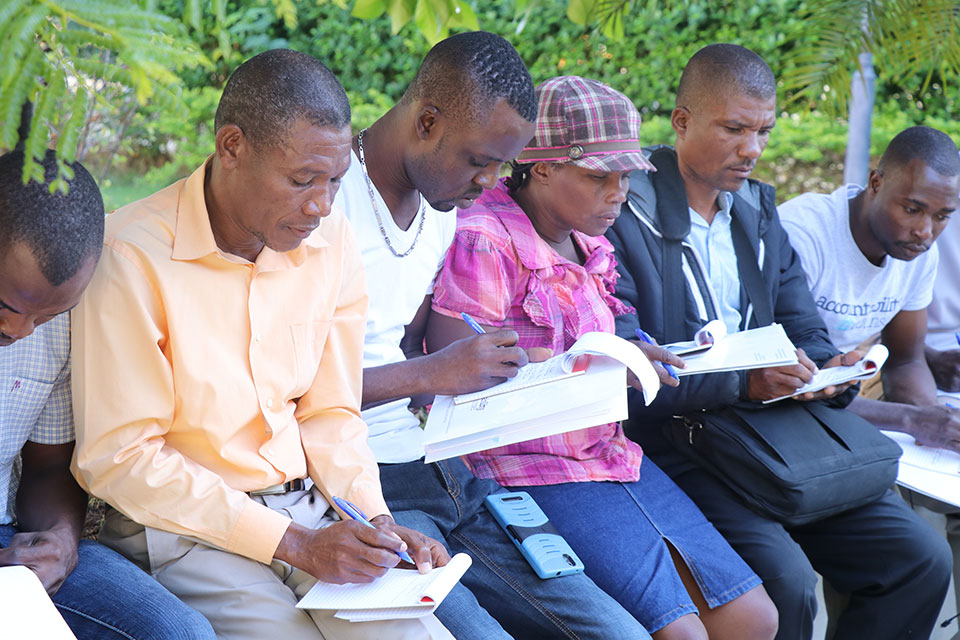 From the beginning, Inverarity said, she "saw incredible potential to seek remedy for the harm they were suffering." After losing their land, the Kolektif farmers told Inverarity that they experienced "total misery." Not only were they forced off of the land that many had been farming for decades, but they also lost their primary source of food security and income. Farmers were no longer able to pay their children's school fees, feed their families, or satisfy other basic necessities. This extreme level of vulnerability meant that "the social fabric of the community was damaged," Inverarity said, citing reports of increasing gender-based violence as evidence of the social harms inflicted by land loss. The farmers and their families waited almost three years for promised replacement land, only to be told that most would instead receive an inferior cash compensation package that proved insufficient to purchase new land or establish new, sustainable livelihoods. With each month and year, the farmers' situation grew still more precarious.
The Kolektif responded to the harms facing their community with extraordinary resilience and unity, Inverarity emphasized. In the face of powerful forces, the farmers organized themselves and began to document what was happening to them. They created a sophisticated system to elect leaders while maintaining participation of the wider group. According to Inverarity, these efforts proved critical to the Kolektif's ultimate success. "When they were able to speak with one voice — a voice that captured the diversity of their membership — they were so strong," she said. The Kolektif sustained this activism for almost three years before they approached Accountability Counsel for assistance.
At that time, Inverarity was in her first year at Accountability Counsel on a Robina Foundation Post-Graduate Human Rights Fellowship. She quickly became part of the coalition that the Kolektif was actively constructing. "Because of the imbalance of power" between the Kolektif and the IDB, Inverarity explained, "they wanted to build a coalition with themselves at the center that would be supported by local grassroots organizations, national Haitian organizations, and international groups that would be able to elevate their concerns [to global attention]."
Accountability Counsel belonged to the latter category. As part of its efforts, Inverarity helped the Kolektif submit a complaint to the Independent Consultation and Investigation Mechanism (MICI). The complaint described the social and economic harms suffered by the farmers when their land was taken from them, as well as the environmental costs of the industrial park that replaced their farmland. Accountability Counsel also assisted the Kolektif through the subsequent dispute resolution process, which involved a facilitated dialogue among the Kolektif, IDB, and the Haitian government. Inverarity noted that dialogue between stakeholders is often a necessary and viable solution in Accountability Counsel's cases. She explained that dispute resolution is a valuable alternative to "traditional methods of legal recourse such as litigation, [which] often aren't available for a whole host of legal or practical reasons, such as restrictions on jurisdiction or dysfunctional judicial systems, or lack of access to lawyers."
After a year and a half and six rounds of facilitated dialogue, the parties reached an agreement to implement several measures to restore the livelihoods of the Kolektif farmers and to correct the harms inflicted on them. One hundred of the farmers would receive new land, while others would receive modern agricultural equipment and technical training and guaranteed employment. The agreement also placed particular emphasis on vulnerable community members such as women and people with disabilities who could receive support to launch small businesses. This initiative was the result of farmers surveying the wider community and bringing their findings to dialogue sessions, which allowed them to demand remedies specific to its most marginalized members.
The success won by the Kolektif is a testament to the farmers' solidarity and hope. "Many farmers who experience [land grabs] feel helpless and hopeless and can't see any avenues for justice," she explained. "These farmers' commitment to justice really drove them forward and kept them motivated and unified."
"As a lawyer," she added, "to meet the community that has such a strong belief that justice is possible and would work for it even facing an imbalance of power like they did…it's an incredible thing to see and be a part of."