Tuesday, January 24, 2023
---
Guido's Tales
Professor Guido Calabresi at a celebration of his 75th birthday in 2007.
For more than six decades, Guido Calabresi '58 has been a pillar of Yale Law School. Senior Research Scholar Norman Silber's two-volume set Outside In: The Oral History of Guido Calabresi, recounts Calabresi's formative years and chronicles his extraordinary career as a teacher, dean, and jurist.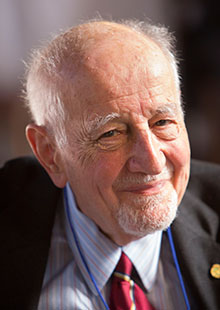 Calabresi is Sterling Professor Emeritus of Law at Yale Law School, which he led as Dean from 1985 until 1994, when he was appointed to the U.S. Court of Appeals for the 2nd Circuit by President Bill Clinton '73. He has authored seven books and more than 100 articles. A legendary professor who has taught three sitting U.S. Supreme Court justices and a co-founder of the field of law and economics, Calabresi ranks among the most influential legal scholars of his time.
Calabresi, Silber writes, is "a man who, for much of his life of high accomplishment, has nonetheless identified himself as an outsider." Silber begins his story not with the heights that Calabresi has scaled but rather a moment of desperation: the Calabresi family's escape from fascist Italy in 1939. He traces how Calabresi's parents, Italian anti-fascist activists of Jewish heritage, instilled in their son a deep-seated sense of justice and moral responsibility.
Outside In details the antisemitism and anti-Italian prejudice that Calabresi faced upon arriving in New Haven. Silber records how the example of his parents guided Calabresi through Yale College, a Rhodes Scholarship, and Yale Law School. Subsequent parts cover Calabresi's distinguished scholarly career, deanship of the Law School, and decades of service on the federal bench. He illuminates Calabresi's lifelong commitment to fighting for and upholding civil rights, as well as his participation in social and legal debates that gripped the nation.
The narrative gives particular heed to Calabresi's indelible impact on Yale Law School, the place that shaped him as a lawyer and that he in turn would shape. Calabresi joined the Law School's faculty two years after he graduated, having in between earned a second master's degree from Oxford and clerked for Justice Hugo Black of the U.S. Supreme Court. Calabresi, who became Yale Law School's youngest ever full professor in 1962, transformed the institution during his nearly 10 years as Dean. Among other pivotal changes discussed in Outside In, Calabresi secured the Law School's financial independence and modernized its facilities.
Part oral history and part biography, Outside In is the culmination of Yale Law School's Guido Calabresi Oral History Project, which began in 2010. At the invitation of then-Dean Robert C. Post '77, Silber interviewed Calabresi on more than 100 occasions and spoke with dozens of his colleagues on the faculty. The transcribed and edited recollections are accompanied by Silber's critical commentary, which adds historical and social context.
Norman Silber is Associate Dean for Intellectual Life and Professor of Law at the Maurice A. Deane School of Law at Hofstra University. His previous work includes With All Deliberate Speed: The Life of Philip Elman, An Oral History in Mr. Elman's Words (University of Michigan Press, 2004) and A Corporate Form of Freedom: The Emergence of the Modern Nonprofit Sector (Westview Press, 2002). The Law School has previously published selections from Silber's conversations with Calabresi: Guido Calabresi: In His Words (2012) and Guido Calabresi: A Foreigner in New Haven, 1940–1945 (2016).