Monday, June 29, 2020
---
James Bhandary-Alexander Named Inaugural Medical Legal Partnership Legal Director
In July, Yale New Haven Hospital (YNHH), Yale School of Medicine, and the Solomon Center for Health Law and Policy at Yale Law School will welcome James Bhandary-Alexander to serve as the Solomon Center's inaugural Medical Legal Partnership (MLP) legal director. Bhandary-Alexander will work closely with the Solomon Center's MLP students, partner with New Haven's other MLPs, and work to strategically advance the goals of the MLP program at Yale New Haven Health and in the community.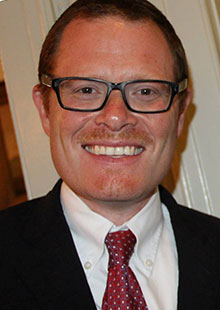 MLP is a model used around the country that combines health and legal services at a single site of care to address social determinants of health and provide care. With this new hire, New Haven's Medical Legal Partnership (MLP) coalition is expanding to address more patients' health-harming legal needs.
"We are thrilled that James is coming to Yale New Haven Hospital to help expand our MLP programs," said Jennifer Willcox, vice president Legal Services, Yale New Haven Health. "The ability for our patients to access legal resources during their visits can be critical to their care and can help clinicians address specific health-harming legal needs quickly and effectively."
There are four MLPs within the YNHH/YSM system targeted at addressing different patient populations — children (in collaboration with Center for Children's Advocacy), palliative care patients and the elderly (PMLP), immigrants (HAVEN) and the formerly incarcerated (Transitions). In addition, Connecticut Veterans Legal Center, located at the Errera Community Care Center, serves Veterans.
In his new role as MLP Legal Director, Bhandary-Alexander will work closely with medical partners at the Transitions Clinic (part of YNHH's primary care clinic) and HAVEN Free Clinic to expand the representation available to patients and in so doing create new learning opportunities for Law School students. HAVEN is a free clinic operated by Yale medical, nursing, and public health students for uninsured patients, the great majority of whom are also undocumented immigrants. Transitions clinic serves those returning home from prison. In both clinics, Law School students work as part of multidisciplinary teams including medical providers and social workers and meet directly with patients to conduct legal screening and identify health-harming legal issues such as housing, immigration issues, labor and employment, landlord/tenant concerns, domestic violence, and public benefits. This spring, MLP students and staff also worked tirelessly on issues relating to Covid, including the special health dangers faced by incarcerated and detained indviduals.
"By combining medical care with legal advocacy, MLPs promote individual well-being, attack structural sources of poor health, and create an opportunity for law students to express care through high-quality legal work," said Bhandrary-Alexander. "I cannot wait to get to work."
Bhandary-Alexander will be able to provide direct representation to HAVEN and Transitions patients and establish a connection on-site in real time with patients, while continuing to work with students to screen and represent clients. NHLAA will continue to be a critical partner for the MLP program and continue to take referrals. Bhandary-Alexander's connections with NHLAA are strong: he joins the MLP program from NHLAA where for eleven years he served hundreds of low-income clients from New Haven County in matters of labor and employment, housing, benefits, police misconduct, immigration, and other civil rights issues. For the last three years, Bhandary-Alexander has also served as a clinical instructor in the Law School's Immigrant Rights Clinic, teaching students the fundamentals of advocacy in the context of actual client representation.
In addition to providing representation at the Transitions and HAVEN MLPs, Bhandary-Alexander will help coordinate student involvement in the other New Haven MLPs, and work with Solomon Center Faculty Director, Professor Abbe R. Gluck '00 and its Executive Director, Katherine Kraschel, to co-teach the seminar course for Law School MLP students. "James is a tremendous addition to the program," Gluck said. "His leadership expands the services we can provide to the diverse New Haven populations we serve, and will undoubtedly also enrich our student experience enormously."
Bhandary-Alexander will also lead a strategic planning effort for YNHH to identify areas of additional needs within the community and opportunities for possible expansion of the MLP at YNHH, including possible funding sources. "We couldn't be more excited for James to join the MLP team. His passion to serve the patients at HAVEN and Transitions is evident, and his experience and connections in the New Haven community make him an outstanding fit for the new role," Kraschel said.