Monday, December 9, 2019
---
Jennifer Jacquet and Becca Franks on Industrial Fishing and Fish Farming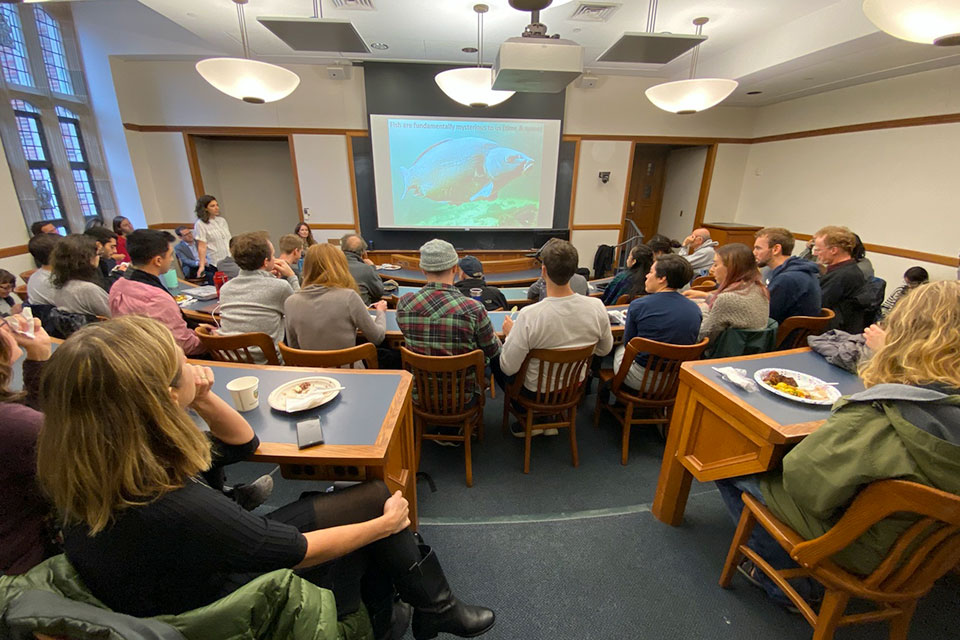 Dr. Jennifer Jacquet and Dr. Becca Franks discussed science and policy issues related to industrial fishing and fish farming on November 12, 2019.
The Law, Ethics & Animals Program (LEAP) hosted New York University's Dr. Jennifer Jacquet and Dr. Becca Franks for a multidisciplinary discussion of science and policy issues related to industrial fishing and fish farming. Their November 12, 2019 talk, "Fish, Fisheries, and Ending Factory Fishing and Farming," was cosponsored by the Yale Animal Law Society and the Yale Animal Welfare Alliance.
WATCH: Video of Jennifer Jacquet's and Becca Franks's talk. 
Franks, whose research focuses on fish behavior and welfare, described the pervasive assumption that fish are simple or primitive — a misconception that she attributes to humans' unfamiliarity with aquatic dwellers. As a result, there is a dearth of scientific literature describing fish well-being. Historically, research has focused primarily on the "biological health" of fish; these findings serve the interests of the fishing industry but are of limited use to fish welfare in a broader sense. Furthermore, species-specific research is often generalized to trillions of other fish, despite profound differences in distinct species' behavior and needs. Science, Franks said, must fill in these gaps. Citing research chronicling the complexities of fish cognition and social interactions, she discussed ways that researchers can advocate for fish well-being.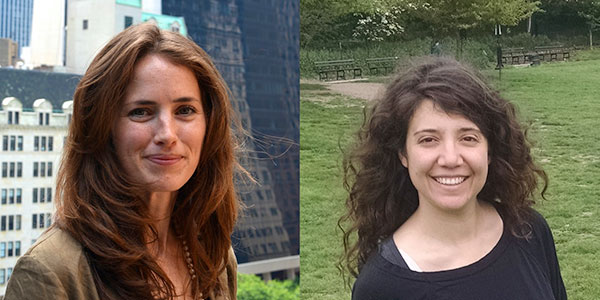 Jacquet, who studies large-scale cooperation dilemmas including marine animal exploitation, went on to discuss the ramifications of overfishing and the proliferation of aquaculture. Despite claims that aquaculture is a solution to global food insecurity, Jacquet argued that this practice only increases the pressure on wild fish, because so many fish are caught to feed farmed fish. Aquaculture has other impacts as well including nitrogen outputs from fish farms and the potential introduction of invasive species. She also noted the pervasive issue of forced labor within the fishing industry and especially on the high seas, which is often difficult to regulate. Jacquet pointed to governmental subsidies for fishery capacity-building as a promising target for advocates hoping to curb the expansion of the fishing industry.
Franks received her Ph.D. in Psychology from Columbia University in 2012 and completed a Killiam Postdoctoral Research Fellowship with the Animal Welfare Program at The University of British Columbia. She is a Visiting Assistant Professor in the Department of Environmental Studies at NYU and funded by the Open Philanthropy Project to use statistical modeling to examine fish welfare, curiosity and cognitive enrichment, motivation, personality, and behavior. She is a 2002 graduate of NYU, where she received a B.A. in Anthropology.
Jacquet is an Associate Professor of Environmental Studies at NYU. She is interested in globalized cooperation dilemmas, such as climate change and the exploitation of wild animals via fishing and the Internet wildlife trade. She is the author of Is Shame Necessary? New Uses for an Old Tool (2015). Dr. Jacquet received her Ph.D. in Natural Resource Management and Environmental Studies from the University of British Columbia in 2009 working with the Sea Around Us Project, her M.S. in Environmental Economics from Cornell University in 2004 and her B.A. in Economics/Environmental Studies, Western Washington University in 2002.
The Law, Ethics & Animals Program (LEAP) is a new initiative at Yale Law School that leads and coordinates a diverse program of activities. It seeks to contribute to defining, expanding, and advancing the field of animal law. Among recent and upcoming speakers are Lori Gruen, Nancy Perry, and Charles Siebert.