Friday, November 30, 2018
---
Justin Hansford on Human Rights and the Movement for Black Lives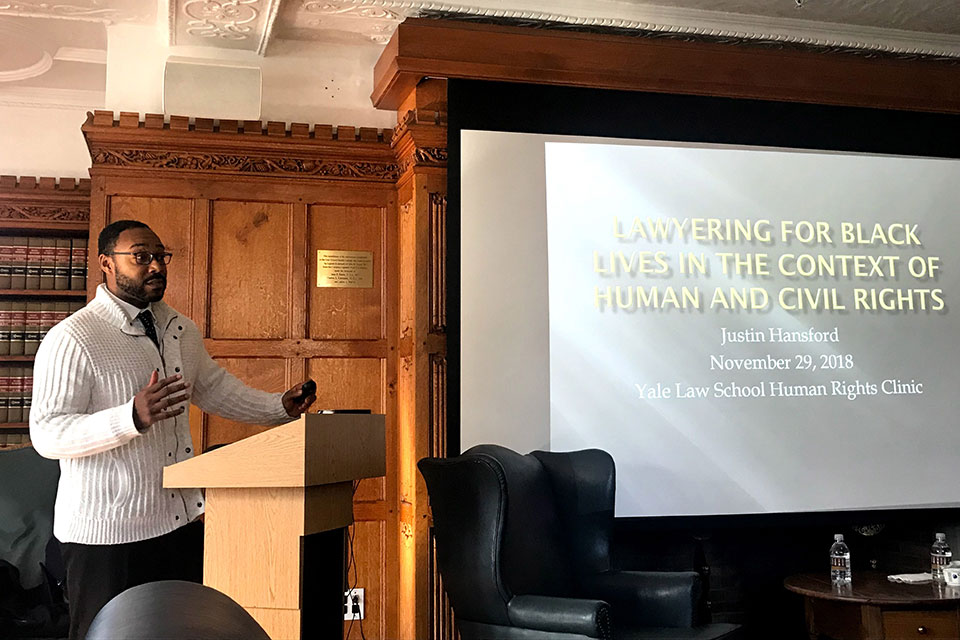 Justin Hansford, Associate Professor of Law at Howard Law School and the Executive Director of the Thurgood Marshall Civil Rights Center, says that he became a human rights activist on August 9, 2014, the day Michael Brown was shot and killed in Ferguson, Missouri — about 10 minutes away from where Hansford lived at the time.
As Hansford explained at the November 29, 2018 Human Rights Workshop, in the weeks following Brown's death, he helped run know-your-rights trainings around St. Louis, testified before the U.S. Commission on Civil Rights, and served as a legal observer at protests. Hansford also helped organize the delegation of activists and Brown's family who traveled to Geneva to testify before the U.N. Committee Against Torture. To Hansford, the most moving moment of the trip was when Brown's mother, Lezley McSpadden, got to speak, because it was the only opportunity "she had had to be heard before an official body," given that there was no criminal or civil trial held after her son's death.
The Committee ultimately ruled that the Brown's murder and the police's use of force on protestors in the weeks that followed constituted human rights violations. Even so, as Hansford explained, there were some in the Movement for Black Lives who called the trip a waste of time and money because they questioned whether the Committee's decision could be enforced and whether writing a human rights report and "naming and shaming" U.S. officials would have any effect at home. 
Hansford acknowledged the validity of these arguments and said that African American activists have debated similar questions since World War II. After the war, many white Democrats in the South were alarmed by any mention of human rights, which they associated with postcolonial liberation struggles. This made some African American activists avoid human rights language. But others, including Malcolm X, were drawn to human rights because of its potential for promoting solidarity between domestic and international freedom movements.
Hansford ultimately argued that deploying human rights tools and language could still help the Movement for Black Lives gain credibility and allies. He stressed that "human rights matter because they allow us to partner with people all around the world on this important cause," and cited Palestinian activists who tweeted words of support and tips for dealing with the effects of tear gas to protestors in Ferguson.
Moreover, Hansford contended that human rights claims, such as those made in the U.N. Committee Against Torture report, still influence some American politicians. It was this attitude that motivated the Thurgood Marshall Center to submit a petition to the Inter-American Commission of Human Rights on behalf of Lezley McSpadden, in which they argued that police brutality violated both the civil and human rights of victims and their families. As Hansford explained, the petition was intended to appeal not to President Trump, but to local actors such as mayors and city councilors who would be more likely to be pushed to address police brutality if the international community condemned the U.S.'s actions.